Your new video is ready to be shared via social media? Here you'll find the right video specifications for Facebook, Instagram, YouTube, Snapchat, LinkedIn, Xing, and Twitter to optimize your post and ensure the best possible results.
No desire to read? Listen to the blogcast here:
Jump directly to the video specifications for each platform:
81% of consumers state that they have purchased a product or service after watching a video.
The easiest way to find and distribute videos is through social media.

However, it is not simply a matter of presenting product information. A study by Psychological Science magazine shows that people are much more likely to share content with emotional stimuli, especially positive emotions.
Video and the Sales Funnel: viral success on social media.
These emotions activate our nervous system and the desire for "social transmission," making us more likely to share. Use this to your advantage. Humorous videos make us laugh, explainer videos result in an "aha!" experience, imagefilms establish emotional branding, and stories with dramatic implications make us think.
Video enables us to easily conduct digital storytelling via social media.
This helps you introduce your product to potential customers. 57% of consumers say that videos give them more confidence in the company and thus lower the hurdle of buying online. A professionally-created video offers an excellent return on investment across virtually all areas of business.
What you should consider before creating your social media video.
At the beginning of your project, you should ask yourself the following questions:

What is my goal in sharing my video?
Who is my target group?
On which platform can I best reach this target group?
How can I optimally use my video on this platform?
To increase your chances of success, keep these points in mind when producing your social media video.
Here are a few goals you might pursue with your video:
Do you want to increase brand awareness?
Present yourself as an attractive employer?
Attract new customers?
Begin engaging with your audience?
Show how using your product can help solve a problem?
No matter which platform you ultimately choose, below, you will find the ideal video specifications for each network.
Video Specifications: Overview of the 7 top social media platforms.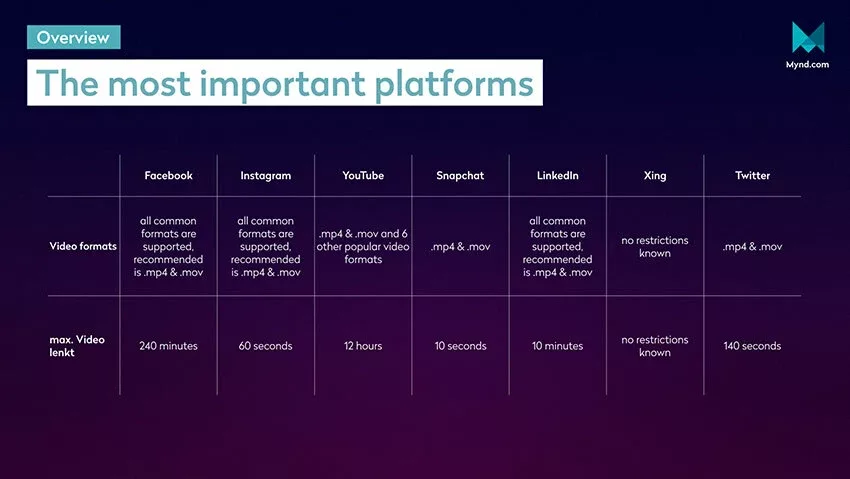 Social media videos: an overview of the most important platforms.
#1 Facebook video specifications.
Don't miss out on sharing your video on the largest social network in the world. More than 100 million hours of Facebook videos are watched every day, and compared to YouTube, Facebook videos are shared up to 477% more often.
Video requirements and placement options.
Instead of sharing your video from an external platform via a link, you should upload it directly to Facebook, as these videos get up to 168% higher interaction rates compared to those that are integrated via links from other platforms (e.g. YouTube or Vimeo).
The requirements for your Facebook video vary depending on the desired placement: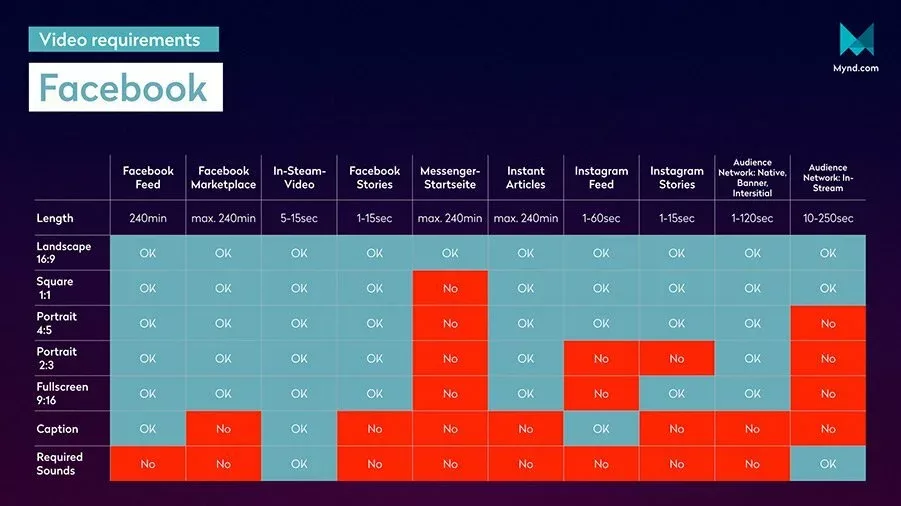 Video requirements and placement options for Facebook videos.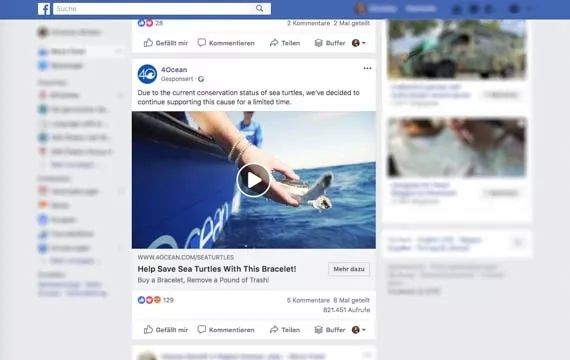 The environmental organization 4Ocean places its video ad in users' Facebook feed.
Facebook video facts.
Facebook's Advertising Guide recommends that you take the following points into account when creating your video:
Format: A .mp4 or .mov file with H.264 compression is recommended, but almost all file types are supported.
Audio: Stereo AAC, min. 128 KB/s
Ratio: 9:16 resp. 16:9
Resolution: Highest possible resolution without pillarboxing (no black bars). No limitation of the maximum resolution.
Size: max. 4 GB
Length: max. 240 minutes
Text: Header up to 25 characters, description up to 30 characters
Tipp:

Your video can have a total length of 240 minutes and a maximum file size of 4GB.
#2 Instagram video specifications.
Nearly 71% of companies use Instagram to reach their audiences. And in the first quarter of 2017, more than 5 million people watched Instagram videos from companies, so it's worth the investment.
Video requirements and placement options.
On Instagram, you can post your video either in the feed or in your story. These are the main differences between the two placements: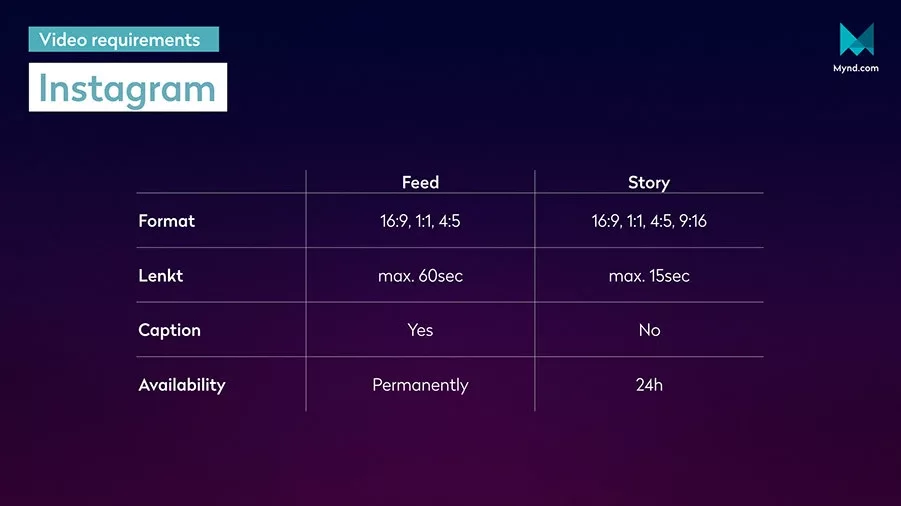 Differences in the placement of videos on Instagram.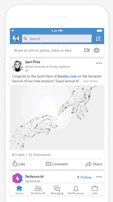 Placement of a video ad in the Instagram Stories: That's how Airbnb does it.
Instagram Video Facts.
As you can see in the Instagram Ads guide, the design recommendations for Instagram videos are almost the same as for Facebook, except for the maximum video length of either 15 or 60 seconds.
Format: .mp4 or .mov file with H.264 compression recommended, but almost all other file types are supported.
Audio: Stereo AAC, min. 128 KB/s
Ratio: 4:5 or 1.91:1 (feed) / 16:9 or 4:5 and 9:16 (story)
Resolution: Highest possible resolution without pillarboxing (no black bars). No limit of maximum resolution.
Size: max. 4 GB
Length: max. 60 sec (Feed) / max. 15 sec (Story)
Text: max. 2200 characters (feed only)
When using text and logos in your stories, be sure to add a little more distance to the top and bottom of the picture.
Instagram TV is an additional feature that allows you to publish videos up to 60 minutes long.
Good to know:

The maximum length of your Instagram video is 60 seconds in the feed, 15 seconds in your stories, and 60 minutes on Instagram TV.

A format of 16:9, 1:1, or 4:5 in the feed is recommended, and in your story, you can additionally post in 9:16 format.
#3 YouTube video specifications.
As the world's largest video platform and second-largest search engine, YouTube has great potential for your video. You can easily post more detailed content here: The average video length is about 5 minutes.
Video requirements and placement options.
For organic videos, you can choose from a range of different formats and sizes.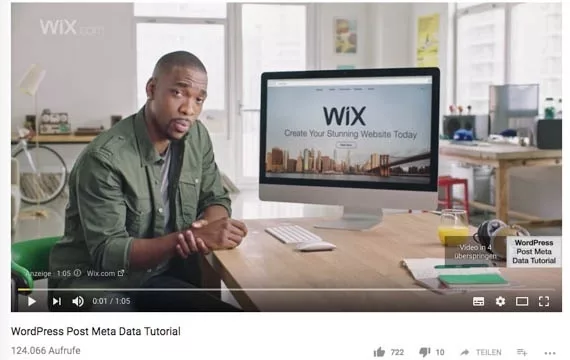 The website building kit Wix presents its product in a "skippable" video ad.
YouTube video facts.
For YouTube, the following recommendations apply:
Format: .mov, .mpeg4, .mp4, .avi, .wmv, .flv, .3GPP or .WebM
Audio: Stereo AAC
Ratio: 16:9 ideal, 4:3 with pillarboxing (black bars)
Resolution: 426 x 240px to 3840 x 2160px
Size: max. 128 GB
Length: max. 12 hours
Find more tips on how to optimize your YouTube video quickly and easily.
Find out how your company can benefit from YouTube Stories.
Tipp:

For an optimal display, you should stick to a 16:9 ratio.

The maximum length of a video is 12 hours, and the maximum size is 128 GB.
#4 Snapchat video specifications.
Snapchat videos receive more than 10 billion views each day. Here, you are addressing a younger target group: 45% of users are between 18 and 24 years old.
Video requirements and placement options
On Snapchat, you can either post a max. 10-second video in your company story or a longer ad. You should adhere to the 9:16 format, although horizontal videos are also permitted for long-form ads.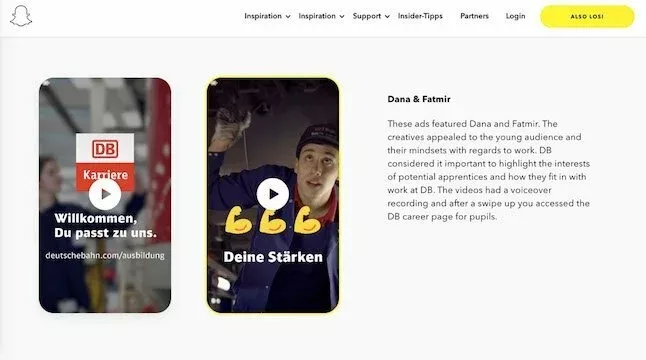 Germain Rail has launched a recruiting campaign on Snapchat with 10-second video ads.
Snapchat Video Facts.
Generally, videos with the following specifications can be uploaded:
Format: .mov or .mp4 file with H.264 compression
Audio: Stereo AAC, PCM, 192 KB/s
Ratio: 9:16
Resolution: 1080 x 1920px
Size: max. 32 MB
Length: max. 10 seconds
More requirements for your Snapchat video can be found here.
Good to know:

Stick to the 9:16 format for your Snapchat videos.
#5 LinkedIn video specifications.
According to one study, 54% of executives share relevant videos with colleagues every week – on LinkedIn, you benefit most with B2B videos.
Video requirements and placement options.
Post your LinkedIn video directly to your feed. Since the introduction of Native Videos, it's a good idea to post your video directly to LinkedIn instead of sharing a link from an external platform.
You can only post horizontal videos on LinkedIn - vertical videos are not yet supported.
Successful placement of a video on LinkedIn.
LinkedIn video facts..
The following recommendations apply to LinkedIn videos:
Format: asf, .avi, .flv, .mpeg-1, .mpeg-4, .mkv, Quicktime, WebM, H264/AVC, .mp4, .vp8, .vp9, .wmv2 or .wmv3
Audio: AAC, MP3, and Vorbis
Ratio: 1:2.4 resp. 2.4:1
Resolution: 256 x 144px to 4096 x 2304px
Size: 75 KB to 5 GB
Length: 3 seconds to 10 minutes
Good to know:

Only horizontal videos can be posted on LinkedIn, which can vary in length from 3 seconds to 10 minutes.
#6 Xing video specifications.
XING is the leading social network for professional contacts in German-speaking countries with 13 ,million members. With a B2B video, you've come to the right place.
Video requirements and placement options.
Video requirements are not yet known for Xing. The ads appear on the home page of the members to whom they are played.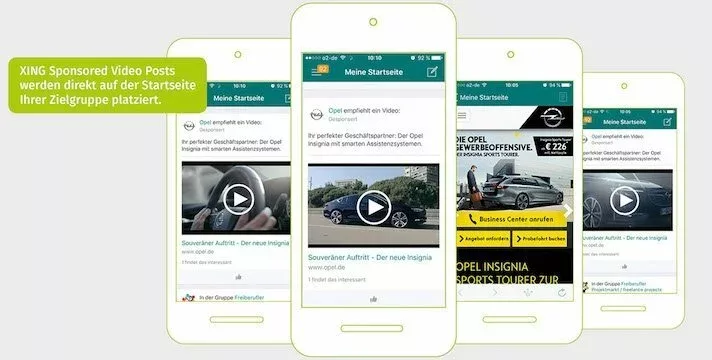 Video ads on Xing are displayed in the mobile feed of the user.
Design recommendations.
Official design recommendations do not yet exist. Nevertheless, you can assume that you will achieve more success with shorter videos. The average display time in social media is only 1.7 seconds, so try to communicate as simple and precise a message as possible in the first few seconds.
#7 Twitter Videospezifikationen.
Sharing your video on Twitter is worth it: Compared to any other digital platform, Twitter videos are best-recognized and most effectively increase emotional attachment to the company.
Video requirements and placement options.
On Twitter, you can post your video in portrait or landscape format to your feed. Depending on the dimensions, the following specifications apply: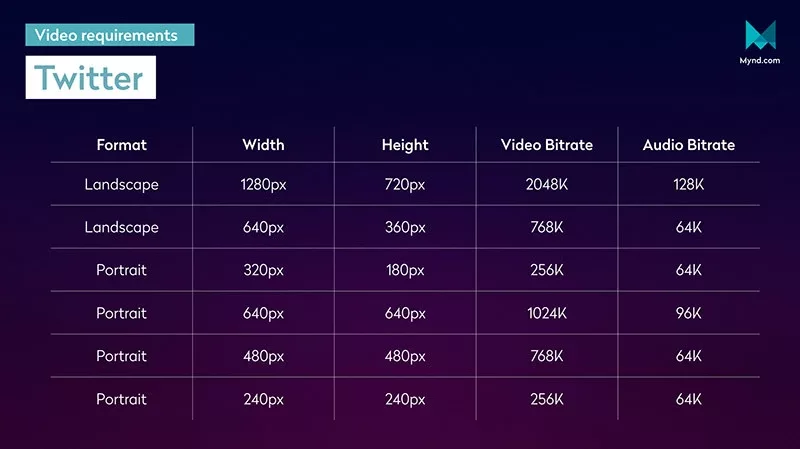 Twitter video specifications by dimension.
Buffer Update! Express yourself with our new emoji picker! 🎊 🙌 pic.twitter.com/7tDmOEYB8W

— Buffer (@buffer) 17. August 2018
Buffer, for example, uses Twitter videos to introduce new app features.
Twitter video facts.
Twitter recommends a number of criteria for an optimal video. Pay particular attention to the following specifications:
Format: .mp4 or .mov file with H264 compression
Audio: AAC
Ratio: 1:3 resp. 3:1
Resolution: 32 x 32px to 1280 x 1024px
Size: max. 15 MB (synchronous) / 512 MB (asynchronous)
Length: 0.5 - 30 sec (synchronous) / 140 sec (asynchronous)
Text: Tweet up to 116 characters, title up to 70 characters, description up to 200 characters
Now you're ready to go!
It's not enough to simply upload your video to your website for it to be found. It needs to be shared in order to reach your target audience. This works best on popular social media platforms. As you've seen in this article, it's not that hard to post videos online if you know the specifications of each platform and take them into account at the video creation stage.
We wish you much success with your video!