Videos are the most popular medium to penetrate all corners and ends of marketing communication. In this article, we'll discuss the benefits of video email marketing and how you can integrate video into your email campaigns.
For a long time, the rumor circulated that the emails were obsolete. Even today, companies and online marketing experts are still discussing whether and to what extent emails still make sense when communicating with (potential) customers. No wonder, given all the discussions about current trends and developments such as chatbots, artificial intelligence, virtual reality, and video.
Since people don't necessarily agree on this topic, let's hear what online marketing guru Neil Patel has to say about it. See for yourself!
How effective is email marketing today? – Neil Patel's arguments open your eyes.
If you think that emails are obsolete, you're wrong – according to Neil Patel. We like
Neil Patel's opinion. We would also like to point out two more reasons why we are convinced that emails are far from dead.
#1 It's all about a healthy mix.
The way people communicate and consume content has changed dramatically. In addition to the Internet and the latest technologies, the flood of information affecting consumers also caused this change.
Of course, communication preferences vary with age. Younger consumers, for example, such as the millennials (18-34 years), prefer social media to get in touch with a brand. The older generation, ages 45 and over, prefer to read news articles, reports, and email content.
Social media is immensely important to create buzz around a brand. For consumers who are really interested in a company and want to find out more, however, emails remain among the top 5 most popular sources of information alongside corporate websites.
In some sectors, email is among the three most effective channels for attracting website visitors, leads, and sales.
Research clearly shows that you should be able to communicate flexibly across multiple channels in the future. At the very least, you should focus on the most important ones that will best reach your target audience. Emails usually belong in this mix.
#2 Video email marketing is the future.
So you shouldn't say goodbye to emails. It's a fact that videos are the most popular communication tool when it comes to brand-related content.
Not only are consumers favoring videos, they are also demanding them. 53% of the participants in a 2017 Hubspot survey stated that they would like more video content from companies in the future.
Videos are watched in detail. Text is read quickly. So the logical conclusion is: you combine both sides to create a win-win situation. Emails get a new boost and videos get another platform to unfold their magical advertising effectiveness.
For this reason, we see an opportunity in the combination of emails and videos to connect even better with one's own target group.
Email campaigns now need to be redesigned. But only very few companies really know what makes a successful campaign and how to take the latest trends, such as video, into account.
We don't want to leave you out in the rain. That's why today you'll learn the most important steps of a target-oriented video email campaign. But first we want to teach you the basics of email marketing.
What is email marketing?
SEO Hacker defines email marketing as follows: "Email marketing is a kind of internet marketing that occurs when a company sends promotional messages or materials to groups of people by email."
When executing your email campaigns, you can make use of different types of email. We have summarized these for your convenience.
Do you know the four differences in emails?
Transactional email: They end up in a customer's mailbox when a deal is made between the consumer and the brand. They accompany you through the purchase process and inform the customer about the next steps that may have to be taken. E.g. booking confirmation, order status, and electronic invoice.
Direct email: Used exclusively for the presentation of advertising material, e.g. sales offers, discounts, or special products.
Welcome email: Receive customers when they sign up for a mailing list. This is the beginning of a hopefully long and personalized customer-brand relationship.
Newsletter email: The purpose of this email is to give (potential) customers an overview of the company and what's on the agenda, e.g. product portfolio, behind the scenes view, events, social and environmental projects.
Important to know:
Good to know:

The aim of email marketing is to win new customers, maintain or improve relationships with current customers, encourage further purchases, develop trust and loyalty, and/or attract those interested to your brand.
Where you focus is entirely up to you. However, you should only formulate a few concrete goals in order to communicate effectively and to know how to direct all your energy in one direction.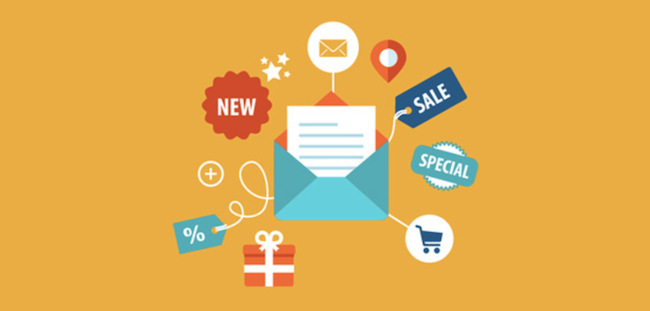 This is possible with email marketing: A summary of MonsterInsights.
What are the challenges of email marketing?
It is not without reason that companies today doubt the effectiveness of email campaigns. Your concerns can be traced back to three challenges in email marketing.
First, messages are sent to the spam folder by the subscriber, either intentionally or unintentionally, and are never read. Second, your email may seem important to you, but it's one of many in subscribers' inboxes and can quickly go unnoticed. Third, email marketing means staying on the ball. That is, regularly producing relevant content and sending emails is a must. This keeps the followers happy and prevents them from unsubscribing.
This is where videos come into play.
By filling emails with video content, you kill several birds with one stone. They immediately attract attention and accelerate or intensify interaction with users from zero to one hundred - to name just two of the many advantages of videos.
If you want to learn more about the other benefits of video marketing, read our article on "7 reasons why startups can't do without video marketing."
The video below should serve as further proof. This refers to the use of moving images on websites, but anchored in emails, these create a similar effect.
Mynd reveals 5 tips on how to sell more with video.
No other medium can communicate as quickly and effectively as video. So it's no longer a question of whether it makes sense to include video in your email campaign.
Just by adding the word "video" to your email subject line, you increase the opening rate by 19%.
With more tips and tricks like these, we now want to help you create your own video email campaign step by step. So let's get started right away!
6 steps to a successful video email campaign.
This is how you start.
This is how you start. Every beginning is hard. However, it can help to sit down with all participants, brainstorm, and coordinate. This way, you can go straight to the first item on the agenda that looks like this:
#1 Plan your campaign.
Every successful campaign is based on a well-developed strategy and a detailed action plan. Because only with a clear focus in mind can you achieve your goals with combined efforts. Use these questions to help you determine your own path.
Why this campaign? What role does it play in the overall marketing strategy?
Who is your target group? Why did people sign up for the newsletter, for example? What do they expect from the interaction with you?
How does your competition proceed?
What is your budget?
Based on your answers, you then create your timetable. Keep a very precise record of when, who, what, and how. This way, you can keep track, monitor progress, and intervene if necessary.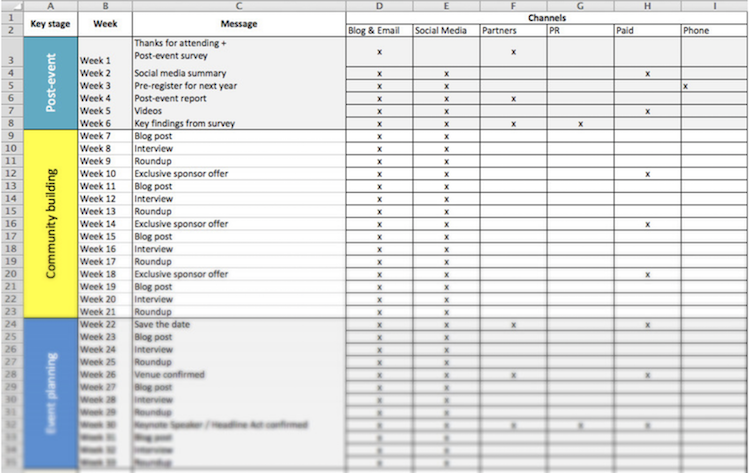 Excerpt from an Event Communications Plan including email marketing from Eventbride.
#2 Create an account with an email marketing provider.
Of course you want to increase your readership so that your brand message reaches as many eyes and ears as possible. To serve a large mass of readers, however, you will quickly reach your limits with your simple email program on your computer.
What's more, your audience is not homogeneous. Among them are long-term customers, new customers, interested parties, sales hunters, inspiration seekers and many more. This means that not every email is meant for everyone. They want to select and send only selected emails to certain target group segments. In addition, you certainly don't want to spend the whole day writing emails, so you're looking for an automated system.
Email marketing companies such as Mailchimp or MailerLite offer solutions to these needs. With their help, you have quickly created a handsome campaign. The MailerLite product video shows you what such a collaboration can look like.
It's that easy to send appealingly designed newsletters with MailerLite.
In addition, email marketing providers make it easier to embed videos in emails, which we'll talk about later. You don't need to be able to program or encode.
Create a user account with the email marketing provider of your choice today.
#3 Get permission.
However, in order to start your email campaign at all, you need subscribers. Without this and their consent to receive emails from you, no email campaign. It's that simple. Therefore, it is important to first build an extensive email list.
For this purpose, marketers rely on different strategies: Freebies, fancy pop-ups on the homepage, exclusivity of unique daily deals, and so on and so forth. There are no limits to creativity. The main thing is that your tactics match your corporate culture and goals.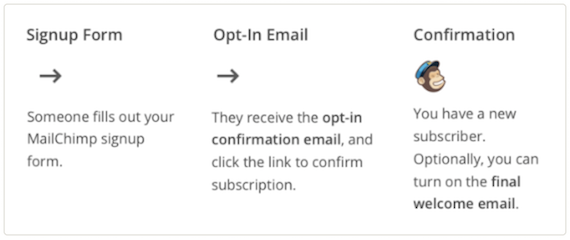 GDPR compliant: Create a double opt-in with Mailchimp.
#4 Make great videos.
Basically you should focus on quality instead of quantity when creating videos. Nobody likes to watch a video with a blurry picture or background noise that drown out the speaker.
In order to create high-quality film material, various success factors play a role. Good film equipment and experience are two of them.
At this point we don't want to go into video creation any further, because it's an art in itself. However, we recommend the articles below. These will tell you exactly what to look out for in the future.
Additional blog articles:
One thing we would like to emphasize: Instead of shooting a long video, you'd be better off producing a series of short videos. You've got your next emails in stock, and subscribers are curious to see what happens next.
Evian's "Live Young" campaign is a very good example. Again and again, videos of the dancing, surfing, and skating babies appear, which inspire the masses and keep the campaign alive.
Evian scores with the audience with the funny baby video series.
We have clarified the basics. Now it's time to get down to business. As video email content will increase dramatically over the next few years, the next thing we'll look at is how you can most effectively include videos in your email content.
How to embed your videos in email.
Sending videos by email brings with it some problems. These are well known to marketing experts. Even email marketing providers already offer solutions. We recommend two of them.
# 1 Insert your video on a landing page.
We advise you not to embed your video directly in the email, but to use links.
The main reason for this is that videos are not played optimally on every email browser. Sometimes it works and sometimes it doesn't. If you are not a gambling fan, we have these two options for you:
Apart from the fact that links work without problems, they also have other advantages:
They can be tracked better than "just" embedded videos. So you can judge the performance of your email campaigns and know where the traffic on your website comes from.
This traffic can come from the video hosting platforms, which also have high sharing and visibility potential for videos.
The landing page is also the starting point for ongoing research to learn more about a brand. Once the users land on your website, you can convince them of your email subscription by means of targeted Call-to-Actions (CTA), for example, and send them on their journey in your Sales Funnel
Just inserting a link into emails would be too boring. The second option, however, arouses interest and motivates people to click.
#2 Integrate thumbnails.
Thumbnails are a great way to advertise videos. Nowadays, most email browsers display images perfectly. They also serve as a visual component that creates curiosity and interest.
Make sure that your thumbnails always show the "play" button. This is one of the most effective Call-to-Actions. If you have linked your thumbnails with a landing page, the users will be forwarded directly to this page as soon as you click on the preview image. The video content will be displayed there without delay.
Email marketing providers are already working with video platforms such as YouTube. For example, Video Merge Tags, a feature of Mailchimp, create thumbnails of the video player and link them to your video online.
This process can hardly be designed more seamlessly and easily – and it even works perfectly! The thumbnail screenshots are one of the most clicked links in an email campaign. Wistia conducted a test for this. The results show that the click rate for video thumbnails increased by about 25% compared to a normal photo version.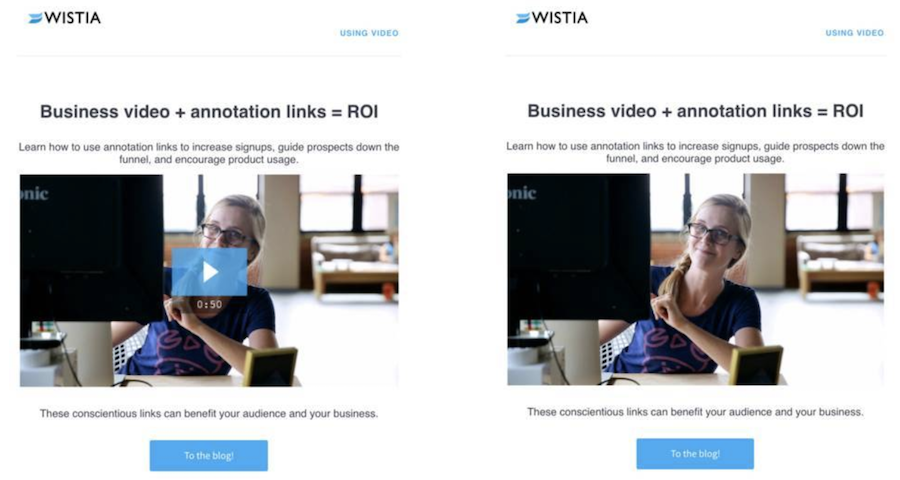 Wistia's A/B test to find out the effectiveness of video thumbnails
Tip:
If you want something to move in your emails and provide more entertainment, we have a suggestion: Use animated GIFs or PNGs. They are very suitable for simple graphics with little text, clipart, icons, logos, etc. In addition, most email browsers support these formats.
Follow the call of video email campaigns!
Videos help both sides. As marketers they do the work for us and as consumers they help us to understand brands and their offerings better. Accordingly, videos are so popular with email subscribers.
Let these statistics go through your head again: 72% of customers would rather learn about a product or service via video. In addition, viewers can remember an incredible 95% of a message when it is packaged in a video.
We assume you know your next steps. Right? So use videos in your branded emails and delight your subscribers with interesting content.
If you need help creating effective videos, please contact us. We will advise you today without obligation and free of charge »