Your new video is exceptional. But is your target group is as enthusiastic as you are? In this article, we introduce you to the key metrics that you can use to measure the success of your video.
No desire to read? Listen to the blogcast here:
The magic term is KPI.
The abbreviation KPI stands for Key Performance Indicator. Performance indicators enable you to measure and monitor the progress and degree to which a target has been achieved.

KPIs can therefore provide information on how successful your campaign actually is in the area of video marketing. Using valid data, you can check which goals you have already achieved with your image film or explainer video, for example.
Quite clever: KPIs help you achieve your goals.
It's all about objectives.
In order to really measure your campaign success after publishing your video, it is important that you have defined clear goals in advance. Therefore, before starting your video marketing campaign, make sure you allow yourself enough time to visualize the expectations of your campaign precisely.
Would you like to increase your brand awareness, generate more website views, or even focus on concrete sales deals? Once you're sure which goals you want to achieve, it's easier to decide which KPI metrics you'll be tracking in the future.
In general, a distinction can be made between branding and performance goals. Branding is all about generating attention and interest for your company or brand. In the performance area, on the other hand, the aim is to create incentives and ensure concrete conversions.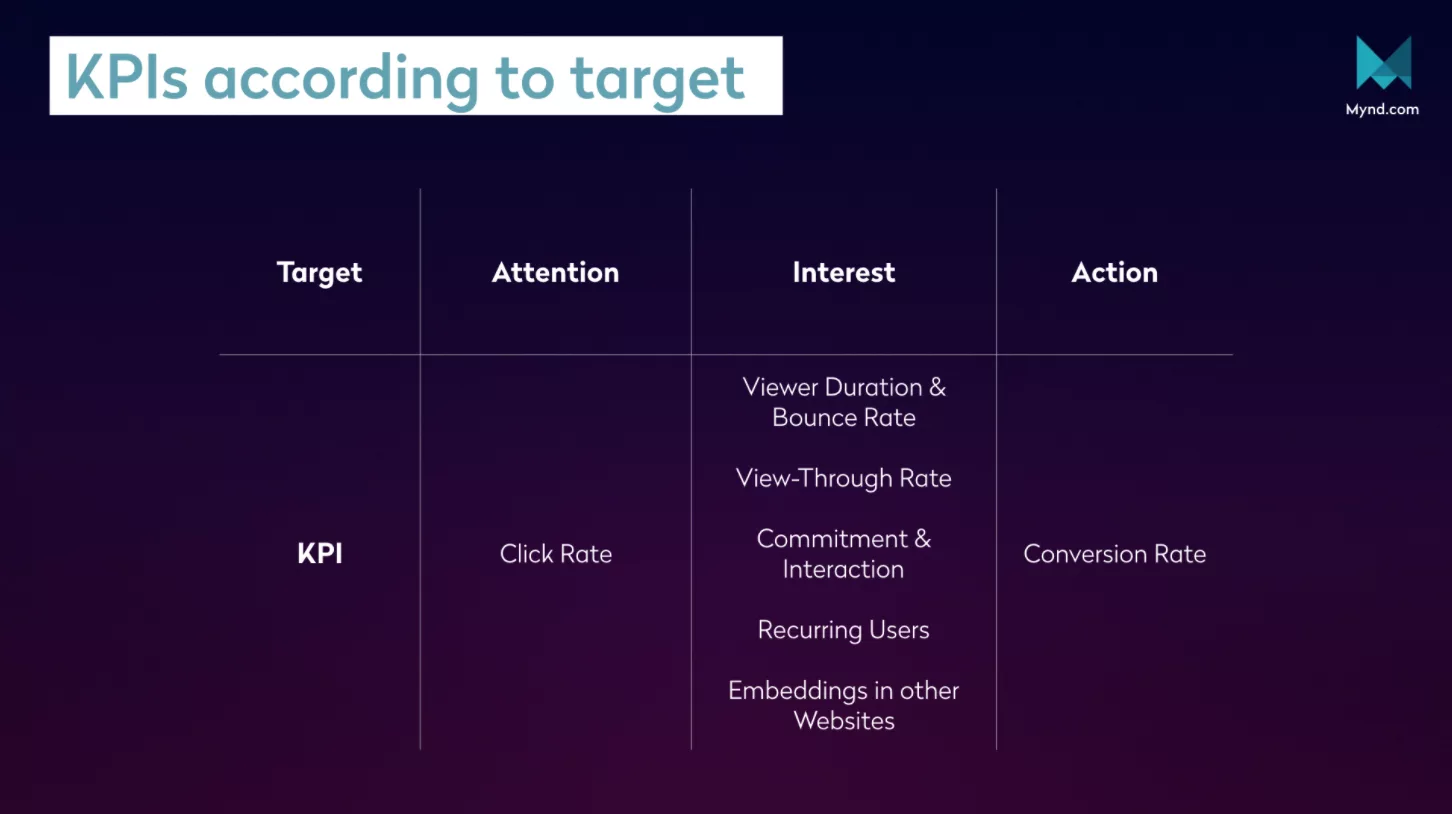 The overview makes it clear: Each objective requires individual KPIs.
While the attention of the video is most likely reflected in the number of clicks, the length of stay, view-through rate, or engagement gauge the actual interest of the viewers. The conversion rate, on the other hand, is the necessary KPI when it comes to meeting the predetermined goal.
Let's take a closer look at this.
The most important KPIs in video marketing.
<span lang="de">Considering that video usage will account for about 80% of all Internet traffic by 2019, it's understandable to want to drive the success of your own video marketing campaign. So it's high time to take a closer look at the advantages and disadvantages of the various KPIs.
</span>
Number of clicks.
High click rates are the dream of every content creator and are often equated with high reach. In fact, the number of clicks indicates how often your video has been viewed (i.e. clicked). What remains hidden when looking at the number of clicks, however, is the actual duration of the user's visit, or whether an action was performed in response to the call-to-action.
Although click numbers are not necessarily decisive for success, they should still not be completely neglected. Especially not if they are conspicuously low. Click numbers provide a quick and rough overview, but must never be treated as a stand-alone indicator – because nothing can be said about the quality of the clicks at this point.
You can easily read out the number of clicks on your video using the view counter of your video host (e.g. YouTube).
Measures against low click rates:

Make sure that your video is attractively placed on the main page of your website.
Make your video title short and crisp.
Create a video description that makes the reader actually watch the video.
Check if important keywords are included in the title and description.
Viewer duration and bounce rate.
After the number of views has given you a good first impression of the performance of your video, we now come to the view time. It is one of the most important KPIs in video marketing, as it shows you the time until which your video was viewed. This way you can get an accurate picture of how your video will be received by your target audience.
Alternatively, you can take a look at the bounce rate. If you notice that users often stop the video at the same point, this can be an indication of incomprehensibility or even boredom.
Tip:

Customize your video based on the information collected here.
View-Trough Rate.
The view-through rate is a strong indicator of your viewers' satisfaction. Here, the number of viewers who watched the video to the end is divided by the number of total views and then multiplied by 100. The result shows what percentage of viewers stuck around for the entire duration of the video. The higher the percentage, the more targeted the video was planned, produced, and distributed to the right channels.
Tip:

Tools such as YouTube Analytics show the estimated playback time of individual videos as well as the average playback time for the entire channel.
Commitment and interaction.
In the era of Social Media, Likes and Shares are incredibly effective.
How many of your viewers rate your video positively? How many negative voices can you count? Which comments can you find, and what do they say? You can also read a lot from the number of shares (and thus the distribution of your video on the social networks). For example, whether the video is seen by the viewers as helpful or particularly entertaining.
Tip:

Through interactions and engagement, you are able to glean from the unadulterated opinion and feedback of your viewers.
With Facebook, you should include not only comments and shares, but also the available emoticons (like, love, haha, wow, sad, angry) in your analysis.

With the 2016 launch of emoticons, Facebook users can express their feelings.
YouTube also offers many exciting metrics that can be displayed for a defined period of time for the entire YouTube channel:
Positive/negative ratings.
Comments.
Shared content.
Videos in Playlists.
Number of subscribers.
Tip:

Interaction is never a one-way street. Take the feedback of your target group seriously and answer comments. In this way, you can create a dialogue from which you can draw much more than the mere initial reaction.
Recurring users.
After the successful upload of your video, you will notice them – the returning users. In fact, there are viewers who will watch your video several times.
Tip:

Recurring users are identified in Google Analytics based on your session information and are counted multiple times over the period.

If, for example, the period under review is March, and the user clicked on the video once every week, the user is also recorded and counted four times.
Basically, a distinction is made between 2 different groups.
Viewers who did not understand the video the first time.
You can easily recognize this group by the fact that they have watched the video several times in a row. This is a sure sign that your video is not clear enough. Pay special attention to this component in your future videos.
Viewers who want to refresh their memories.
Have you ever seen users watch your video again after a long time? If so, this is not a lack of understanding, but rather an existing interest – your video seems to be well-received! If a viewer comes back to your video in a targeted way, he will remember it. Now you can consider how to convert the visitors in the next step.
Referral Traffic.
When analyzing the reach of your video, it is particularly important to find out where your viewers come from. With certain tools, you can uncover which was the referring website (the so-called "referrer").
A referrer is always transmitted when a user accesses a website via a link on another page. The URL of the foreign page is sent to the server on which the reached website is hosted when the link is clicked. The server logs all visits to the website and records the visitor's IP address or user agent details.
In this way, you can determine how much traffic you generate, for example via the links on your social media channels. In addition, you can check which specific search terms lead to your video.
Number and locations of embeddings in other websites.
Would you like to gauge the relevancy of your video? You can accomplish this by looking at the number and especially the location of other websites that have embedded your video.

YouTube makes this insight available to each of its content creators in the YouTube Studio section.

With YouTube Studio, you can organize your channel, manage your videos, and interact with your fans.
Simply log into your channel's "YouTube Studio", click "Analytics", and then click "Traffic Source". Embedded videos are listed under the term "External."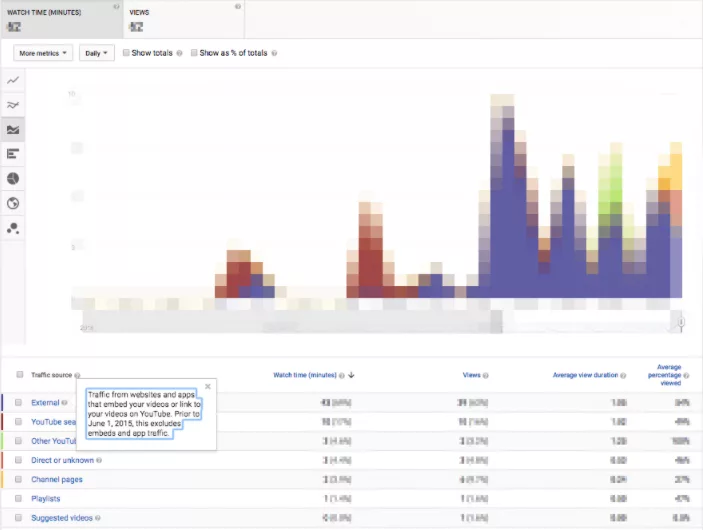 Easy to find: The "External" category includes all websites and apps that embed or link your YouTube videos.
You can display the URLs on which your video has already been embedded.
Conversion Rate.
Depending on the goals you pursue with your video marketing strategy (e.g. increasing your newsletter subscribers, visiting your website or actually buying your product), the Conversion Rate gives you information on how useful your video is for achieving your goals.

YouTube offers possibilities such as call to action overlays or the placement of trackable links in the video description. The resulting number of new subscribers or site visitors tells you whether your video was successful.
In less than 5 minutes, marketing specialist Neil Patel reveals 7 tricks you can use to increase your conversion rate.
Your way to success.
The success of your video cannot be measured by a single metric. Rather, it's about the right interplay of different KPIs that provide you with the information you need to measure the success of your video.

Decide in advance which KPIs are important for the evaluation of your desired goal, and evaluate your video performance based on the results.
We wish you every success!
As a target achievement laboratory, we are happy to support you in the appropriate selection of your KPIs for the optimal performance measurement of your video marketing »