Are you wondering what the ideal video length is for your latest project? The answer is often quite generic: "Short and crisp, with a maximum of two minutes," but how true is that? With our help, you'll learn how to optimally adjust your video length to each location and objective.
No desire to read? Listen to the blogcast here:
The mystical "2-minute rule" holds its own as the optimal video length in the marketing industry. For public videos, which are often shorter than two minutes, the motto is often: the shorter, the better. It's understandable, considering that our attention span has dropped from 12 seconds in 2000 to only 8 seconds today.
However, considering the variances between corporate videos, product videos, demos, explainer videos, and webinars, the optimal length is heavily dependent upon location and objective. A TV commercial is not comparable to an in-depth webinar detailing the latest product updates and applicable social media platforms.

In this article, we present the optimal video duration for the most commonly-used channels and objectives.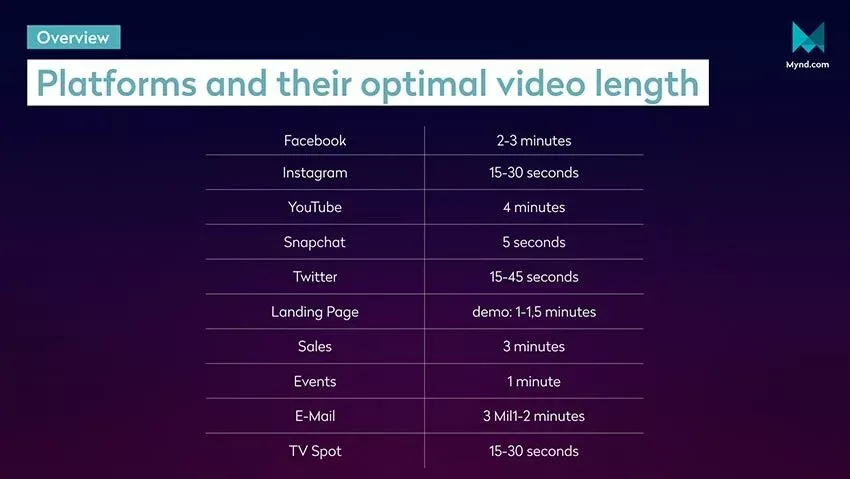 Before you decide on a length for your video, ask yourself the following questions:
Who do you want to reach?
How much time does your target audience have to watch your video?
Do your viewers already have background knowledge, or do you need to introduce them to your topic slowly?
How much content do you need to include in your video? Should it simply arouse interest or provide more in-depth information?
Where should your video be published? Social media or email, website or TV?
The number of viewers between 2 and 10 minutes is quite consistent.
Videos that are two minutes or less in length get the most interaction, and for longer videos, most viewers stop watching and interacting after the two minute mark.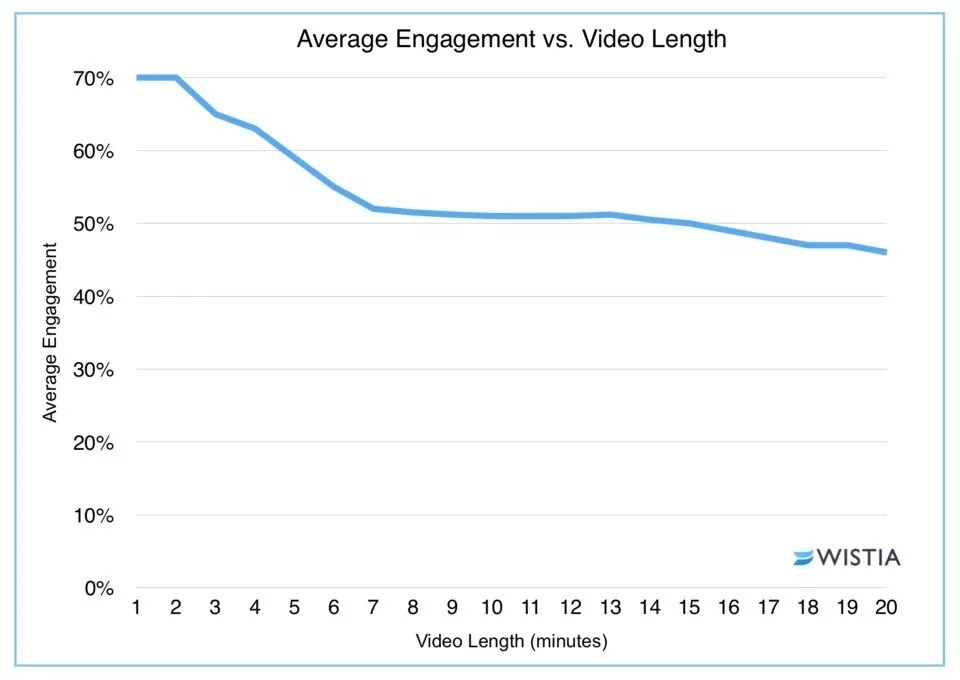 Video length and engagement: After 2 minutes, viewer interaction decreases significantly.
However, this does not mean that you should cut a 10-minute video to 2 minutes, as more in-depth content takes time. But if your video is about 2.5 minutes long, it might be worth trimming down.
For longer videos between 6 and 12 minutes, the level of engagement seems constant before slowly decreasing.
Tip:
If your audience benefits from a more concise video, try to keep your video under 2 minutes in length. When it comes to depth, don't just shorten for the sake of shortening – focus on the content.
Convince in the first seconds.
The average engagement length lasts 1.7 seconds. How long does it take to convince your audience? One thing is most important: Right from the start, demonstrate the key value represented within your video.
Optimal video length for social media.
YouTube: About four minutes.
As the world's largest video platform and second-largest search engine, YouTube holds great potential. Here you can easily post more detailed content: the average video length is about 5 minutes.
A Google study has shown that the length of YouTube advertisements has risen by 47% from 2013 to 2014, and by 2015, none of the most successful ads were under a minute long. The theory: Longer videos give viewers more time to understand the story and build a strong connection to the brand.
Hence our recommendation::

A length of 4 minutes for YouTube videos.
In a nutshell: This 4-minuteGoPro video has achieved almost 35 million views so far.
As a preroll ad that is played before a video, a maximum of 6 seconds is recommended, as these cannot be skipped.
Instagram: 15 to 30 seconds.
Especially on Instagram, it is important that you captivate your audience in the first seconds, because it has been proven that viewers who watch the first three seconds of a video are very likely to finish watching.
While your Instagram Feed video can be up to 60 seconds long, Hubspot has found the most comments on videos averaging 26 seconds in duration.
Unsere Empfehlung:

15 to 30 seconds for Instagram videos.
For Instagram Stories: a maximum of 15 seconds.
Facebook: 2 to 3 minutes.
In early 2018, the average length of the most successful Facebook videos was longer than you might expect: 3 minutes and 11 seconds, and the trend is moving upward. It should be noted, however, that these viral videos are mainly cute and children's videos, as well as DIY tutorials.
For your Facebook corporate video, you should use similar storytelling techniques and appeal to emotions, but with a more concise video. Hubspot, for example, reports most shares of videos around one minute in length, while some of the most successful video marketing examples are even up to 4 minutes long.
Therefore, our recommendation is:

A length of 2 to 3 minutes for Facebook videos.
Artifact Uprisinghelps to create individual photo albums. Here they tell the touching story of a customer.
Twitter: 15 to 45 seconds.
93% of all Twitter videos are viewed from mobile devices, so keep it short. While the average #VideoOfTheDay on Twitter is about 43 seconds long, Twitter itself recommends about 15 seconds.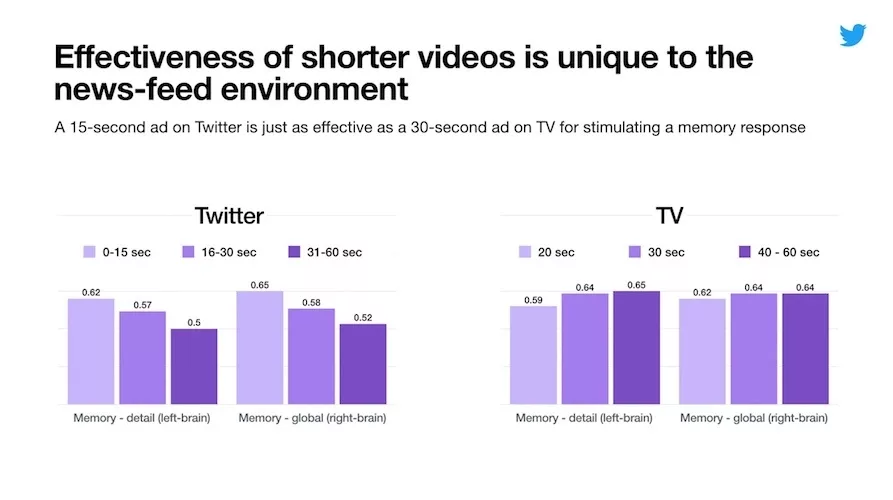 A 15-second Twitter Video is just as memorable as a 30-second TV commercial.
We recommend:

A length of 15 to 45 seconds for Twitter videos:
Snapchat: 5 seconds.
The maximum length for Snapchat videos is just 10 seconds, so there's not much room to maneuver. In addition, its average, very young audience is used to clicking their way through the stories in a flash. Hootsuite therefore recommends an optimal duration of 3 to 5 seconds.
We agree and recommend:

A length of about 5 seconds for Snapchat videos.
Ein voller Erfolg: A complete success: Lowe's creative snapchat campaign consists of a series of extremely short clips.
The ideal video runtime for other locations.
Landing page: Dependent upon the application.
The optimal video length on your landing page depends entirely on your application. Is it a crisp product demo, a detailed tutorial, or even a slideshow?
While 1 to 1.5 minutes is ideal for arousing the interest of your viewers, more complex or training videos achieve the most interactions at around 6 minutes.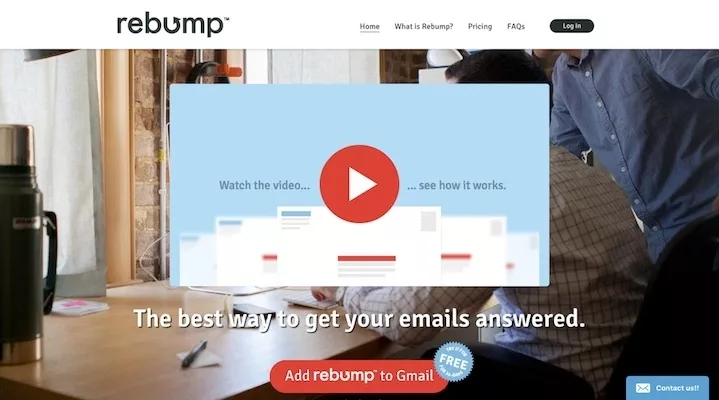 Short and informative: Rebump presents its email automation software in just 1 minute on its landing page.
We therefore recommend:

A length of 1 to 1.5 minutes for short product demos.
And a length of 6 minutes for more in-depth videos.
Sales: 1 to 3 minutes.
The optimal video runtime for your sales video depends on the exact location in your sales funnel. If your potential customer only needs some initial information at the beginning of his search, about 1 minute is usually sufficient. Toward the end of the sales process, on the other hand, it is worth going into more depth. Wistia, for example, has effectively presented their company and product in just under 3 minutes, while the famous Dollar Shave Club video gets by on about 1.5 minutes.
Humorous and convincing: Dollar Shave Club presents its razors in just 1.5 minutes.
We recommend:

a length of 1 to 3 minutes, depending on the location in the Sales Funnel.
Trade shows and events: About 1 minute.
Of course you want to reach as many trade show visitors as possible or inspire the participants at your event. Your video should represent your product or brand and arouse interest without bombarding the viewer for too long. For communication in the context of events and presentations, communication expert Carmine Gallo advises about 30 to 60 seconds.
However, the more expressive the images of your product or image video are, the more effective and captivating they will be to your audience
We therefore recommend:

About 1 minute for trade show and event videos.
Email: One to two minutes.
Considering that your recipient has already subscribed to your newsletter or requested information, there is already interest – and you can take advantage of that. Neil Patel recommends 1 to 2 minutes, and likewise, video software Biteable recommends 1 to 2 minutes of video duration in email.
We recommend:

A length of 1 to 2 minutes for videos in emails.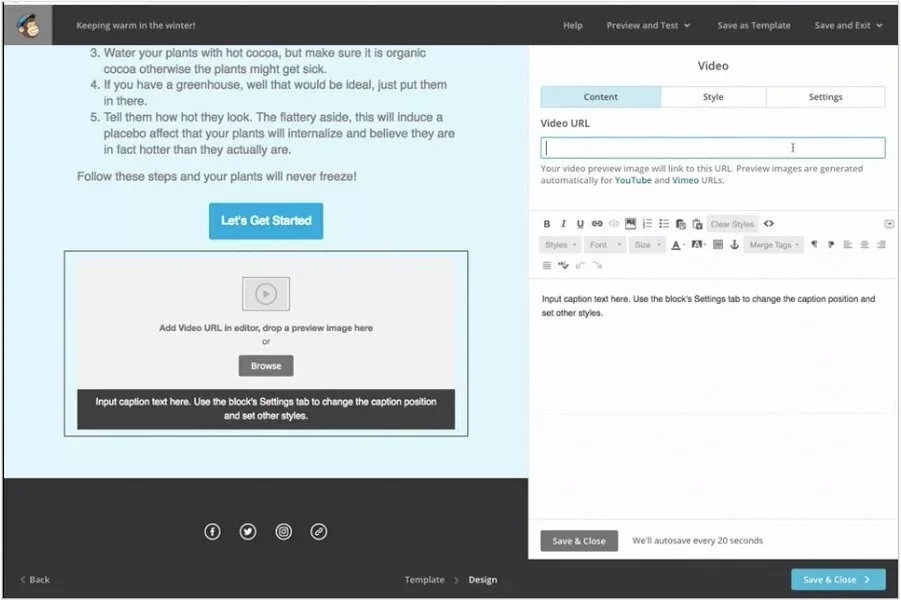 Integration of videos into your emails: In Mailchimp, for example, you only need the appropriate URL.
TV Commercial: 15 to 30 seconds.
In 2017, a German TV commercial was on average 26 seconds long. Commercial slots with a duration of about 15 seconds are better-suited to previously-known product recollection, while 30-second videos are better for storage of information in the long-term memory.
Hence our recommendation:

15 to 30 seconds for your TV ad.
Remember this 30-second TV commercial by Doritos.
The perfect video length depends on the context.
The perfect video length depends on the context. The ideal video runtime cannot be broken down to 2 minutes, but is heavily dependent upon your location and your objectives.
Is your video primarily intended for random online viewers, or part of a targeted landing page with high-purchase intent? Do you already have the definitive attention of your audience, or are you trying to attract and keep it on Facebook?
Different marketing goals require different video lengths. A B2B buyer looking for a supplier for a large order will have more patience than a mobile consumer scrolling through content.
So: Adjust your video length to your objective, and start right away! We will gladly support you in the conception and production of your new video »