Does the performance of your published videos leave a lot to be desired, and now you don't know what to do to get back on the road to success? We'll show you how to increase your views, win more leads, and boost sales of your product.
Jump quickly to the appropriate section:
Companies today have various videos in their repertoire – from image films and explainer videos, to product videos and recruiting videos, to trade show videos, advertising films, and many more. Companies often own hundreds or more videos.
Increased video production is a reaction to current trends. For example, a Facebook manager said that by 2021, Facebook will consist only of videos, and text posts will disappear completely. In social networks, videos tend to be shared 1200% more often than text and pictures combined. In addition, 59% of executives agreed that they would rather watch a video than read a text.
Today, the world communicates privately and in business, digitally and through video.
As a company, you shouldn't focus on how many videos you have in your portfolio. Instead, it's more important to maximize your ROI and continue to benefit from your videos. Learn more about the benefits of video in this video.
Mynd Presents: 5 Tips on How to Sell More with Video.
Let's summarize. The goal of video marketing should be to reach an audience, generate new leads, accelerate the sales process, and close successful deals.
To achieve this, this article focuses on two main topics: how you can optimize your existing videos and how you can make the most of modern video marketing platforms. Now, let's get started!
Step #1: More Views: Optimize Your Online Presence.
In order for a video to inspire the masses at all, it must first be discovered. These measures will help with that.
Website & SEO.
Take care of your website first. It is the heart of your online presence.
Make sure that you position your videos clearly visible and/or in the first third of your landing page. This increases the time visitors spend on your website, while improving the SEO performance of your website. This, in turn, positively influences your own positioning in the Google search results.
Speaking of SEO nowadays, it is no longer enough to have just a flawless website. It must be prepared SEO-compatible. The same applies to embedded videos. The right metadata plays an important role so that your website and its videos can be better found by potential customers.
You can find out what you need to know in Step #2 Metadata: Title & Description.
How MOZ can help you with your SEO strategy.
Tip:
Did you know that Google indexes videos as part of Google search results? Integrate videos into your sidemaps to make it easier for Google to find them. This will increase your chances of standing out in a sea of SERPs.
Corporate Blog.
Google can't recognize videos, but it does recognize the spoken word. For this reason, we recommend that you write transcripts to previous video recordings. These can succinctly summarize the most important points. Longer webinars, explainer videos, or event presentations are ideal for this.
A transcript is an explanatory text to the video. It helps Google understand what your video is about. This allows you to increase your keyword density and rank for a variety of keywords. This is a proven marketing strategy to improve SEO, views, engagement, and your position in search results.
It's also a free blog post. By reusing existing video content, you save both production costs and time.
Außerdem handelt es sich hierbei um einen kostenlosen Blog-Beitrag. Durch das Wiederverwenden von bereits bestehendem Video-Content, sparen Sie sich sowohl die Produktionskosten, als auch den enormen Zeitaufwand.
Justin Brown is sure – this is the best way to transcribe videos for free.
E-Mail Marketing.
Email newsletters are back. 74% of the top managers read the news in the morning, while 94% of them receive it via newsletter. Not only do executives rely on your e-mails, but 91% of private individuals check your e-mails at least once a day.
It makes sense to integrate videos into your e-mail campaigns as well. Just by mentioning the word "video" in the email subject line, the opening rates increase by an incredible 19%. The play button does the rest since this is one of the most successful call-to-action on the web.
This will give you more commitment to the integrated video as well as to the entire e-mail campaign.
Social Media & YouTube.
In addition to email, social networks are just as good, if not better, at attracting more attention to your videos because of the social sharing phenomenon in our society. The proof? 92% of users who watch a video with a mobile device will share it.
Because there are so many different social media platforms, you would think you should focus on just a few. Relevant channels are those where your target audience is. However, Gary Vaynerchuk clarifies this misunderstanding.
He recommends his 79/21 rule. He spends 79-80% of his time on Instagram, which is currently the most promising platform. He spends 20-21% of his time on the other social media. In his opinion, the mistake of many companies is to focus on only one or two channels. Why? He questions, "How many influencers with a lot of Instagram followers will become irrelevant when attention shifts away from Instagram?"
In other words, set yourself apart to build a constant following. Constantly changing social media trends will not hurt you.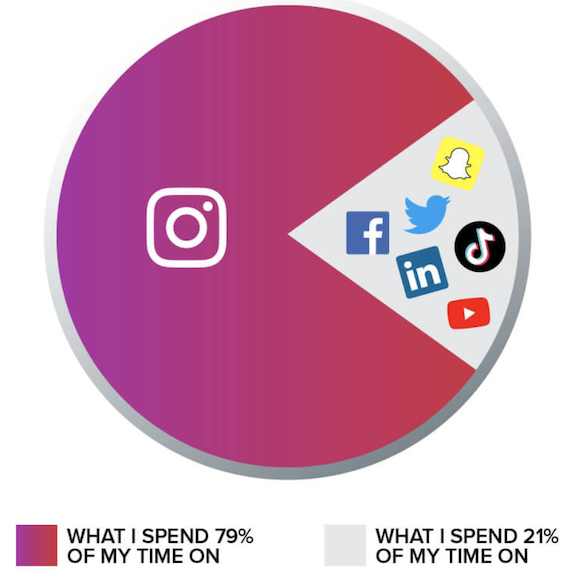 Gary Vaynerchuk pleads for his 79/21 rule.
YouTube is still the top dog among social video portals. With one billion hours of playback per day for more than one billion users (almost a third of all Internet users), YouTube has a huge community. There's no question – you need to publish your videos there and invest enough time to draw attention to yourself!
Step #2: Higher Click-Through Rate: Focus on Video Preview.
Let's assume that you could gain more views in the first step. How do you make sure that users really click on your video? With these tricks you can increase your click-through rate.
Metadata: Title & Description.
Let's start with an obvious, but not necessarily an easy task. Optimize the metadata of your video. This includes the title as well as the description. Ideally, you should also integrate the most important keywords.
Within the metadata, you tell interested parties what content and added value they can expect. If you like what you read, click on Play in most cases. You can see why expectation management is crucial in this respect.
Add metadata to all your videos. Be meticulous to make sure that if you make changes after the fact, they will also apply to all other affected videos, ensuring that all your videos are up-to-date. After all, it's just good manners to keep a consistent image on the outside. Potential customers thank you for your trust.
That's how much time you should plan on meta tags, according to Neil Patel.
Thumbnail.
Don't underestimate the power of thumbnails because users first see them before they press the play button. Believe it or not, readers will judge the quality of a book by its cover. Thumbnails should, therefore, be designed more convincingly!
Work proactively on the success of your video, leaving nothing to chance. Test your different thumbnail variants with a split test. Find out if version A or B has the most convincing design.
Let's take a step back. Are youwondering how you can design a thumbnail? Read our tips for the perfect thumbnail.
Step #3: Growing Conversion Rate: Intensify Customer Engagement.
You've done it. Curious people watched your video. Now, you want to turn interested parties into customers. Users can specify their next action steps in order to keep those potential customers in line, thus, preventing them from being enticed away by other offerers, getting lost in the YouTube jungle. Follow these 3 recommendations.
Call-to-Action (CTA).
You can no longer change the content of the video, but you can add short sequences at the beginning or end. At this point, we recommend a post-roll call to action. These can be a Subscribe Button for a newsletter, Download Button for freebies, or something similar. Thematically, everything is possible, but you should consider exactly what you want to happen with your call.
The aim should be to feed consumers with more content so that they can continue to interact with the brand if they are interested.
Neil Patel even integrates 2 Call-to-Actions at the end of his video. He presents viewers the invitation to visit his website and to follow his video channel. These are two great options to get to know Neil Patel and his services better.
Call to Actions by Neil Patel: it's so easy to keep users in touch with him.
Video on Demand & Video Hubs.
Alternatively, you can give different video recommendations at the end of your video so users have the opportunity to continue viewing their favorite video content. YouTube does a very good job in this respect by proposing a new video directly to users at the end of the video.
However, this has a disadvantage. Users are also offered content from other brands.
Video hubs offer a possible solution. These provide a comparable, personal YouTube experience, but on their own website. With the help of video hubs, you can cluster your video content according to categories and suggest video recommendations from your own repertoire to consumers.
This creates a distraction-free zone that is branded and well organized. The target group makes your brand memorable, always returning to you.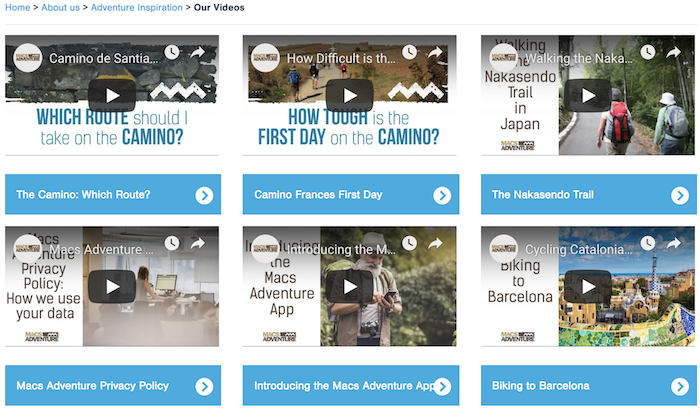 Video Hub of Macs Adventure: Clear arrangement of different video topics.
Lead Forms.
These are usually registration or contact forms.
Have you ever filled out an online form to notify you of when you can buy the new version of your favorite product? For you, the information is extremely important. For the company, it's the Lead Forms. These ultimately transform interested parties into valuable leads.
It's up to consumers to decide whether they want to stay in touch with the brand or not, making the decision entirely up to them. If you create less attractive lead forms, potential buyers can change their mind at the last moment.
You can't afford badly made Lead Forms!
So the question arises: What makes a good lead form? Here is the answer:
Linked to a previous CTA.
Simple and self-explanatory.
Few required fields to fill out.
Obvious CTA button at the end to complete the form.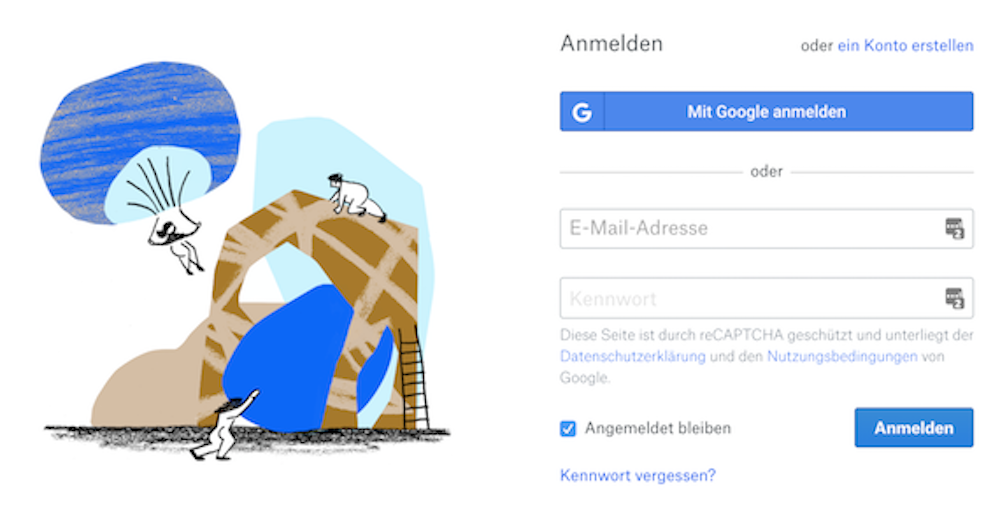 Lead form of Dropbox: Easy registration via Google account is possible.
Step #4: Increasing Sales: Support the Sales Team.
The main task of the sales team is the acquisition of new customers. Aside from quick-wittedness and good argumentation, their most important tool is convincing information material. As a content creator, you can get that. All you have to do is make sure that the sales people can access the videos without any problems and send them out in an uncomplicated way. Ideally, the entire process should be adapted to your workflow.
Do you know why videos are so popular with sales teams? We'll tell you. 64% of customers are very likely to buy a product after watching a video, so get support to your sales colleagues today!
Individual Videos with Link.
Sales teams often like to send individual videos that clarify a specific question, provide in-depth information on a topic, or provide guidance. This is branded content. It also saves (potential) buyers the hassle of searching for the video on a website. You get direct access without the obstacles, providing a positive influence on the customer journey.
To further ensure this, you should create an individual landing page with a visible link for each video you create. In addition, the team members can see whether the video was viewed at all and react accordingly.
Automated E-mail Campaigns & Analysis.
Sales teams are in contact with (potential) customers mainly via e-mail. In addition to personalized e-mails, automated e-mail campaigns also account for a large portion of correspondence. These facilitate communication with several customers from the same segment because they can be reached with the same message (e.g. sales campaigns, Christmas greetings, etc.).
The challenge lies in making the integration of videos as simple as possible.
Fortunately, there are tools like Vidyard that simplify the process. For example, sales colleagues can select existing videos from a drop-down menu when creating their email campaign. The appropriate thumbnail for the video is then automatically inserted into the template.
In addition, the software allows sales managers to track who clicked on the video, how long the video was watched, and which interactions emanated from the video content. It couldn't be better! Based on the results, the sales team can optimize its own processes and make better offers.
The Intro: Create, send, and track videos with Vidyard GoVideo.
Breathe More Life Into Your Videos!
According to YouTube, video consumption on mobile devices is increasing by 100% every year. By 2022, videos will account for 82% of Internet traffic.
Do you agree with us and think that you should get on board with this trend for the success of your company? With the above suggestions you can take your videos to the next level and put your brand on the road to success.
Take the first step today! Then, take a second, and so on. Remember – small steps create big changes.
If you have any questions, suggestions, or need support with the implementation of your video project, feel free to contact us! We can advise you without obligation and free of charge »