In order to achieve your predefined corporate goals, it is necessary to work out the needs of the target persons. By determining a thorough target group and defining the personas, you lay the foundation. Here we will explain how to proceed.
Jump quickly to the appropriate section:
Knowing your target group is the be-all and end-all. This is probably not the first time you have heard this sermon, and this article will preach nothing else. Why is it important to know your target group? Look at the next examples for a better understanding.
You want to sell Best Agers hip software solution, in a purely digital way? Or attract environmentally conscious marketers with mobile sales offers on Black Friday? You should notice that these are absurd ideas that lead to nowhere.
These two examples show you very well that not only the product, but also the approach must match your target group in order to generate sales. Of course, as a marketer, you always want to increase this.
However, more profit alone is not enough (that would be too superficial). The focus should be more on customer satisfaction, as this is the core of entrepreneurial success. If a customer is satisfied with the product right from the start, there is a high probability of winning over the customer long term. If the customer is satisfied throughout the course of the sales funnel, he or she will, at best, turn into a loyal brand ambassador, returning again and again for purchases and recommending the brand to others.
Image sequences that visually depict the emotional state of the target group- successful addressing of Dove.
In order to ensure the highest possible customer satisfaction in the long term, it is absolutely necessary to find out detailed information about a market with the help of a target group analysis.
Two reasons are often responsible for the failure of many companies or start-ups.
First scenario: Companies build a product without first presenting their idea to the target group. This means that they do without the test phase and the possibilities to improve their product on the basis of feedback. As a result, they build a product that nobody wants.
Second scenario: Your target group analysis was not established enough so that your message does not reach the relevant target audience in the first place.
For these reasons, you should know who your customers are. Find out what your target group wants, how they make their purchasing decisions, and what added value they expect from a service. Find out, for example, which search terms your target group enters into Google and which criteria play a role in product selection. Based on this information, you can then adapt the structure and content of your website.
"Do it Lean!" is a well-intentioned piece of advice, especially in the start-up scene. Whole companies are even built according to the principle of Lean Management. Ideas are born, checked with the help of the target group, and then optimized. Then, everything starts all over again. It is a never-ending cycle that focuses on the customer needs of every action.
The We Company Story: The company listens carefully to the needs of its target group and acts accordingly.
And that's what it's all about- connecting with consumers to create the most impeccable product possible. This works particularly well if you limit your target group as much as possible. This is the only way to tailor your approach to the needs of your target group. Any additional information you learn about your target group will take you even further.
In this article, you will learn how you can get this information with the help of qualitative and quantitative research and how you can arrange your results on the basis of personas.
Before we delve any further into the subject, we first want to clarify what target groups are and how they can be defined. Are you already familiar with this? Then jump straight to the section where we present a step-by-step guide to target group identification and discuss various methods
Otherwise, we will ask you for your attention again because now we'll teach you the basics so you can later determine your target group at a high level.
Creating Basics.
What is a Target Group?
A simple definition of Investopia is, "A target market refers to a group of customers to whom a company wants to sell its products and services, and to whom it directs its marketing efforts." But there is more to be said about this.
A target group is made up of different people on the basis of their same or similar characteristics. In order to make a target audience more tangible, you should try to understand their nature on different levels. This is the only way to create a holistic picture of the target group.
Three levels for a better understanding of the target group:
Cohorts:
Individual cohorts share a world view because they have grown up in the same time and have had similar experiences. As a rule, this applies to generations, e.g. millennials or baby boomers. Cohorts perceive their environment differently and, therefore, have different demands on this. By taking a closer look, you can recognize patterns in the attitudes, but this distinction alone is not enough.
Segments:
If you go one step lower, you can cluster groups of people with common demographic and socio-economic characteristics. You will receive basic data- gender, age, place of residence, income, occupation, position, marital status, religion, education, and interests.
Archetypes:
Archetypes are user profiles within segments. These differ in psychographic characteristics, such as character traits, habits, values, motivations, life goals, self-image and image of others, and dream role. It can be advantageous, especially in the digital age, to analyze the online surfing behavior of customer groups. See the following graphic. Does the term "Social Technographic Profile" mean anything to you?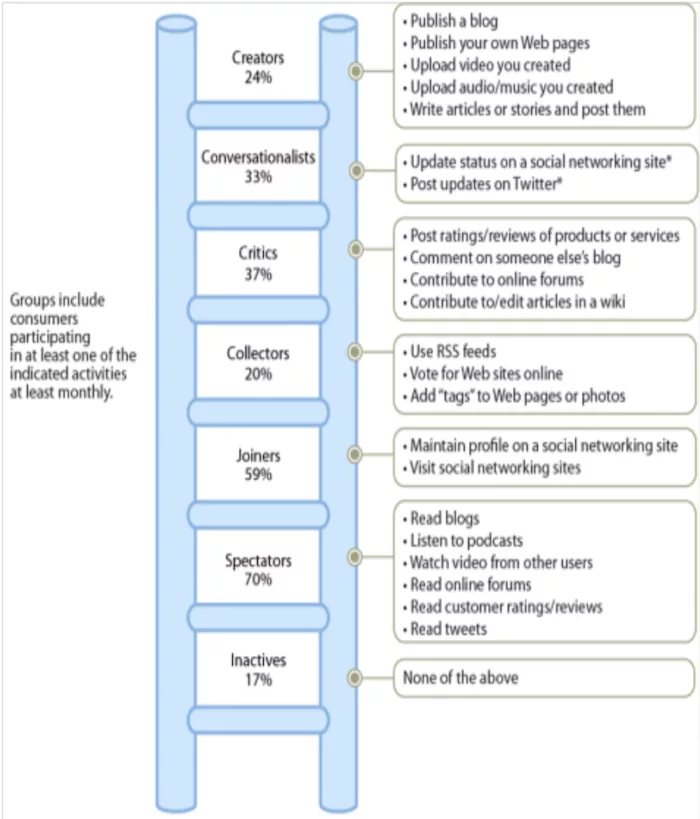 "Social Technographic Profile" dof Facebook and Myspace users (US adults only), created by Forrester.
You'll also want to find out how your target audience interacts with your brand and offerings to proactively respond to consumer buying behavior. Answers to the following sample questions provide information:
Did the target group already come into contact with the product?
In which situation and in which environment have you used the product?
Which channels did they use?
Why do you buy the product? What do they expect from the use?
What frustrates them?
How often do they buy/consume?
When do they come back to take up the offer?
Etc.

Fill-in-the-blanks-method, to get to the heart of the target group, designed by Jobs-to-be-Done.
First and foremost, the aim is to filter out the pain points of your target group. These result in needs that marketers must satisfy. Individuals with the same or similar needs are then grouped together in a target group.
The fill-in-the-blanks method can help you visualize the quintessence of your research results in a simple sentence, providing more clarity.
Tipp:
You have a free hand in defining your target group. The target group analysis is not limited to the aforementioned characteristics, but you can supplement or replace them with your self-identified character traits. Ultimately, it is you who knows best about your target group. You determine which aspects are necessary to best serve your target group.
Since a company cannot meet the needs of all its customers, you should also ask yourself another question: Which interaction with which group of people will help you most to achieve your goals? Your answer decides on primary and secondary target groups. Your focus is on the primary target groups. The secondary target groups are often not large enough and do not generate the most sales but have great growth potential.
Let's say you find out all this information about your target audience by conducting web analytics and personal customer surveys, but now you're faced with a huge mountain of data. How do you bundle your knowledge and organize it in a meaningful way for a better overview? The solution is personas, which we will now introduce to you.
Why is a Persona Necessary?
A persona combines all the findings you have gathered on the target group with the help of qualitative and quantitative research in a fictitious person. The contents of the results determine the character of the persona. In this way, Persona, as an example person, represents all real characteristics and needs of a certain target group. In other words, anonymous target groups are personified with the help of personas. This is why each persona is given a name (see example of Xtensio).
All known information about a target group is documented on a persona sheet. The viewer should be able to get an idea of the target group at a glance.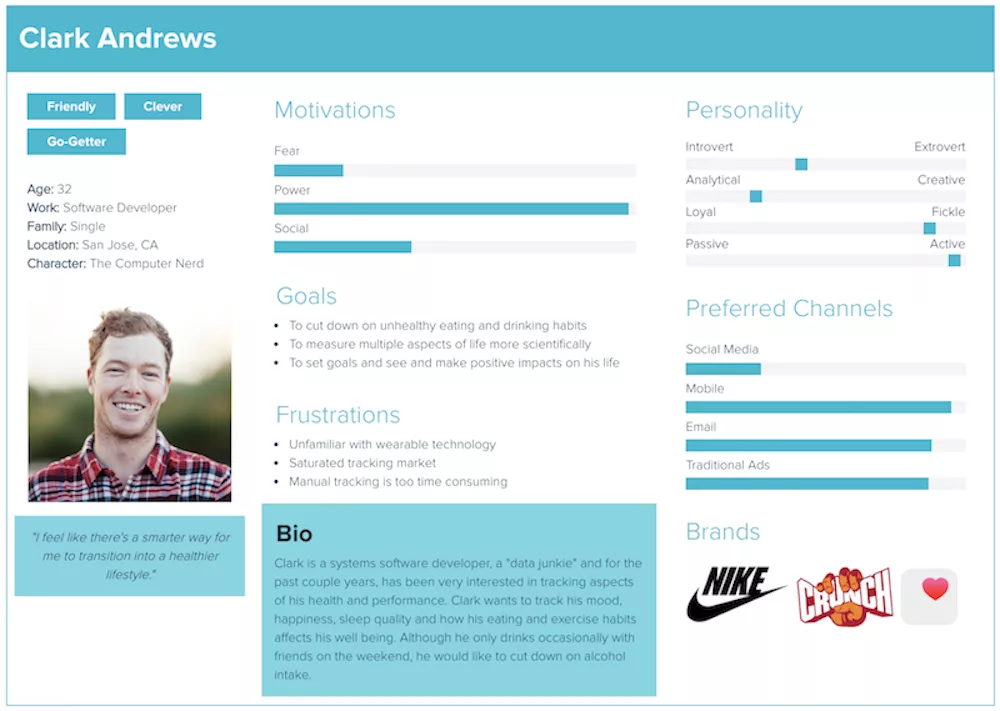 Example of Xtensio for structuring a persona sheet.
Tipp:
We recommend a maximum of 4 persona per product, project, or similar to ensure a targeted and effective approach to the most important users.
The main task of Personas is to give marketers orientation when designing products, content, and offers. They also help evaluate new ideas. By and large, personas simplify the decision-making process.
The more detailed the persona information, the better effective marketing measures can be derived. Particularly in the area of content, you can offer your target group great added value through needs-oriented content.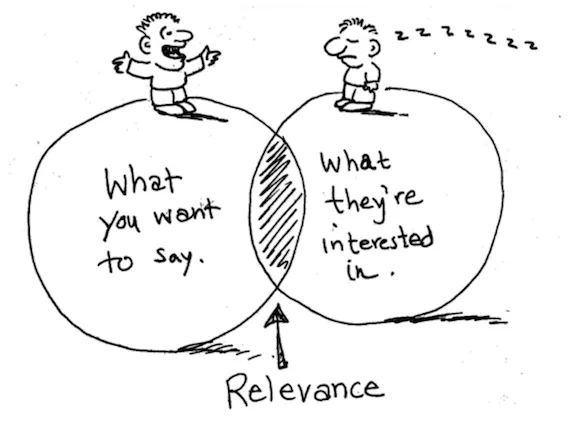 Relevant content brings added value for the target group, according to the Content Marketing Institute.
A personal approach and relevant content is what will set you apart from your competitors in the future, especially in times of digitalization and the oversaturation of information.
The purpose of a target group analysis, therefore, is to develop personas. On your way to becoming a persona, you increasingly narrow down your target group so that an authentic image of your target group gradually emerges. In the next step, you will learn how this works exactly and which methods help with the research.
Strategy for Target Group Identification.
As with most projects, it usually fails in the implementation stage because there is no precise action plan available. We want to counteract this, so now we will provide you with step-by-step instructions for a structured target group analysis.
Before we get started, you should be aware of one thing. Determining target groups is an ongoing process. This has to do with the fact that our environment and people adapt to changing circumstances. Thus, the needs and requirements of a brand also change. Just think of the progressing digitalization!
No matter whether you are at the beginning of your business and are just building your product or want to introduce new products or optimize existing ones in an established company, target group analysis is essential.
Now, follow us along the process of target group analysis.

Schritt für Schritt zur Zielpersona: Visual Paradigm zeigt wie es geht.
#1 Name the Target Group.
Current State:

Usually, you have already recognized a problem or need of a certain group of people and want to solve it. You already have experience with the target group or not.
Stage goal:
Create a first version of your persona/s.
Procedure:
First, you narrow down your target group according to the company goals. Then, you make forecasts about your target persons based on (first) experiences with them, observations, and background knowledge.
Qualitative Tools:
This research method comes very close to brainstorming. Coworkers collect their thoughts and ideas to specific customer groups and later categorize them according to a specific scheme. Use a workspace with plenty of space (e.g. whiteboards, walls) and equip yourself with enough post-its and pens.
Easy-to-understand video explaining Jessie Drumm's affinity mapping.
In the next step you want to control your assumptions and model your persona by asking specific questions.
#2 Checking Assumptions
Current State:
Sie suchen nach Antworten auf entscheidende Fragen.
Stage Goal:
You are able to make specific statements about your target group, which can be substantiated on the basis of research results. You have developed a product and a communication strategy. Both meet the requirements of the target group.
Procedure:
You will realize what you want to find out with the research. You test your assumptions and supplement your gaps in knowledge with new findings.
Qualitative Tools:
A moderator talks to representatives of the target group in order to determine the needs of the other persons and, above all, to gain insight into their purchasing decision process.
Often interviewees assert something or believe they are doing something they don't actually do. To distinguish words from actions, behavior is tested in action. For example, when testing a product, solving a problem, participating in discussion rounds, etc., the behavior of the customer is tested in action. The analyst notes his observations and then evaluates them according to a certain scheme.
A researcher observes the target group in its natural habitat. This is either official or undercover. For example, by taking part in a cultural celebration, staying in online communities (forums, Facebook groups, etc.) on specific topics, asking questions if necessary, and participating in the discussion.
Quantitative Tools:
Surveys: Online surveys are useful to reach several respondents at the same time and to quantify the results (for example, from an interview). Good, free survey tools that allow you to evaluate the results at the same time are Google Forms, Typeform and Survey Monkey


Public Studies: Universities, agencies, institutes, or online statistics databases, such as Statista, provide insight into studies already carried out
A customer tells why Typeform is one of her favorite business tools.
#3 Investigate the Timeliness of the Data
Current State:
Your product is on the market. You may have been in business for some time.
Stage Goal:
Achieve 100% customer satisfaction.
Procedure:
You eliminate weak points and optimize processes by tracking the purchasing behavior of your target group and continuously contacting customers.
Qualitative Tools:
Tools like Hootsuite and Mention collect all content (posts) of desired social media platforms based on registered keywords. Find out how people talk about you online.
Customer interviews: This is primarily the task of the Customer Service and After Sales Team. You interact with different customer segments via telephone, email, or chat.
Quantitative Tools:
Online Surveys: These can be used to obtain feedback on the product, gather information about the customer experience, filter out any ideas for new product development, and customer retention measures.
Multichannel-Reporting: Tools like Google Analytics collect data about your online traffic, especially on your website. They help you understand where people come from, how long they've been on a page, and what keywords they've entered. This is used to monitor the success of campaigns based on internally defined success criteria (KPIs).
CRM-Systems: Here, the customer journeys of existing customers are monitored. In this way, conclusions can be drawn about the future experiences of potential customers in order to make them as pleasant as possible. Prerequisite: A well-managed CRM system.
Customer Example: How Hootsuite MEC helped you implement your #GoodTimesOutside campaign.
#4 Categorize & Evaluate Data
This task should not be done at the end. Otherwise, the whole research work ends in chaos. Integrate this step into the entire process and think of the following tricks:
Document user behavior
Search for patterns in user behavior
Categorize recurring elements: How do the individual groups of people differ?
Prioritize persona groups: Who spends the most money, spends the most time with the brand, and is interested in related topics?
Fine-tuning the personas: Further develop knowledge about persona groups, preferably with people who deal with the target group on a daily basis, e.g. customer support.
Use Your Target Group Potential!
Do you know what data Google collects from you? A lot! Google conducts market studies par excellence and develops precise user profiles based on these in order to target your online advertising more effectively. In their evaluation, they include various aspects that you may not even have thought of:
Search queries via Google
Data published by yourself on social media (e.g. demographics, interests)
Your interaction in social networks
The website performance (e.g. clicks, impressions, length of stay) associated with your cookie ID
For Ad Words, Google distinguishes between two target groups: The users with an interest in a product and the audience willing to buy.
The example of Google and its entrepreneurial success shows how elementary a well elaborated customer segmentation is already today.
The online offering will grow over the next few years, which means more data capture options for you. However, you should make better use of the big data trend because, with these developments, the demands of the target group regarding a demand-oriented approach also increases.
So do your homework and ensure happy customers! The success will be seen in your account numbers.
Do you want to use videos to address your target group but you need support with the implementation? Then contact us! We will be happy to advise you free of charge and without obligation.