You already know the term Buyer Persona, but you haven't created one yourself, let alone used it in your video marketing. We'll give you good reasons to change that now!
No desire to read? Listen to our blogcast instead:
In order to sell your idea or product, you need buyers. It is logical that you first turn to consumers to find out what they are referring to.
However, this first step of target group analysis and the associated creation of personas is often underestimated and is one of the most extensive and important tasks of a marketer. The more detailed these are, the more likely it is that all further decisions and actions will lead to sales success. Basically, everything depends on the quality of the target group analysis.
Thanks to the new technologies, marketing experts can address certain people much more specifically than just a few years ago. Accordingly, consumers have raised their expectations. The demand is definitely for a personal brand-customer relationship in which only relevant content is shared. Everything else does not appear on the radar of the consumer, who is bombarded daily with 4,000 to 10,000 advertising messages. The biggest challenge facing companies today is to drown out this noise level and gain access to your target group. You know from experience that this is no easy task. Nevertheless, there are possibilities!
Personalized content is the key. Videos are a big hit because they give communication more humanity than, for example, stupid automated chatbots.

In an interview with Makers.com, YouTube's CEO Susan Wojcicki explains that she can never be reached between 6 p.m. and 9 p.m. because she has dinner with her family. Leaders are people with private needs, as this video demonstrates to women entrepreneurs. This is not a disgrace, but human, making the personal story of this powerful woman even more credible.
Users love this kind of content. 78% of them watch videos weekly and 55% every day. More than a trillion hours of videos are consumed on YouTube. This also explains why 52% of marketers worldwide choose video as the medium with the highest ROI.

We know from experience that these statistics can be further outdone by using personas in video marketing. Personal content is only the beginning, as you will notice later in this article.

If you are already informed about what personas are and how you can use them promisingly, jump straight to the part where the interaction of personas and video is discussed.
I. Buyer Personas.
A Short Definition.
Developing buyer personas is a method to characterize and classify target groups. If necessary, further types within a segment can be identified.

A persona is, therefore, nothing more than a fictitious person who combines all the characteristics of an anonymous target group. In the representation, it is treated like a real person (with names), so that marketing managers can establish a better reference to it at an emotional level.

Personas serve, above all, for orientation in the conception of products, offers, and content strategies. They also help to evaluate new ideas. This means that they basically simplify all corporate decision-making processes.

In addition, they offer a rough guideline for target group research. You will quickly find answers to questions such as "What information is needed?" or "How do I organize the collected data sensibly for a better overview?" There are no general guidelines as to what a persona should look like. Each company can decide for itself which points are important.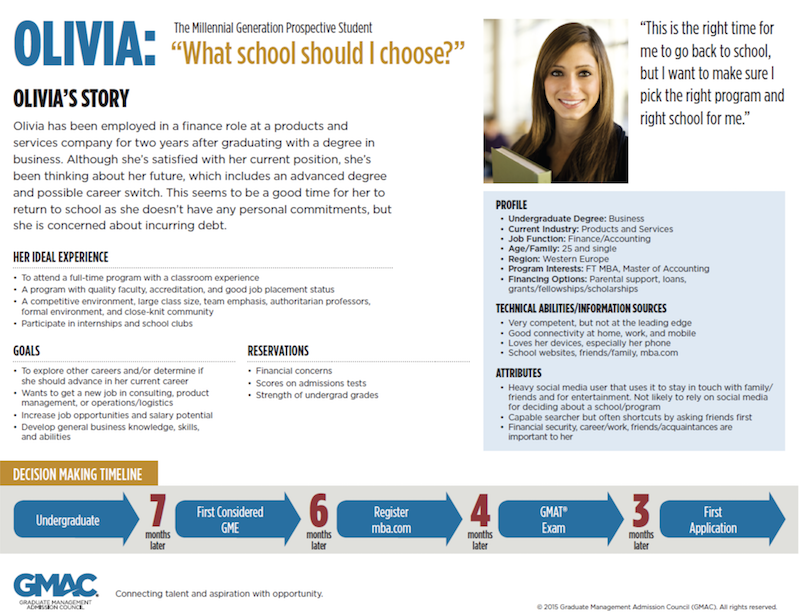 GMAC created the persona of Olivia, who represents Millennials as a potential business school applicant.
In the first example, you see a persona of a potential university applicant "Olivia."

The profile of this person focuses on the current situation of the applicant, as well as her ambitions and expectations for the teaching institution. Quotes such as, "What school should I choose?" illustrate their uncertainty about choosing the right university. In addition, the customer journey is sketched right up to the actual application in order to be able to consciously influence the decision-making process as a marketer.

In this case, it would make sense to mainly share information material (e.g. comparison of universities) with the target group so that they can make an informed decision about a suitable university.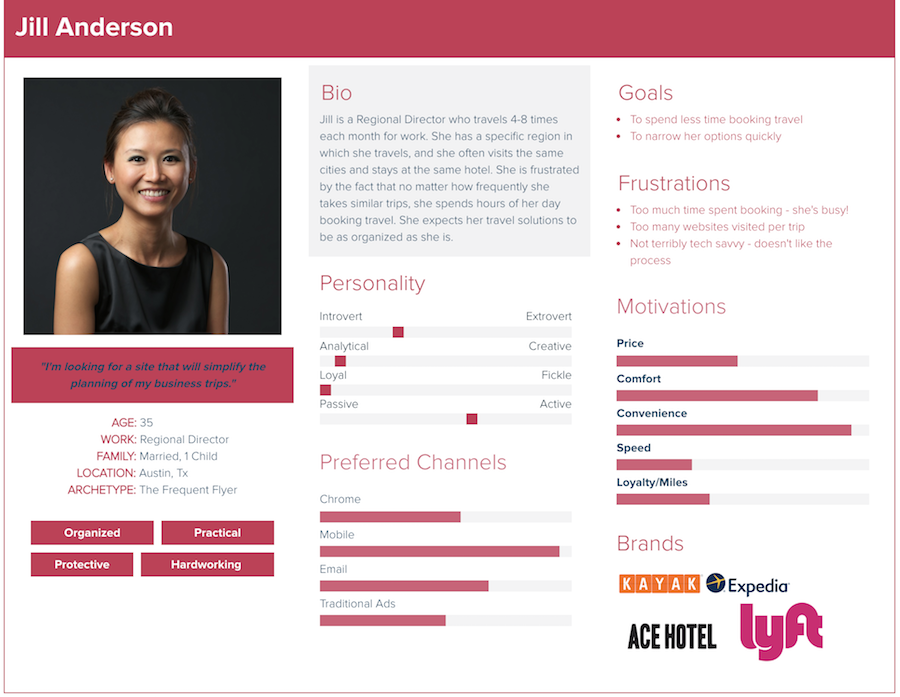 Another example of Xtensio for the structuring of a persona sheet.
In the second example, the focus is more on the character. For example, personality traits and motivators are listed, as well as popular and frequently used brands. Demographic data in the form of a profile find their place.

This persona tries to depict a comprehensive picture of the target group in order to get a better feeling for them. Based on their character traits, advertisers can then find suitable solutions and design suitable advertising messages that are 100% tailored to them. How about a practical product that allows personal data to be entered once and mobile advertising to be switched in a rather conservative tone? Sounds plausible, doesn't it?
Would you like to know exactly how this works with the target group analysis and how you can identify personas for your company yourself? Read our Step-by-Step Guide for a successful target group analysis.

There is no question that personas are a great tool and incredibly simplify work processes. But how do you make sure that you don't get lost and overlook important details? Follow the next three points to be on the safe side.
3 Signposts in Dealing with Personas
#1 Create Customer-Centric Strategies
So that (potential) customers are always at the center of your actions, it is important to uncover their customer needs:
What challenges do they face?
What help do they need and what interests do they have?
What kind of support can you provide as a company?
Marketing is not simply about generating more sales and turnover. Excellent professionals know that, in reality, customer satisfaction is the key to exponential growth. By making (potential) customers happy at every step of your sales funnel, success will sooner or later come automatically- thanks to focused marketing activities.

Your cash register will thank you for it because this approach allows you to make the most of your resources without wasting them.
#2 Communicate at Eye Level
Users should enjoy working with your brand. Communication should feel natural and casual. However, this is only possible if you make it into the closest circle of favourite people and brands and speak their language.

You don't want to be stamped as an annoying nuisance. You'll be ignored, and the way back into the hearts of users is not only harder and more expensive, but also takes longer.

Therefore, one of the most important To Do's is to find answers to these questions:
Which platforms does the target group use most often and for what purpose?
On which social media channels do they communicate with family, friends, and brands?
What does this interaction look like/what makes it special?
Which topics are addressed?
The smoothie brand Innocent makes fun of itself in a fun and humorous way. Does this type of brand voice also suit your target group?
#3 Build a Uniform but Differentiated Brand Image.
Quote:

"The value of a product is not what the producer puts in, but what the consumer gets out.", (Doyle, 1990, S. 6).
Charles Revson, founder of Revlon, referred this statement to his brand by saying, "In the factory we make cosmetics, but in the store we sell hope," (Doyle & Stern, 2006, p.41). In other words, people buy products because of the results. Often, it is the feelings that are lived out, or longings that want to be satisfied. According to these experts, only then has a brand created an unmistakable value for users.

So it's far more than adapting corporate design, tonality, and messaging to the target audience. The self-image and external image of a brand must be constantly reviewed and coordinated in order to maintain a uniform external image.

Your team has the task of finding out which image is anchored in the minds of your target group. They can do justice to this or change it through certain measures, if desired. The latter is particularly advantageous if the target group has a wrong or negative image of you or you want to reposition yourself in the context of a rebranding.

At this point it should be clear to you how you generally work most sensibly with personas. Now, we want to look at the same scheme in video marketing.
II. Video Marketing.
In the beginning, we already let you see that video is the new form of communication and will experience a real boom in the future. Therefore, now is the right time to deal with this topic.

Our task in this article, however, is not to discuss the benefits of video marketing in detail. Instead, we want to show you how personas can help you create and optimize your videos so that you have a clear advantage over your competitors in the future. We warmly recommend three approaches.
How to Benefit from Personas in Video Marketing.
The cartoon advertising videos of the German Brand "Kinder Riegel" without the two superstars, Milky & Schoki, are unthinkable.
#1 Staying True to His Style.
You can also pick up on your style in videos. Tonality, corporate design, and the appropriate messaging are one of the cornerstones.

For example, if you're talking to millennials who work for a hip tech startup, your video probably has a very creative approach with lots of funky animations, flashy colors, and cheeky annotations. In contrast, videos aimed at CEOs of giant global players are different. They are most likely produced in the world language English, involve multicultural protagonists, get straight to the point, and attach importance to formal formulations.

Kinder Riegel goes one step further. They introduced their two mascots. These are always the focus of every marketing campaign. With this well-considered and brilliant strategy, the company has created a guideline for itself. It is now a question of consistently following this guideline through in order not to disappoint customers, especially families and couples.

Milky and Schoki are also the epitome of love, who experience many things together and cannot be without each other. If you buy such a chocolate bar, you do so with the intention of sharing the candy with your loved ones or because it reminds them of their favorite people.

Kinder Riegel created a recognition mark for their own brand, but more importantly, they've managed to tie their product to a feeling that ultimately adds more value for consumers.
#2 Become Personal.
Personal communication can be a lot of things. For example, you have the opportunity to show the faces of the players behind your brand who make up it every day.
Personal means creating relevant content that responds to the interests and needs of the target group and clarifies problems and questions. For example, you can consider the challenges your target audience faces at each stage of your sales funnel and provide solutions to help them move forward in the process. Sales teams and customer support that are in direct contact with customers can benefit from this approach.

Vidyard GoVideo presents a solution for personal communication using video.

If your persona is aimed at people from a specific industry, you can share industry news or trends with them to inform them. If you focus on specific places, it can be very appealing to you to address local features (e.g. holidays, holidays, traditions).
Vidyard GoVideo presents a solution for personal communication using video.
If your persona is aimed at people from a specific industry, you can share industry news or trends with them to inform them. If you focus on specific places, it can be very appealing to you to address local features (e.g. holidays, holidays, traditions).
#3 Broadcast Videos on Appropriate Platforms.
Current statistics show that an incredible 92% of users who have watched a social media video on their mobile device forward it to their peer group. Do not ignore this fun fact. Take advantage of the phenomenon of social sharing and post your videos diligently on social media.

But be careful! It makes no sense to publish them where your target group is not. Save your resources and concentrate on carefully selected channels, such as video hosting platforms, Instagram or LinkedIn, where your target audience is guaranteed to spend time.

Less is more in this case! But we still recommend a good distribution.

For more reach on Facebook there are 15 additional Facebook video templates from us.
Tip:

You notice that your target group consists of several characters. Not a problem! Create different personas that can be addressed with different campaigns. This means more effort, but is definitely the more effective way.
Slack published various videos, each of which is aimed at teams with special tasks and from different industries.

This video shows how Slack Hubspot helps you build and manage your corporate culture:
Slack helps Hubspot deliver on its promise to be a transparent, multicultural, and inclusive employer.
Here's an example that illustrates Slack's role in coordinating medical research teams:
BioHub relies on the intelligence of scientists to prevent or weaken epidemics.
Finally, we would like to discuss in detail another case study that makes optimal use of the buyer-persona method (because it's so nice).
Case in Point: Copy the Professionals!
Adobe with humorous B2B Commercial about their new product Adobe Stock.
In this exaggerated, but funny, video example, a graphic designer is faced with the task of creating a draft for a campaign within an hour. The customers soon show up for a meeting in their office. In doing so, he has to take into account the creative director's wacky ideas as well as the contrary comments of a team member from the strategy. Not an easy task, but the designer is the rest himself.

The advertising video obviously appeals to the persona of a professional graphic designer who works in an agency or other company and can understand the situation very well- special features in dealing with creative directors and tight deadlines.

Clearly, Adobe alludes to the need of desperate designers who are looking for an efficient tool to deliver results quickly. They also want to keep a cool head, even in stressful moments, and be able to retrieve performance.

The creative minds are charmingly introduced to the topic with a lot of humor and a lot of insider jokes with which they can naturally identify. You will also receive a demonstration of the software, which increases the added value of the video considerably.
Target persons have good arguments in their hands to convince their employer to buy the software.
Now is the time for you to shine!
Here is a short summary. To increase your video's chances of success, it should focus on these three main factors :
Define personas meticulously: Everything depends on it!
Produce relevant content: Personal communication is the sticking point!
Know your timing: Be in the right place at the right time.
Being lucky is a fallacy. We are firmly convinced that you have the power to determine the outcome of your video campaigns. Wouldn't you rather be proactive than reactive? Start by creating your personas and then apply them to your video projects. You yourself are the key to success! Let's go!

Do you need a committed and involved, dynamic partner? Contact us today for a free and non-binding first consultation »