Music is emotional and can quickly establish positive connotations to a product or company – think of the hits Apple uses to market its products. We'll tell you what to look out for when it comes to music and audio in your video.
No desire to read? Listen to our blogcast:
Whether it's an explainer video or image film, using music helps you ensure recognition value.
Think of how radio stations use jingles to familiarize themselves. Music also generates important emotions: Ideally, the music in your video, even if it is only playing in the background, creates a good mood and gives the interested customer a positive feeling.
The small jingle in the last seconds is what makes the brand recognizable.
Advantages of music in your video.
To understand the role of music in combination with the moving image, recall the time of silent movies. They succeeded in telling exciting stories without dialogue and inspired enthusiasm, excitement, or sadness. How? Quite simply, through the music!
Some films were set to music live in the cinema by a pianist or orchestra, while others had their own soundtrack, which played a major role in telling the story. In this video you can see how Stan Laurel and Oliver Hardy tell a little story thanks to their acting talent, but also thanks to the soundtrack:
Works entirely without dialogue: in silent film times, music was used to transport tension, sadness, and humor.
Music elicits emotions.
Videos have a good reputation as a visual medium, but a look at the history of silent films shows that we are also addressed audibly by a film. Music touches us, makes the moving images seem more romantic, more beautiful, or more interesting, and brings dynamism and mood to the video.
Musicologists have found that both tempo, harmony, volume, and the choice of musical instruments play an essential role in film music. The so-called "mood technique" deals with which instrument normally has which effect.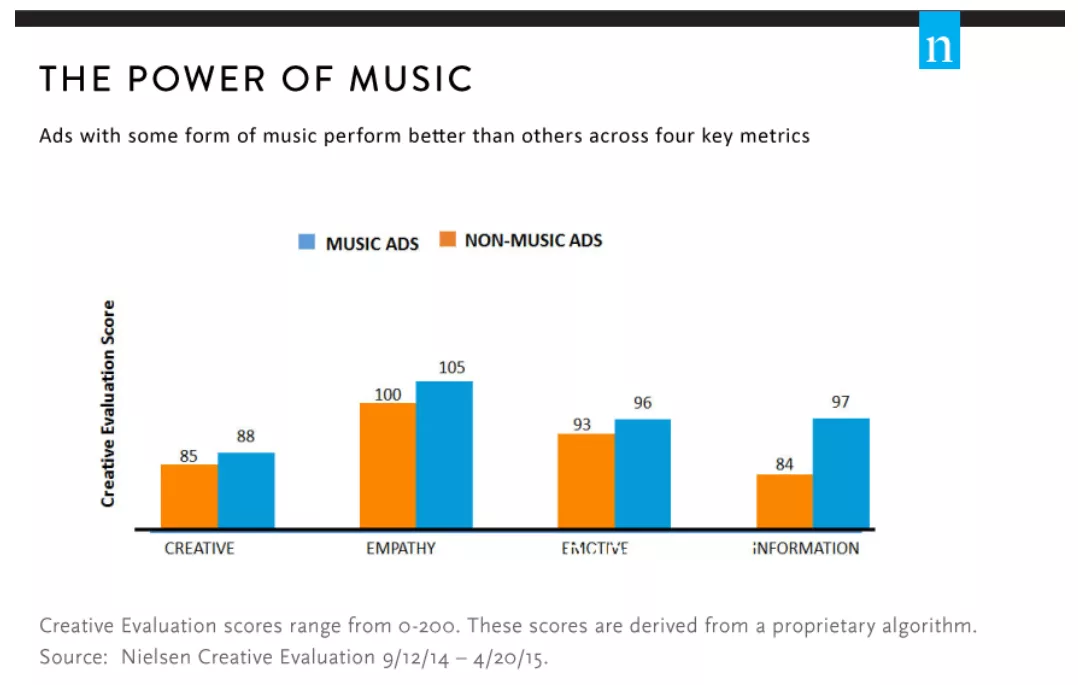 Both for the transport of emotions and information, advertising videos with music perform significantly better than those without music. Source: Nielsen.
Music sends effective messages.
In In this article from Spotify, you will learn that when choosing music, you should not think like someone from the advertising industry, but much more like a person from show business. This will make it easier for you to get your audience excited.
So instead of adding the expected music to the scenes in your video, you should use interesting musical interventions. You can underline the message with the sung words or have your own song written for your product.
Alternatively, you can use music to create little surprises, make the audience laugh and even stimulate action. To achieve all this, you should either read carefully or work with an audio and music expert.
Music is memorable.
Just as your video should follow a corporate design, the music you use should be recognizable. The goal is for your customers or potential customers to think directly of you when they hear a particular tune.
Some companies have had their own jingles written for this purpose, as you probably know it from radio stations. The so-called audio branding also works with current pop songs or other classics.
Music represents.
Another advantage is that your chosen soundtrack in an image film underlines who you are as a brand. Whether instrumental or sung music, whether a simple melody or an opulent orchestral work, the customer directly imagines your identity.
For example, if you want to show that you are a young, slightly crazy start-up with smart processes and quick decisions, indie songs are recommended.
If, on the other hand, your target group is mainly older people and you want to use nostalgic memories to persuade them to buy a particular product, you could use pop songs or melodies that remind the target group of young people.
As a traditional and elegant company, a "clean," classic melody that is neither too excited nor too fashionable will suit you. You could use a simple piano voice or a classical work to convince customers of your seriousness.
More tips on how to improve existing videos yourself can be found in this article. Often you can do that with new music!
Tips around the selection of music.
#1: Finding the right mood.
Many marketers make the mistake of planning their video in detail, perhaps even writing a storyboard, but not thinking about the music. There are certainly scenes that are accompanied by sounds or moments that are not spoken.
So when you're planning your video, take the time to think about possible music. For example, it might be helpful to consider what mood you want to create at which moment. Brainstorm a strategy around one or two of the following descriptors:
Mysterious.
Funny.
Entertaining.
Dramatic.
Playful.
Edgy.
#2 Don't mix too many different music styles.
At the same time, it is important not to overdo it with the music. You can also create different moods with short melodies or underline your message.
Some marketing experts tend to mix different music styles in a video. But it's more like: less is more! Otherwise, the music is so much in the foreground that the customer almost forgets your product. It is better to concentrate on one song or at least one genre of music.
Important tips on how to choose the right music, as well as helpful positive and negative examples can be found in this video:
Genre, energy, and lyrics must fit the product well.
#3 Coordinate music and content.
This point is especially important, but at the same time demanding. Because you probably think about the music while you're editing the video. So it's helpful if you already have an idea for each scene if and what music might fit.
You should watch the edited video several times and experiment with the music. This is the only way to judge how well the sounds fit the content.
Think also of successful advertising videos with music. Some use a pop song as background music or have a song or jingle written for them. Others use electronic music or use the product to make music in a creative way.
#4 Customize music to the audience.
Don't make the mistake of adding your own favorite music to the video. Much more important is the target group analysis, which also fits the preferred music style of your "perfect customer."
Young people convince you with a current song from the charts. If you want to position yourself internationally, you should choose an English song or an instrumental version.
In some cases the music for an advertising video is so successful that even a German song for a product arrives abroad. This was the case, for example, with this advertising for sex toys:
Various parodies as well as the official music video of the band Pixie Paris have become big hits on YouTube.
#5 Consider music in your budget and schedule.
Once you're planning your video, remember that you need time to choose the music you want. It can also be time consuming to cut audio and visuals together. So take your time!
Music also plays an important role in your budget. Whether you pay a band or the GEMA fees, you should expect to pay at least $500.
#6 Respect the copyright.
We have convinced you of the importance of music for your video? Before you enthusiastically start downloading current songs and integrating them into the audio track, you should also consider the legal aspects.
Whenever a piece of music is exploited, the author is rewarded accordingly. In plain language, this means that you are not allowed to use current music just like that. If you want to use a particular pop song repeatedly in your promotional video, you should purchase a license. This way you can use the music without restrictions, but you can also expect costs of up to several thousand euros.
If you hire a band to compose your new jingle or a short song for your video, it's a good option to support young bands. But always make sure that the band signs a contract permitting your use of their music.
Important information for your video audio.
The music for your marketing video plays an important role and is part of the audio. The soundtrack also includes any background noises, interviews, voices, and any other elements that can be as simple as a squeaky tire.
Surely you are wondering where you can get these soundtracks. Well, it's possible to buy stock audio easily online. Classical noises such as the babble of voices at a party, a car engine, the clanging of crockery, or laughter can be bought from the tape, so to speak.
Normally, it makes a much better impression if you create the sounds yourself. For this, you need professional-grade equipment that optimally records the voices and noises of a scene.
Conclusion: High-quality sounds convince the customers!
As you can see, both music and audio play an important role in your advertising video. The soundtrack should be of the highest quality to take advantage of music. So you can generate emotions with your potential customers, send the desired messages to your product, make your brand unforgettable, represent it and show your own diversity through varied music.
To choose the right music, take your time and budget. Find the right mood, don't get too abstract, and match content with audio. Please observe federal regulations to avoid copyright problems. As always, the most important thing with video marketing is: think of your target group!
If not only your product and its presentation, but also the music fits the target group, you are on the right way to win new customers. Don't underestimate the role of music and audio!
Not familiar with audio? Contact us, and we will be happy to help you make your video sound perfect with the help of audio tracks and music »