Mobile phones are our greatest sanctuary. There is hardly anything left for which we cannot use them. We will show you how to optimally prepare your existing videos for your smartphone – for more reach, customers, and sales.
No desire to read? Listen to our blogcast instead:


Are you aware that half of your online traffic is mobile? Maybe even more, depending on your industry and target group. According to Instagram, half of all online videos will be played on mobile devices by 2021. 70% of YouTube views even come from mobile devices.
We humans love to communicate with our mobile phones via video or to consume video content of any kind. You can't use a small screen for that. This is also reflected in the latest smartphone designs from Apple and Samsung: bigger, wider, and with even sharper screen quality.
Without a doubt, smartphones dominate our digital world. However, to stay competitive and profitable in this world, you should look into one question more closely: How do you make your video content optimized for mobile consumers?
Responsive design is not the only answer to this challenge. In the future, the entire customer experience will have to switch to the "smaller" screen compared to the desktop. This means that videos now need a special design and format. In addition, they must be optimized for both the desktop and the mobile user.
Why both? Doesn't it make sense to put all your eggs in one basket and design your entire business processes for mobile Internet traffic? That does indeed sound tempting, given the trends mentioned above. However, we believe that an all-in strategy is not the best solution in this case. Why?
Despite mobile mass usage and rising numbers, there will still be desktop users in the next few years. Smartphones are used in over a third of all U.S. retail sales at some point (research, price comparison, etc.), but don't forget that in most cases, the shopping trip ends with a purchase via the desktop.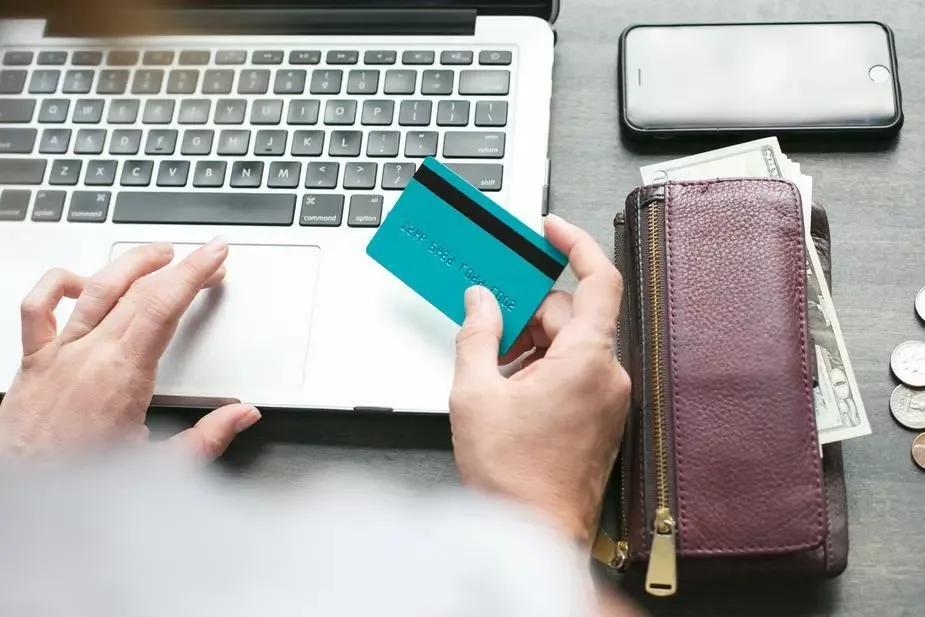 The last step in the online shopping process: Checkout via desktop and credit card.
To summarize: Videos are currently the most popular and widely-used form of interpersonal communication. Mobile Devices is the favored and most frequently-used tool to consume this type of content mediation.
It's logical that in this article we focus on mobile video optimization. With our 4 tips, you'll be prepared for the future and to offer potential customers an even better service.
How-To Guide – A quick guide for compelling mobile videos.
There are countless videos slumbering on your hard drive that you could actually use for mobile devices? Don't let your video content deteriorate! We'll show you how to optimize it specifically for mobile devices. Topics are video presentation on your website and video optimization itself. In addition, we point out critical points and tell you which measures are necessary for a solution.
Tip #1: Responsive design is a must.
Rule number 1: The format of the video must be correct when videos are produced for a mobile audience. You are wasting your chances on new customers if you develop a video for the standardized desktop screen, but do not additionally adapt it to the mobile requirements. The result: users see an oversized version of your video that doesn't fit on their small smartphone screen.
To ensure that your video is played, you should make use of a mobile-friendly video player. In addition to YouTube, there are other providers such as Wistia, Vimeo, and Sprout Video. They mostly take care of these format problems by specifying format defaults among other things. Pay attention to this!
A suitable video format favors the chances of a viral hit - Jean-Claude Van Damme's famous balancing act between 2 Volvo trucks.
The size problem also applies to thumbnails. They also have to get by with less space to convince. Adjust the size of the thumbnails and create an eye-catching, easy to read, and informative design. The quality of the video previews decides whether a user clicks on your video or not. For inspiration and help, follow our tips for the perfect thumbnail.
Tip:
Aware that you mainly receive mobile traffic? Then don't just embed your video into your website. Design a website concept based on the preferences of the mobile user and make it easy for her to watch your video.
Tip #2: Fast loading times & short videos.
Imagine the following scenario: Click on an integrated video link to learn more about a brand. But the video takes too long. In this case, would you switch off and possibly even leave the company website altogether?
If so, you're in the same boat as most. Because within the first 20 seconds, the probability is five percent that they leave the website immediately. So if the user experience is not satisfactory, website visitors jump faster than you can see.
Marketing experts attribute this to 2 social behavior patterns that are becoming more and more extreme. Consumers demand immediate satisfaction of their needs and are becoming more and more impatient. Amazon Prime Now, for example, responded to customer demand by delivering all kinds of products ultra-fast within 2 hours.
Intro video of Amazon Prime Now: How online shopping works today.
Of course, we can discuss the pros and cons of this growing mindset all day long. But that's not the topic here. The fact is, if you get your video up and running, it has a positive effect on the number of views.
The length of the video plays an equally important role in ensuring that these do not diminish. The most popular YouTube videos in the top 10 are on average 4.2 minutes long. According to Wistia, videos up to 2 minutes long get the most interaction. After that, many viewers stop watching.
We therefore recommend that you produce shorter videos and mention the most important information right at the beginning. Exceptions are webinars, explainer videos, product videos, or demos, which focus on providing detailed information.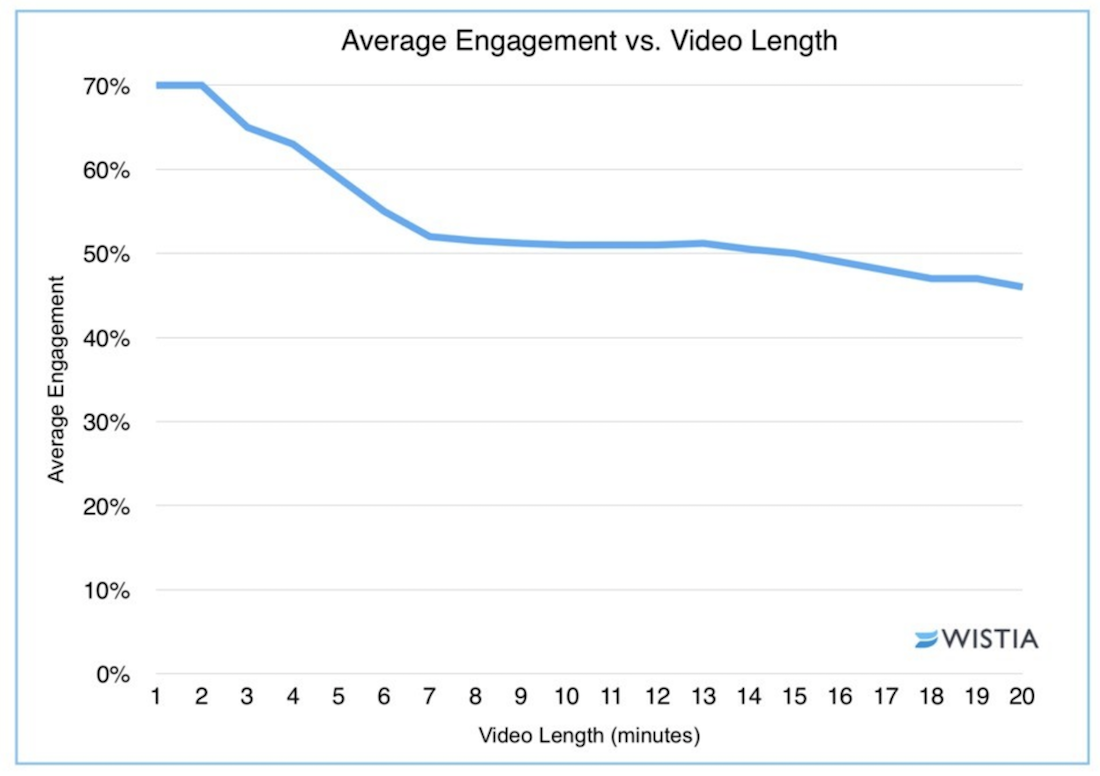 Der Zusammenhang zwischen Videolänge und Engagement: Je länger das Video, desto weniger Zuschauer-Interaktionen.
Tip:
If you have a higher budget, you can also place mobile video ads. The advantage: More attention due to more targeted addressing of your target group with short clips, e.g. Facebook Story Ads and Bumper Ads on YouTube.

Tip #3: Video & Call-to-Action (CTA) as the 2 main actors.
Videos make an excellent impression on your website because they generate more traffic and longer user stays. This in turn leads to improved SEO performance.
Attention! Because even an overcrowded, complicated website can ruin a video. If website visitors have to dig their way through the endless website content to find the right information, it won't make them happy.
Rather, make sure you have a positive customer experience by presenting a landing page with well-structured content to interested buyers. And in this case, less is more. The impatient consumer will certainly like that.
If you tell them clearly what they have to do next, you will have their full attention. An obvious call-to-action can be part of the video or integrated into the continuous text after the video. In both cases, you give interested parties the opportunity to keep in touch with the brand. In this way you give potential customers what you visit your website for: Relevant content! Your relationship with the customer benefits only from this.
What is Marketing Today? – Seth Godin calls to subscribe to the Hubspot Academy Channel.
Tip:
Avoid pop-ups both on the website and in the video. Most pop-up plug-ins and software don't work well for mobile devices. Either users can't close them properly, they don't appear on the pages they want, they cause confusion, and/or increase download time. This is anything but optimal.


However, if pop-ups work well for you, you should thoroughly test their design and functionality before using them.
Tip #4: Readable Captions.
If you're wondering what Captions are, here's a little explanation. Captions are captions or subtitles of videos. They are an alternative to multimedia content. The spoken dialog and sound effects of the original soundtrack are displayed on the screen in real time during video playback.
Captions are great for visually enacting what you're saying. In addition, the audience can better remember multimedia content.
Captions are useless, however, if they are too small for e.g. Smartphone users. Too much text is also unhelpful, as users are more occupied with reading than with listening and watching. This can cause confusion and frustration if the text is faded out too quickly and the viewer does not follow the reading.
Neil Patel's Captions get to the point: They are big enough, stand out in color, and provide a summary of what has been said.
Integrating captions may sound simple at first. But don't underestimate this task. The challenge is to find the balance between easy-to-read text blocks, animations, and a compelling script with story. If you master this project, the attention of the audience will hopefully last until the end.
Tip:
What are successful captions? Call-to-Actions, keywords, or summarizing key points. Make sure you use a simple font with clear lines for optimal legibility.
Wake up! Take advantage of the mobile & video-first era now.
Mobil Marketing und Video Content sind der Schlüssel zum Erfolg in diesen Tagen und in Zukunft. 92% der User, die mit einem mobilen Device ein Video anschauen, werden dieses teilen. Demzufolge werden Sie von einem positiveren Brand Image sowie von mehr Umsatz profitieren.
Mobile marketing and video content are the key to success these days and in the future. 92% of users who watch a video with a mobile device will share it. As a result, you will benefit from a more positive brand image and more revenue.
Feel as if you are dancing at 2 parties at the same time: Mobile and video? Don't worry, both disciplines are still in their infancy. Now is the best time to try yourself out and find out what works for you and your target group. Jump in the cold water! Only those who dare, win!
Do you need a courageous partner on your journey? We will be happy to support you and advise you today without obligation and free of charge »