How do you use video so that a potential customer travels through the marketing funnel without getting stuck or dropping out along the way? You don't want to lose leads during the marketing process. After many years of experience, during which we have helped various companies around the world to successfully develop their businesses, we are happy to share our know-how with you. In this article we'll show you how to use video strategically at each stage of a customer's shopping journey.
What is a marketing funnel?
Imagine scrolling on Facebook and seeing a video ad for your favourite nutritional supplements. The advertisement promotes an attractive 20% discount on the entire purchase. You can't resist, so you visit the website, add the product to your cart and place an order. By following this process, you went through a marketing funnel.
The marketing funnel consists of four phases and illustrates the sequence of stages on the sales conversion path. At the beginning or the first phase, there are large numbers of people, but gradually they begin to decrease as potential customers drop out for various reasons.

Customer conversion path
Let's take a closer look at how you can use the undeniable power of video in every phase of the funnel to retain as many customers as possible:
#

Awareness

At this stage, your potential customers have a problem or issue for which you have a solution. However, your customer knows nothing about you yet. Logically, you can't buy something you don't know about.

Your task is therefore to create awareness of your brand and product or service by reaching your target group where it's located. You need to know where or how your potential customer will look for a solution to their problem and then show them how your product or service will solve their issue.

What videos can you use at this stage of the marketing funnel?

SEO videos

A great solution is to turn popular articles into a video or to create a series of videos on topics that resonate with your audience. It's important not to forget to include relevant keywords in the video title, description, and of course to add a suitable thumbnail. This will ensure customers are brought to you when they do relevant online searches. Detailed keyword analysis and a little patience will give you great results.
Video ads
Social networks play a key role in the first phase. You need to publish interesting, creative videos that arouse emotions in the audience and motivate them to solve a certain problem. People often share these types of videos, so they spread across networks organically. The subsequent creation of video ads to maximize involvement goes a long way. If you select the channels that your target visits you will reach a wide audience.
To learn how to easily create a successful video campaign on Facebook, read the relevant blogs on our website.
Videos on a homepage
The video on your landing page should describe your product or service in such a way that it is clear to the viewer within 2 minutes what it is all about. Explainer videos are a great way to convey information in an engaging way. The visitor to your site will clearly understand how you can help him with his problem.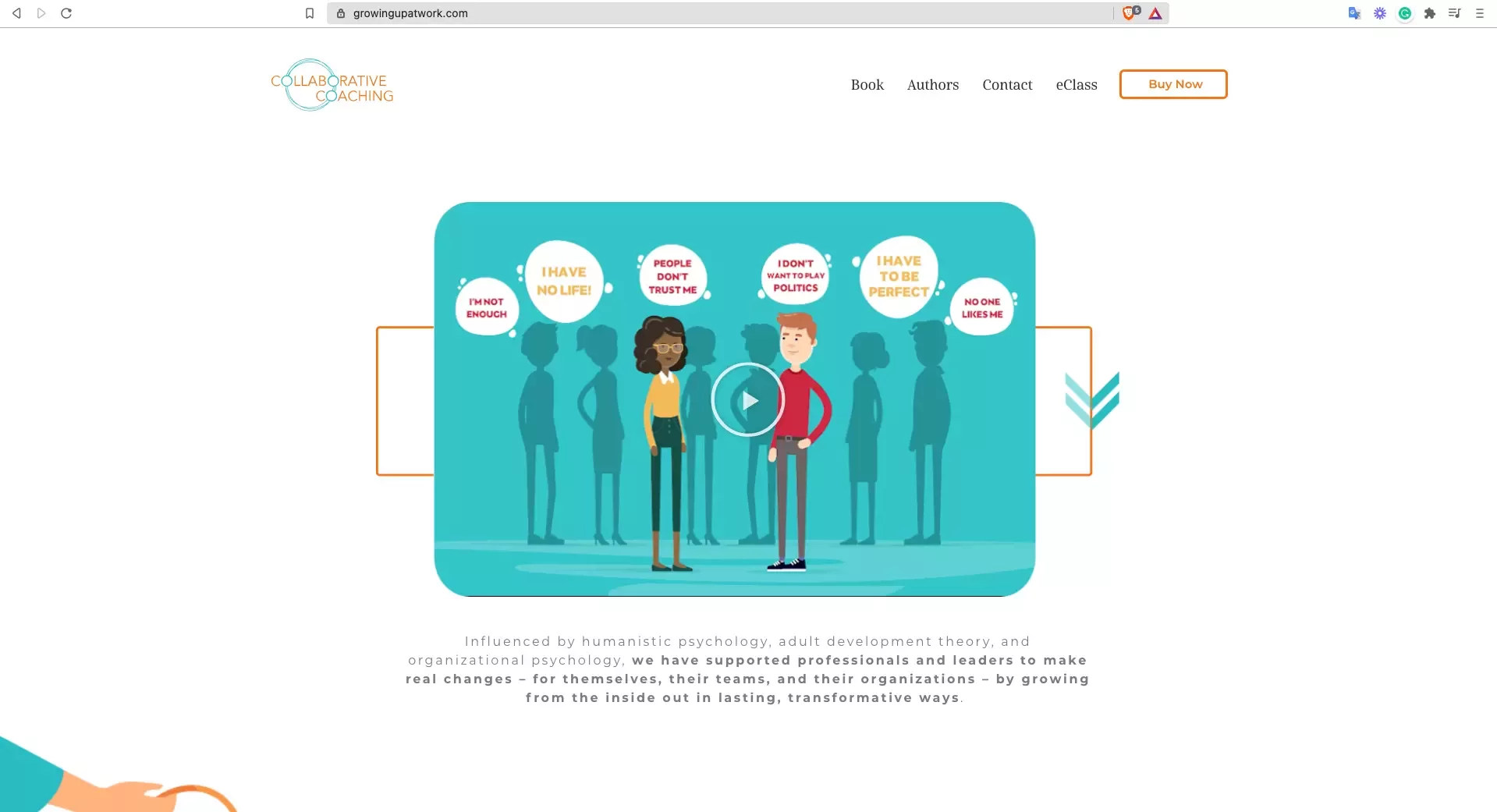 Video preview on homepage https://growingupatwork.com/
An example is the company selling the book "Growing Up at Work", which posted an explainer video using the Flat Motion video style on their website. The video playfully explains to the potential client what problem the book will help him with:
In only 85 seconds the video clearly explains what the promoted product will help with
At this stage of awareness, creativity is paramount but remember to keep the video's tone in line with your brand's corporate identity. You must also incorporate a strong call to action and clearly direct the viewer to the next step.
As mentioned, you're trying to reach a wide audience, so use video impression metrics to measure your success at this stage of the process.
#Consideration
By this point your potential customers know about you and remember the solution you offer them. However, to be more confident they need to know more about you.
It's important to provide them with a clear and detailed explanation of the product or service. Of course, at this stage it's also necessary to show the viewer the competitive advantages your product offers as this will further support them in making an informed decision.
But what kind of videos can you use at this stage of the marketing funnel?
Demo videos
Show your audience step by step how to use your product: provide details of every aspect of the product and emphasise its key features. We recommend placing such videos on the product pages of your website or in the FAQ section.
The Airtable platform boasts a great demo video. A simple video clearly explains how the product works, how it allows users to manage their tasks, what its main benefits are, and what the interface itself looks like. This allows the viewer to gain a solid grasp of the product in a really short time.
Great sample product from Airtable
Webinars
Online training, lectures, presentations, or seminars all fall under the blanket term webinar. The webinar's popularity has grown considerably in recent years and was further boosted by the pandemic. They are an excellent way to build relationships with the audience at the consideration stage. They allow you to create valuable content and educate your audience on topics related to your area.
Do you run a beauty salon? Hold a lecture on how to adequately hydrate your skin through a daily routine. Do you offer a personal expense management application? Organize online training with an expert from the world of finance who will talk about, for example the 50-30-20 rule, which will teach people manage their money and save. Do you offer software for marketers? Create a series of webinars on fresh information from the world of marketing just like Hubspot does: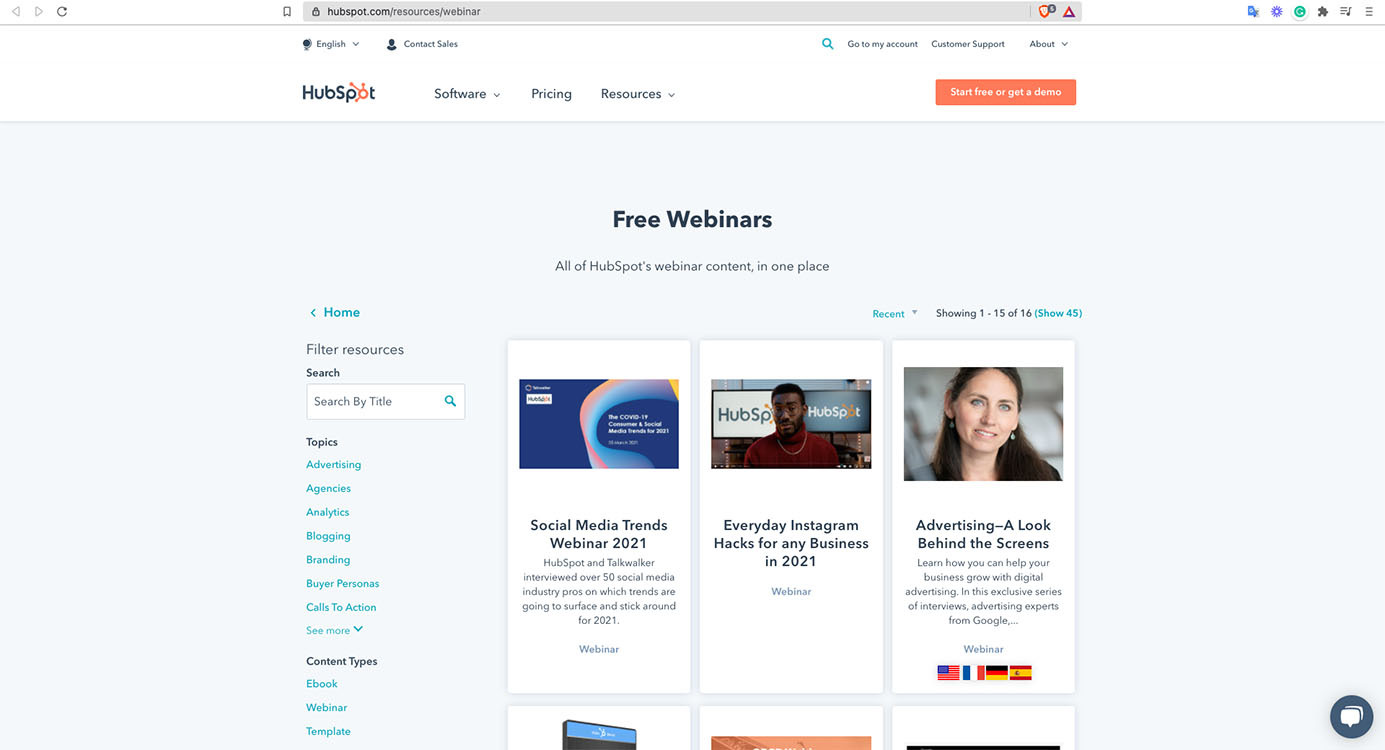 Hubspot offers up to 45 free webinars on its website
The possibilities are virtually limitless. Surely your area of ​​business also offers topics in which you can inform and educate your audience?
Case studies
Case studies can also successfully help to move your potential client from the point of consideration to the point of decision. A case study video will show the positive results of using your product that your existing customers are enjoying. It's based on real data, so they're the best way to show the value of your product or service.
An example is App Annie, which has published a case study video with Coca-Cola's Director of Innovation on its YouTube channel. The director, Greg Chambers, talks about how they use the data of the application to maintain the status of a recognized brand.
Case study by App Annie in collaboration with the world-famous Coca cola brand
An important indicator in evaluating the success of a video at this stage of the funnel is the time spent watching the video.
#

Decision making

In this penultimate stage of the marketing funnel, the remaining potential customers have already done some market research, are interested in your product, and are ready to buy. What is the next tool to persuade them to convert?

Add emotion!

What types of videos can you use at this stage of the marketing funnel?
Testimonials
Prepare a video in which the customers or employees of your company themselves talk about how your product or service helped them solve the problem. This kind of video recommendation will significantly increase trust in your brand.
An example is the Uber taxi service, which created a series of videos called "I choose flexibility." The main characters of the videos are the Uber drivers themselves, who talk about how this company improves their lives.
In its videos, Uber emphasises the important time it takes to realize the passions of its drivers
Brand story
Videos in which the founder of the company or the employees themselves tell the story of the company also have positive results in the decision-making phase. It's important to highlight the message and values ​​of the company. With this type of video, you can establish an emotional bond with the viewer, making them feel part of your business.
Probably the best example is the Dollar Shave Club razor brand and its entertaining video, in which the company's founder talks openly about the origin of the brand. Viewers are given a humorous look behind the scenes and get a sense of the business and to know not only the owner but also the employees.
The video, in which the main character is the brand's founder himself, brought in 12,000 orders in just 48 hours
#

Action

Congratulations! You are in the last phase of the funnel because you have successfully transformed your leads into buying customers. However, the work does not end just yet. Even at this stage you can further improve the customer's experience thanks to the video. Remember, your customer = your master.

What videos can you use in this last phase of the marketing funnel?

Onboarding videos

Create a series of videos for new customers that clearly show them how to start using your product. This type of video will ensure a seamless product experience and the customer will appreciate your helpful "welcome aboard the company".

For example, Wix, which provides web design software, offers instructional videos that allow the customer to work with every tool in their software.

The instructional video introduces new users to how to add or edit texts in the Wix interface

It's ideal to email such onboarding videos as this creates an even stronger and more personal connection which is likely to boost brand loyalty.
Customer retention videos
The most valuable thing any company has are its existing customers. It's therefore necessary to take care of them by, for example, sending them regular videos in the form of newsletters.
What sorts of videos are these? It could be a thank you for purchasing the product or service or an introduction to a new product or service feature. It's a great way to maintain and strengthen the relationship with existing customers so they continue to be interested in your brand.
Finally, let's recap briefly.
The marketing funnel consists of four phases: awareness, reflection, decision making, and action. In the awareness phase, you can use SEO-focused videos, video ads running on social networks, or video on a landing page. In the second phase of consideration, demo videos, webinars and case studies will help you succeed. In the third phase – decision-making – reference videos or stories of the company work extremely well. Finally, in the last phase, you can work effectively with onboarding videos or customer retention videos.
If you have any questions about video marketing, please feel free to contact us.