When was the last day you can honestly say you went about your day without watching a single video? I would struggle to answer this one. It's no secret that people are enjoying video content more than ever these days.
Whether you like watching videos on rainy afternoons with a cup of tea in hand, or you have a video-making pastime as an amateur or a professional, the video statistics speak for themselves.
Are you also devoted to the king of video sites: YouTube? Unsurprisingly, this is also the site of choice for 2 billion users. For more video-related stats, feel free to check out our blog.
Since it entered the market in 2005, YouTube has easily outshone all other video platforms. We believe it is therefore high time to introduce you to some grown-up siblings to the video-content family.
Vimeo
I think we can all agree that YouTube ads are not our favourite part of the viewing experience. Vimeo, on the other hand, offers a highly sought-after ad-free experience. It's your one-stop-shop creative platform, originally from 2004's New York. Paying a visit to this site will pay dividends if you're looking for 4K Ultra HD videos. The complete focus on video without distractions is one of the most loved features for users enjoying watching or creating videos.
Unlike its YouTube and Dailymotion counterparts, Vimeo boasts better branding options for video creators with the launch of the profile page experience. It's now possible to both customise and edit your page in the same place, saving time-wasting clicks! You can now also sort videos by tags to customise the viewing experience as much as possible. You can even build up a showcase of the clients you've worked with.
Experience with Vimeo
Another huge advantage of Vimeo is the detailed analytics of user behaviour, which utterly changes the game as far as practical feedback goes and gives creators a much-needed overview of their efforts. The ability to suss out which areas to improve on is invaluable information and a great predictor of the likelihood of future success. The site currently boasts around 170 million users and counting.
TikTok
Born in China in 2016, TikTok mainly rose to influencer-style fame during the pandemic. One of the unique selling points of this explosive video site is that the door is wide open for teenagers from 13. This makes TikTok the 'cute' youngster of the various video experience sites: its main appeal is short, snappy, portrait-format videos intended to entertain.
There are currently 1.1 billion worldwide users enjoying TikTok in all its funky glory, with the average age being 16-24. Interestingly, this video format has become so loved it's now attracting all sorts of professionals. You can learn on-point, get top tips on anything and everything from yoga poses to budgeting advice, or view snappy promo clips of TedTalks. Gone are the days when TikTok was just a site for the infamous dance choreographies to pass away idle time in the Covid lockdowns. It is also a safe space for regular people to bring out their quirky personalities or ideas.
The Top 10 Most Likes TikToks
Unlike Instagram, this is the perfect boredom-busting antidote to the idealized, high maintenance visuals of the picture-perfect platform. Simply put, TikTok is the espresso shot drunk on your feet in an Italian bar, as opposed to a smooth Americano savoured with a slice of cake. This site offers an instant energy boost with no frills but tons of personality.
Instagram TV
Also embracing the current demand for video content, film enthusiasts will adore this TV-style platform. Its ability to shoot 1 hour-long videos, instead of Instagram's one-minute limitation is a huge attraction to creators looking to expand into longer, sit-down, interview-style conversations.
Despite a separate IGTV app, it's possible to watch on its parent app, Instagram. The vertical layout is easier on the eye and on the hand, providing an uninterrupted experience and allowing the original billion Instagram users to dive deep into this fresh new adventure of back-to-back video content.
How to use Instagram TV
Launched in 2018, IGTV has rightly earned its place among the video family.
As well as publishing interviews, the site is an ideal playground for creators. The ability to easily create a video series adds some flair to your Instagram account and instantly provide your interviews with some added credibility. If you've ever fancied yourself in a TV presenter role, now's your chance to impress.
If you enjoy the social buzz of events, now's your chance to live-stream to your audience for a way to make them feel included and therefore engaged. Why not take them backstage for that elusive and exclusive "VIP feeling", or for a chance to view the unknown areas of your company or a teambuilding event and so showcase the human side of your workplace and build trust with your followers (and maybe potential future employees!).
Facebook Watch
Taking advantage of Facebook users' scrolling habit, the Facebook Watch feature site was a natural next step for the platform. Incorporating videos side-by-side with other content, Facebook Watch blends in seamlessly into the average user's experience. There are multiple ways to use the service and immerse yourself in video content to your heart's content.
Users can easily move to the site by clicking on the icon on the left-hand side of the Facebook Home screen. From there, there's a choice between watching Live videos in real-time, Facebook Original (think Netflix originals) shows, your own saved videos, or even Your Watchlist compiled of the video creators you've followed which can be modified at any time.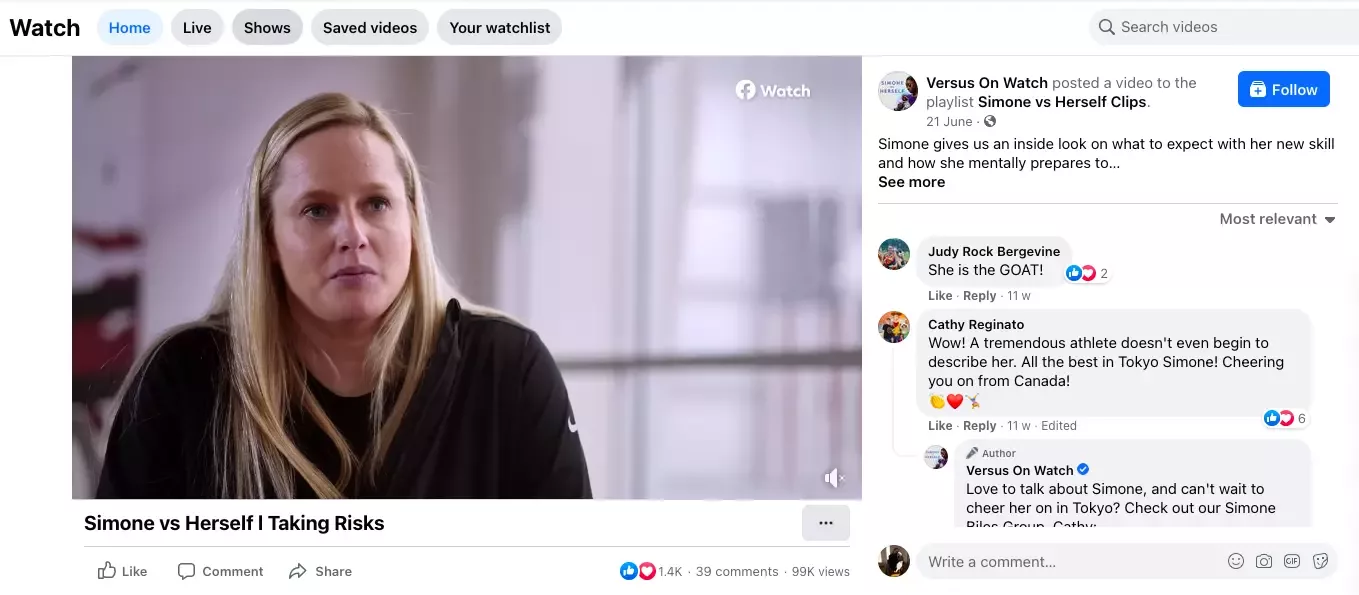 Facebook Watch
Taking inspiration from the video-call service Zoom, you can now even watch Facebook Watch videos together with friends in 'a room' as part of a Watch Party, which means you can watch the same video in real-time and chat at the same time. Similarly, you can Watch Together with friends via Facebook Messenger.
The 2.89 billion Facebook users can therefore dive head-first into this video-based storytelling world
DailyMotion
This is one to watch... Deemed "the next best thing to YouTube" by TechRadar, with around 112 million visitors a month, it is currently the second-largest video sharing site. Dailymotion offers an interesting selection of grouped topics, ranging from news topics and sports to entertainment and music. As usual, you can use the search function as you please.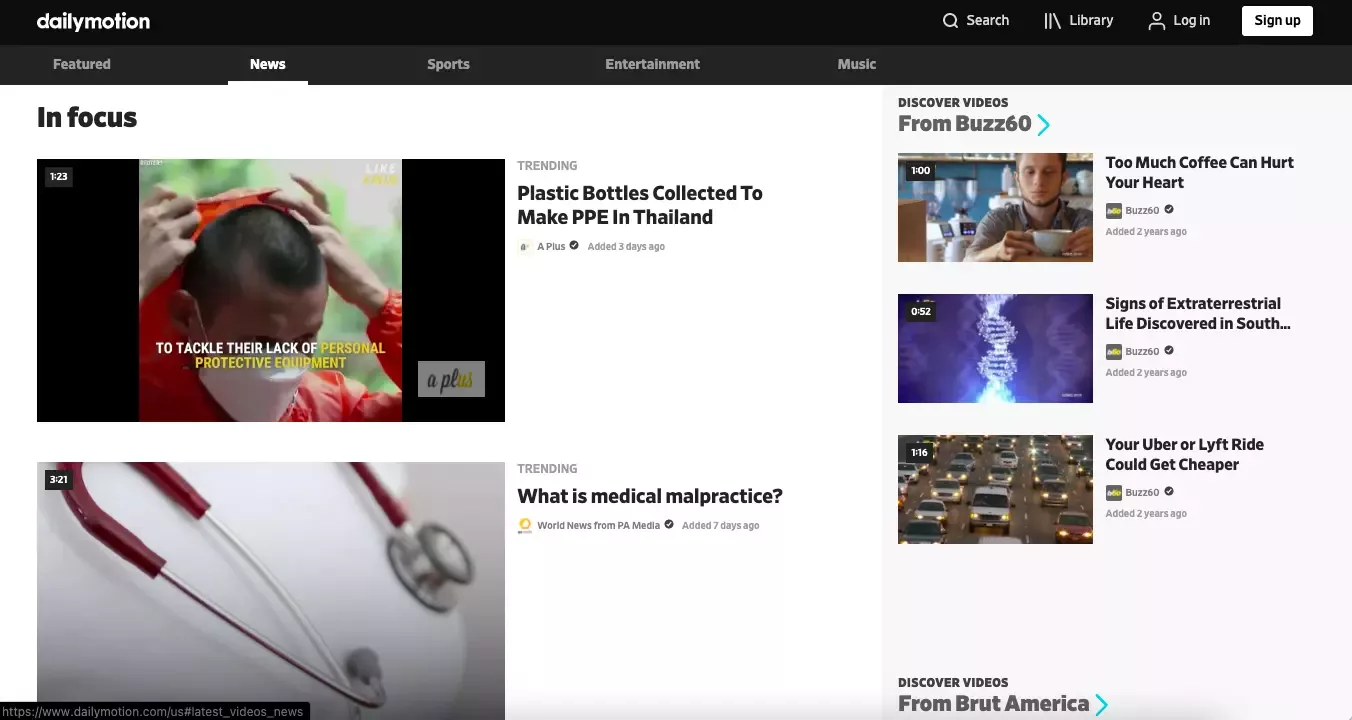 Website Dailymotion
Because it receives less traffic than YouTube, there's less competition for views so your video is more likely to stand out from the crowd. Saying that, the content is not filtered, so be aware that you might also come across some explicit content that is unsuitable for certain viewers. Founded in France in 2015, the site now offers multilingual videos with an interface very close to YouTube's. Creators enjoy the ability to edit videos, make feature videos, or link up their social media sites.
Vevo
Now let's introduce you to Vevo, the 12-year-old, premium and largest music video platform, available to watch on various streaming devices such as Apple TV, Fire TV, and many, many others. It is simply music to musicians' ears as it connects artists with their fans via music videos and offers some original content as well. Upcoming artists are often given space here to introduce their creations to a global audience. Founded in the USA in 2009, it is YouTube's moody forever-headphone-wearing cousin.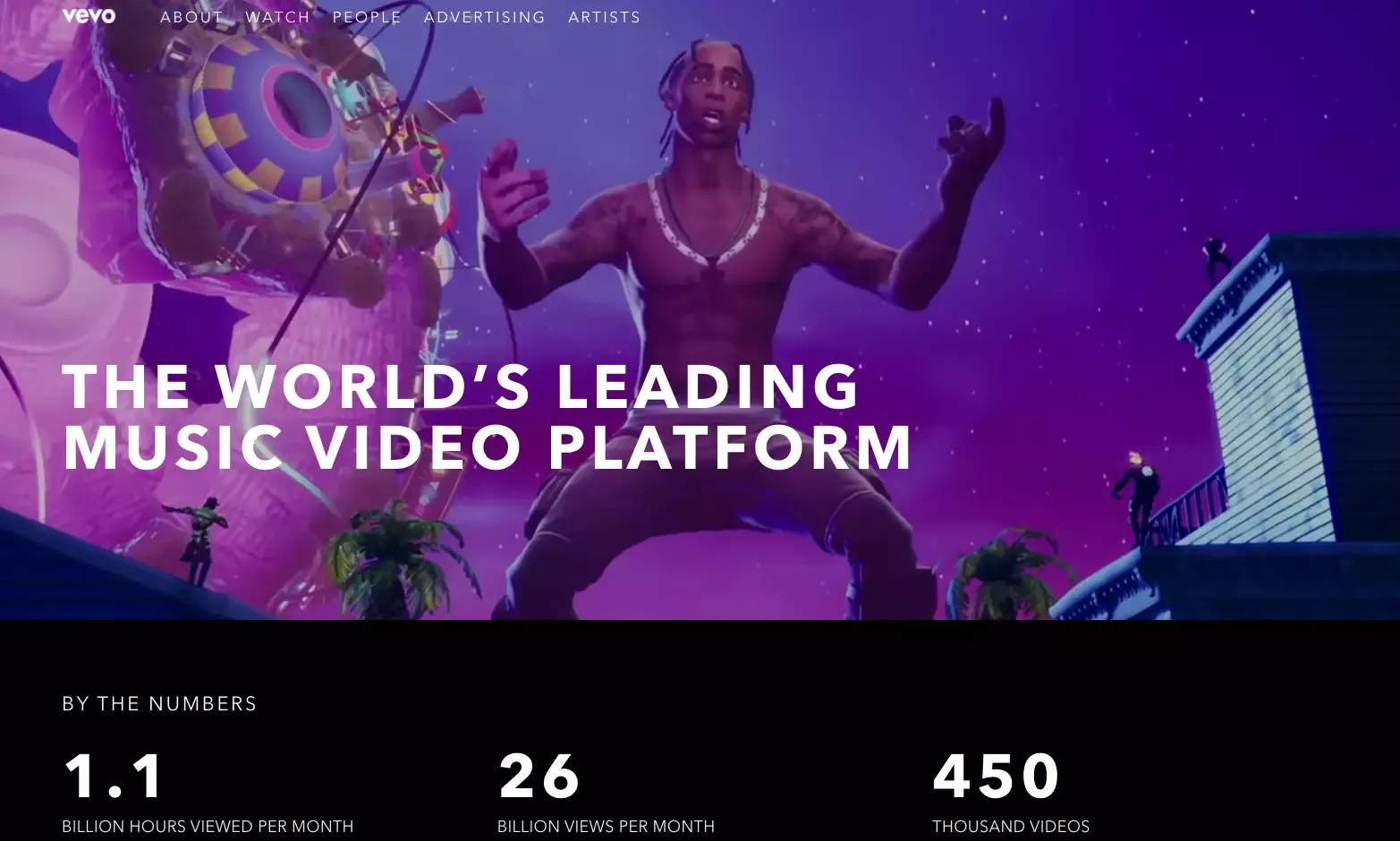 Website Vevo
This free music video service keeps you up to date with the latest music by pinning it to the top of your feed. You're also welcome to review songs and recommend your favourites to family and friends. On the market since 2009, this platform is the personalisation of New York's fresh music vibes.
Twitch
If your thumbs just twitch at the sight of a videogame, this one's for you! This site was originally dedicated to live streams of gaming tournaments. You can even set up your own gaming channel. It's a little community of gaming enthusiasts and was founded around a decade ago. It has now evolved a little over the years.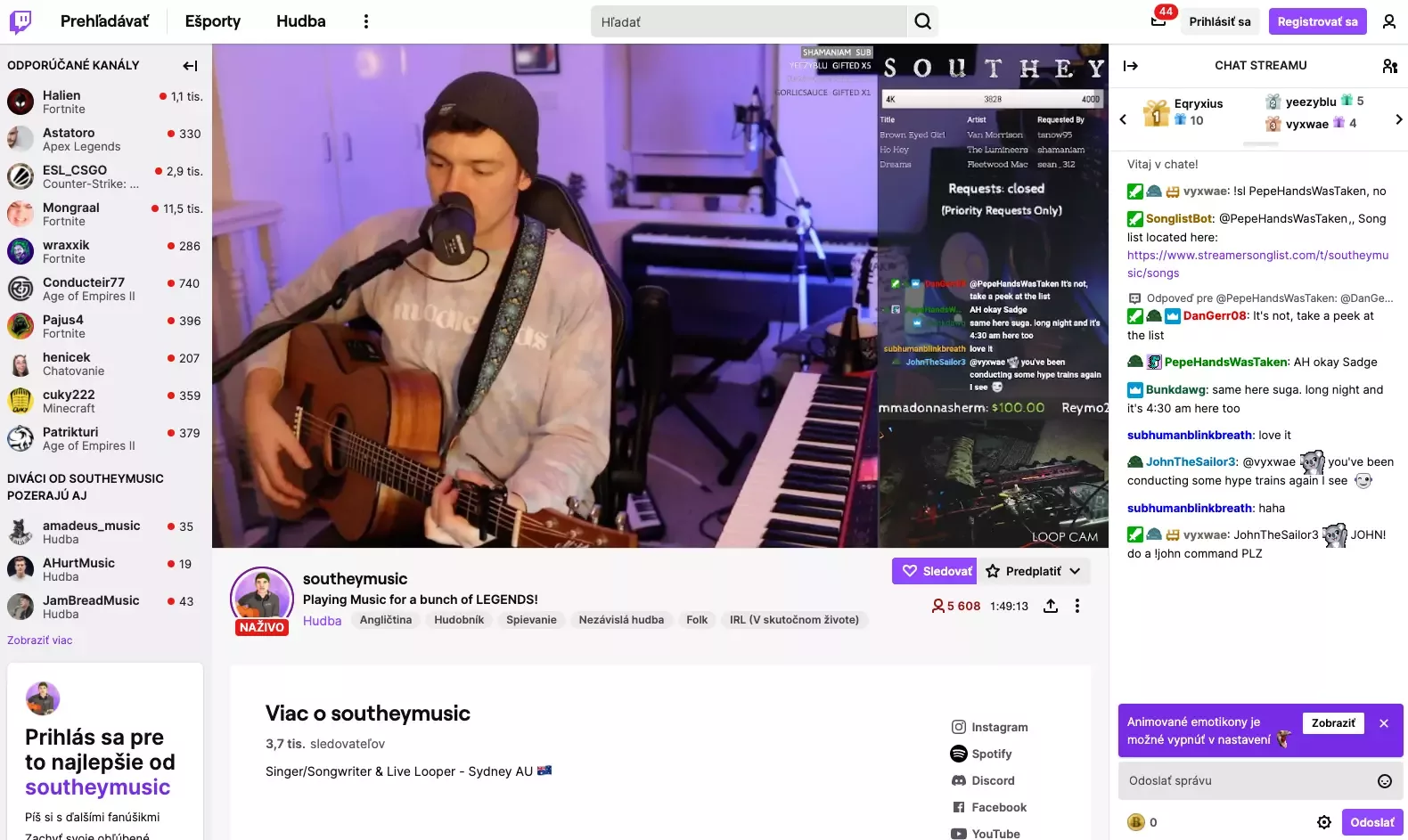 Southeymusic music video preview on Twitch
You can now find all sorts of music and TV content such as live music shows as musicians show off their work. If you enjoy raw, uncut music experiences resembling a more backstage feel, you'll love Twitch. It's a very inclusive type of experience where you feel as though you're in a living room with the musicians, hanging out, and listening to them perfecting their craft. If you're after a perfectly flawless music experience, though, this might not be your cup of tea.
In a nutshell, it's always worth exploring the web a little to find new hidden video content site gems. No matter what your professional or personal interests are, there's a video site for everyone to get the most out of. As you can see, there's much more to these Youtube alternatives than first meets the eye.
We wish you happy viewing!