Instagram has evolved into a major advertising platform over the past 10 years. In this overview article, we have summarized the possibilities offered by the Social App and what you should consider when creating Instagram Ads.
It's one of those success stories that can only be written in Silicon Valley: When Kevin Systrom and Mike Krieger founded the free online service Instagram in 2010, they had no idea that just two years later, a billion-dollar deal would follow with Facebook.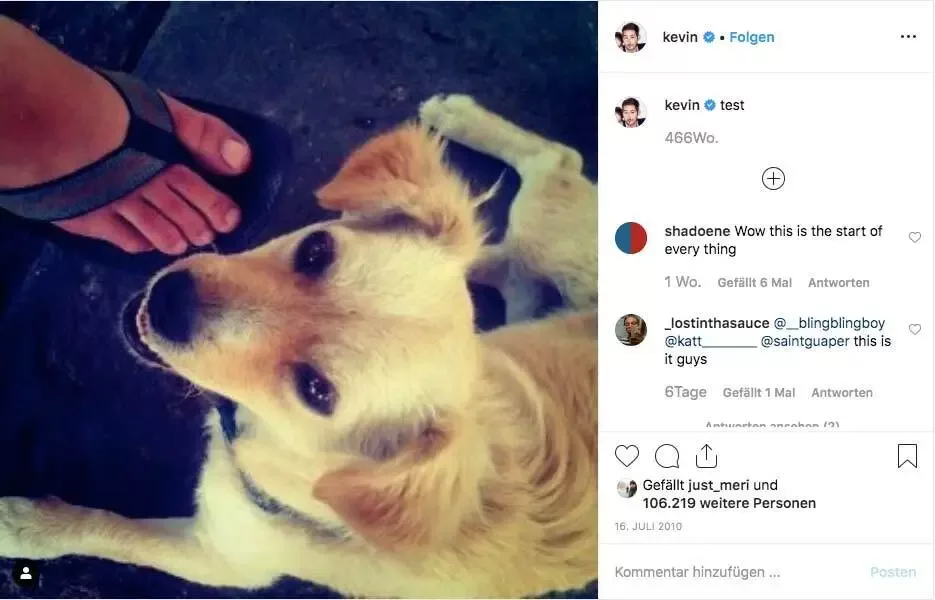 The first photo posted on Instagram, featuring CEO and co-founder Kevin Systrom.
What at the time was considered an exorbitant acquisition price is proving to be a real bargain for current expert estimates, as Instagram's estimated intrinsic value today is around $100 billion.

A look at the statistics highlights this calculation: Instagram now has over one billion active users per month worldwide (including over 15 million Instagram users in Germany) and ranks fifth among the largest social networks and messengers in terms of the number of active users per month (MAU)
Is Instagram worthwhile for companies?
Instagram has also established itself as one of the most important social web services for companies. More than 25 million companies worldwide use the app to present their brand, tell their company story, and present their products and services to a broad target audience.
With success! According to studies, more than 60% of respondents discover new products through Instagram, and more than 200 million users worldwide visit at least one company profile every day. Like Pinterest, Instagram is mainly a source of inspiration. In 2016, the Instagram algorithm, which replaced the chronological feed structure, was introduced to best match these to individual interests and user preferences.

With this in mind, it is particularly important for companies to increase their own level of awareness and actively promote community building. How can this be achieved? With Instagram advertisements.
Advertise on Instagram: Discover your options.
As a company, you have various design options for displaying advertisements on Instagram. Basically, you differentiate between ad placements in the story or in the feed.
#1 Instagram Ads in Stories.
1.1. Classic Stories Ads.
The vertical full-screen ad offers marketers an optimal advertising space for their own product presentation. More than 50% of company accounts already use the Instagram Story function to interact with their target group and strengthen their own brand.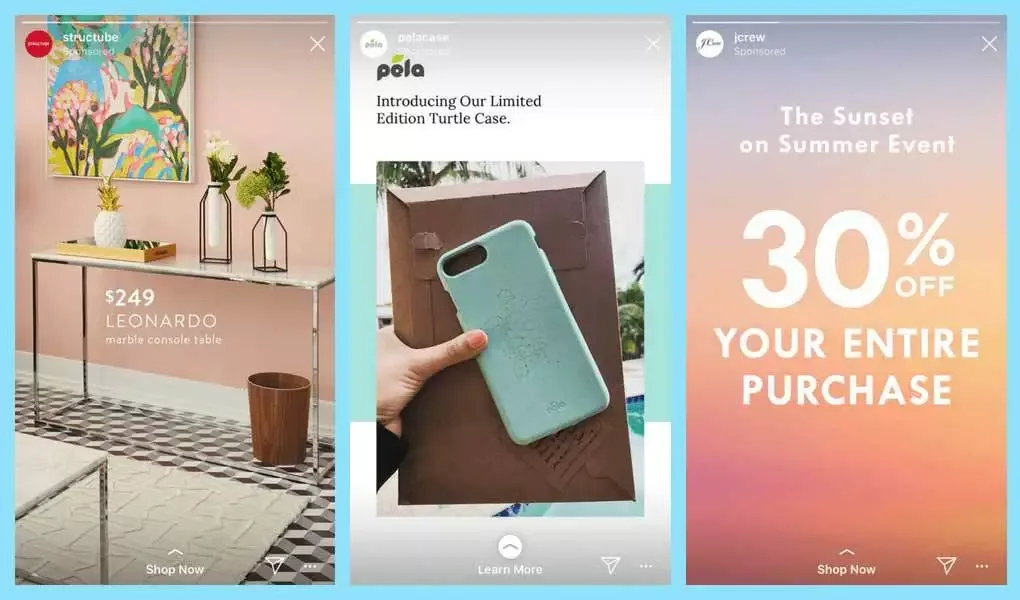 Instagram Stories Ads – this is how it works: prominent product placement, informative text elements, and effective CTA.
You can use both images that are displayed with a maximum duration of 5 seconds and videos that do not exceed 15 seconds. An integrated swipe-up link at the bottom of the screen leads the user directly to a predefined landing page (e.g. the company's own online shop).
The paid Stories Ads are played out between organic Instagram Stories and are available 24 hours a day, but can be saved as a highlight and are thus visible indefinitely on the user's own profile.
Design Specifications for Stories Ads.
In addition, Facebook provides further design specifications that guarantee optimal ad placement:
Aspect ratios: All aspect ratios for photos and videos (from 1:91 to 4:5) are supported.
Leave room for maneuver: Leave 250 pixels "space" at the top and bottom and do not insert any text, as the Instagram profile (top) and the Call To Action (bottom) are displayed.
File type: MP4 or MOV (video) and JPG or PNG (photo).
Dimensions: Recommended resolution: 1,080 x 1,920 (min. 600 x 1,067).
Supported Codex: Video: H.264, VP8 and Audio: AAC, Vorbis.
Many well-known brands, including Lay's, McDonald's and Mercedes Benz, have already launched campaigns for Instagram Stories ads that have been proven to contribute to the achievement of overarching corporate goals.
Success Case: Fashion collection perfectly staged with Stories Ads.
British luxury apparel company Ted Baker used Instagram Stories ads last year to promote its fall/winter collection with the aim of reaching a younger audience.

With a total of eight videos, all of which lasted no longer than ten seconds, an atmospheric product staging was achieved that contributed to an increase in advertising recall of 8.2 points and also increased website conversion by 22% among people between 18 and 24 years of age.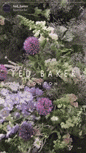 Ted Baker's Instagram profile lists more than 900,000 followers.
According to Ted Baker's own Digital Commerce Director, Instagram has become the favored platform for targeted brand awareness.
New target group development through Instagram Stories Ads:

"For our content on Instagram, we get individual elements from a complete campaign and create several short cuts, which we play out bit by bit over a period of time. With stories, we want to immerse our current and new target groups in the new collection by creating compelling content that [reflects] an overarching concept."
Natasha Nutt, SENIOR PAID SOCIAL EXECUTIVE, TED BAKER


1.2 Carousel Ads for Instagram Stories.
Since February of 2018, it's possible to use Carousel Ads in Instagram Stories. Meaning: A maximum of 3 story elements (2 are also possible) can be combined into one display. The combination of picture and video creates new possibilities to present your own product and brand world in a multifaceted way.
Carousel Ad for Instagram Stories: The US model label Gap scores with moving Feel Good impressions.
Basically, users have the same options for interaction as with organic stories: A tap takes you to the next content element of the ad, a swipe wipes the entire ad away or pauses it on the screen by holding it down.
Carousel Ads for Instagram Stories:

"Vertical formats continue to boom, and Instagram Stories inspire the community to share a whole new kind of content. We want to offer advertising formats that take these community trends into account. The ability to integrate up to three segments into a story ad will give advertisers even more options for creative vertical storytelling."
Nadine Neubauer, BRAND DEVELOPMENT LEAD CENTRAL EUROPE BEI INSTAGRAM
#2 Instagram Ads in the Feed.
Here, you can choose between three options, which differ in their complexity and the degree of their scope. Experiment with the options provided depending on the type of marketing you have selected.
2.1 Photo Ads.
A powerful motif, which can be displayed in square, portrait, or landscape format, attracts attention and provides decisive impulses for the desired actions of the target group.
Photo Ads are regarded as classics among the advertising variants and stand out from organic contributions both due to the integrated CTA function (e.g. "Buy Now") and the written notice at the top right of the screen that it is a sponsored post.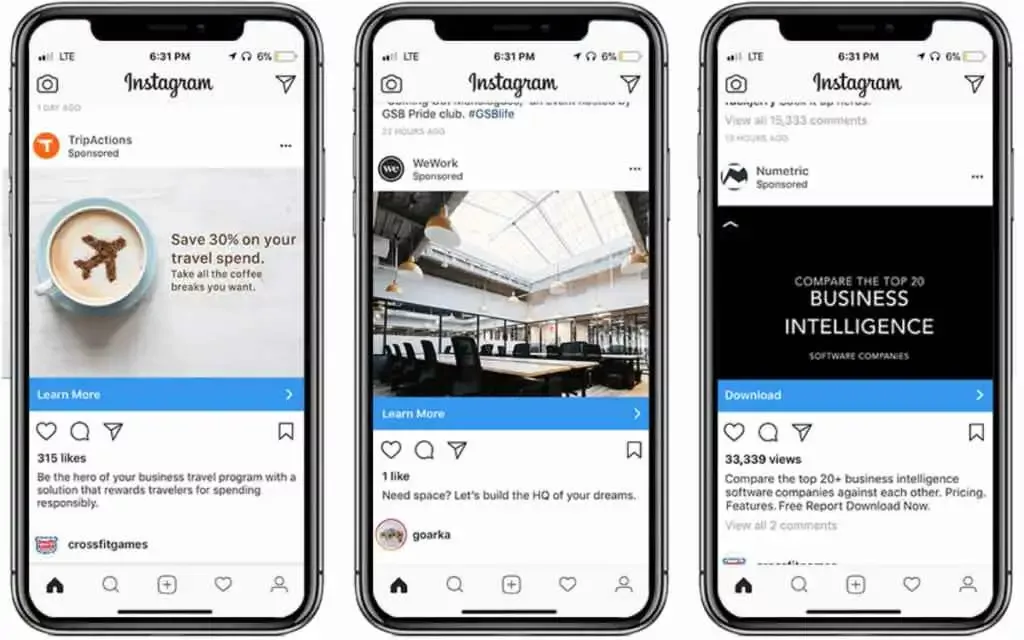 Photo Ads: B2B companies also benefit from the reach of the social app through smart advertising strategies.
Design Specs for Photo Ads:
For the best Instagram Photo Ad, follow these design guidelines:
Aspect ratios: Minimum Aspect Ratio 400x500 & Maximum Aspect Ratio 191x100 (Aspect Ratio Tolerance: 0.01).
Image dimensions: Minimum width 500 pixels.
File type: JPG or PNG.
Recommended resolution: Facebook does not specify a maximum limit for the resolution.
Text: A maximum of two lines of text are displayed.
2.2 Video Ads.
The video display on Instagram can last up to 60 seconds. However, due to the low attention span of the user, it is recommended to limit the moving image display to a length of 20 to 30 seconds.
The short clips are perfect for detailed presentations and for presenting a process or application similar to an explainer video. With a little creativity, the possibilities of use are not limited to individual industries, as is shown by numerous practical examples:
Versatile in use: Instagram Video Ads Examples from Runtastic, Lemonade & Rothy's.
Design specifications for video ads.
Consider the following requirements when designing your video ads.
Recommended resolution: No max. limitation
Video file size: max. 4 GB
Video subtitles: Optional
Video length: 1 to 120 seconds
Text: Two lines of text are displayed.
Maximum video duration : 120 seconds
Video dimensions: Minimum width 500 pixels
Video size: max. 30 MB
Aspect ratio of the video: Minimum Aspect Ratio 400x500 & Maximum Aspect Ratio 191x100 (Tolerance on Aspect Ratio 0.01)
Video thumbnail: Minimum width 500 pixels (video thumbnails should not contain more than 20% text to avoid being shipped at reduced speed.
2.3 Carousel Ads.
The Carousel Ad variant ensures a dynamic and interactive appearance. The sequence of up to 10 content elements (Reminder: max. 3 elements can be used as a story variant) increases the dwell time of the users, who can swipe through the individual images and/or videos.

This type of advertisement is ideal for gripping storytelling, where a story is told across the individual cards, thus increasing the commitment of the user.

In addition, the ad scores with its wide scope for design: each picture element can be equipped with its own link, thus enabling the presentation of several products.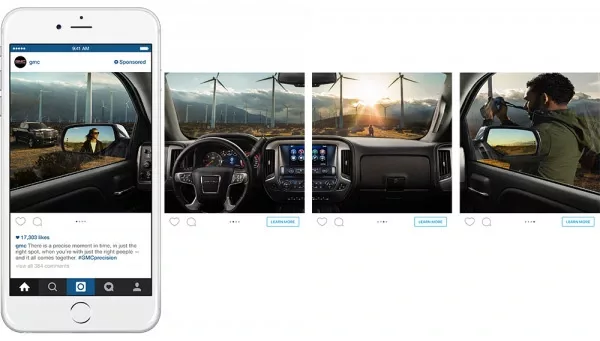 Perfect product presentation through Instagram Carousel Ad: GMC shows the new Sierra through impressive panoramic views.
Design Specifications for Carousel Ads:
The specifications for the use of carousel ads must also be observed:
Minimum number of cards: 2
Maximum number of cards: 10
Image file type: JPG or PNG
File type for videos: Supported file formats
Maximum video file size: 4 GB
Video length:up to 60 seconds
Recommended resolution: min. 1080 x 1080 pixels
Carousel aspect ratio: 1:1
Text: Two lines of text are displayed.
Heading: One line of text is displayed.
 (Images containing more than 20% text may be shipped reduced.
)
Aspect ratio tolerance : 1%.
Maximum text length: 2200
Maximum number of hashtags in the text: 30
Maximum number of cards in Carousel Ads: 10
2.4 Collection Ads.
Last year, the ad portfolio was expanded to include collection ads. In addition to the images or videos shown, a product catalogue is displayed to guarantee a seamless and immersive shopping experience without users having to leave the app.
Consisting of a main video or image and four underlying image elements arranged in a grid, the ad optionally leads directly to an Instant Experience that invites users to browse and discover.

When placing a Collection Ad, 3 different templates are available: "Prefabricated Shop Window", "Instant Lookbook" or "Immediate Customer Acquisition", which should be selected depending on the user's marketing goals.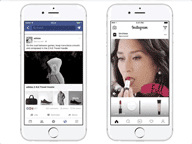 Collection Ads: IInitially introduced on Facebook, the ad format has also been launched on Instagram since 2018.
In Collection Ads, Facebook also specifies required slideshow and text specifications in addition to image and video specifications.
Step-by-step to your own Instagram Ad.
Instagram ads can be created with the same tools as Facebook ads using Facebook's Ad Manager. Linking the Instagram Business profile to the Facebook Business account is not mandatory, but offers a number of benefits.

For example, the target group can be narrowed down in more detail and the performance of ads placed can be optimally monitored.
Instagram Ads Tutorial: In less than 15 minutes, the most important basics are explained in an understandable way.
#1 Create account link.
In the company settings of the Business Manager under the item "Instagram Account", the corresponding account can be added with a few clicks so that you can get started with the design of your ad.
#2 Select Objective.
No matter which of the presented ad variants you choose, the creation process always follows the same tripartite structure of "campaign," "ad group," and "ad".
First of all, you decide on an advertising goal that you want to achieve with your campaign. The options vary according to the placement of the ad in the feed or in the story.
The choice of the right advertising target should always be derived from the overarching corporate goals. Facebook's broader "awareness," "consideration," and "conversions" categories, under which the specific advertising objectives can be classified, provide a jump-start.
#3 Edit ad group.
Under this tab, you define your target group and select the appropriate channel for your campaign under "Placement." The last step in this stage is to define a budget and the advertising period.
#4 Create ad.
The last step is to design your ad. This is where the different ad variants come into play, which you can choose according to the previously determined placement. With the integrated preview, you can see what your ad will look like and make any adjustments before it is published.
4 Application Tips for Instagram Ads.
The functionality of the ad offering can quickly become overwhelming. In addition to the specifications provided, it is therefore worth taking the following tips into account to make the best use of your advertising budget:
#1 Moving intro.
The first seconds are decisive and leave no time for slow and still openers. Especially if the choice is video ads, the first second should make it clear that it is not a still image.

Otherwise, scrolling will continue without hesitation and the user will never know what he missed. The spent advertising budget thus becomes a bad investment. You can prevent that!
#2 Avoid promotional look.
You certainly know it yourself: What looks too much like advertising is automatically scrolled past, and the advertising message does not get through to the target group. Therefore, try to make your ad look more like an organic post. How can this be achieved? For example, show real people and consider cooperation with an influencer, if necessary.

Here, however, brand fit is an indispensable decision criterion in order not to jeopardize a clear and above all credible positioning.
#3 Silently convince.
Due to the mobile use of the app, you should always make sure that the core message can be understood without sound when using the video. The musical enhancement should serve as an additional element, but should not be a decisive factor for understanding the advertising message.
#4 CTA use & highlight.
The primary goal of an advertisement is to motivate the user to take a certain action. Although the predefined CTAs cannot be replaced by personalized text, they can be highlighted within the ad using their own design elements.

For example, colored arrows or individual text elements indicate the path direction for the customer: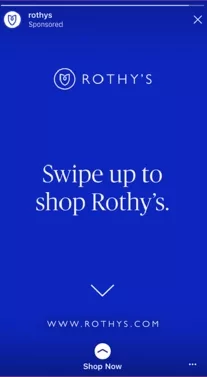 Instagram Stories Ads: Rothy's underpins its CTA with textual hints.
#5 Setting impulses for interaction.
Stories Ads are an excellent way to use the survey tool to avoid placing the advertising character in the foreground. In this way, the brand awareness is strengthened in a playful way.

This automatically extends the user experience and intensifies brand loyalty through the dialogue-oriented approach.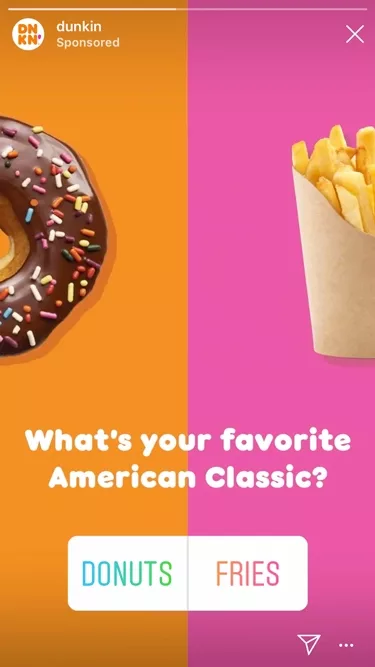 Ad: Dunkin' Donuts achieved 20% lower cost per video call with the survey sticker
In addition, many fashion labels have already used the Instagram survey function to capture the zeitgeist of the generation and to make political statements for clear brand positioning.
Let's go: Experiment with your own Instagram Ads.
Instagram has picked up a lot of wind in recent years and has continued to expand its monetization model. So that you, too, can exploit the full potential of the Social App, we recommend that you do not neglect Instagram Ads.

If you need support on how to best reach your target group with smart ads, we will be happy to help and advise you on how to create your personal Instagram Ad »