The infinite vastness of the marketing cosmos: Where should an aspiring marketing expert start? To make sure you don't miss any trends, we'd like to introduce you to the most important Marketing Blogs, which will make your life easier.
From the beginning: What is modern marketing?
The marketing world is versatile and complex. New fields and skilled jobs are springing up like mushrooms in late summer. The reasons for this are social changes, the rapid progress in digitization and technology, and ever shorter product cycles.

Steve Jobs had already grasped something decisive in the 1990s: For a long time now, it has stopped being about selling and communicating lifeless, highly technical product features, but about something bigger. Customers buy the feeling, the values that go along with buying a brand. They consciously choose a lifestyle. But let's let Steve Jobs speak for himself and tell us what Apple stands for.
Think Different: "In that craziness, we see uniqueness." – Apple founder Steve Jobs on the people Apple designs products for.
You are already aware of what marketing means in modern times and what a key function this division plays? Then jump straight to the part where we warmly recommend our Top Marketing Blogs.

Everyone else, please turn your eyeballs back to these lines, because now you'll get to know the role of modern marketing.

Right from the start, we want to clarify a form of "fake news": Marketing is not just advertising!

But what is marketing then? Marketing accompanies the entire process from the conception of a product to its manufacture, distribution and marketing, right up to after sales and finally the disposal of the product. In other words: Marketing is the product life cycle and its management!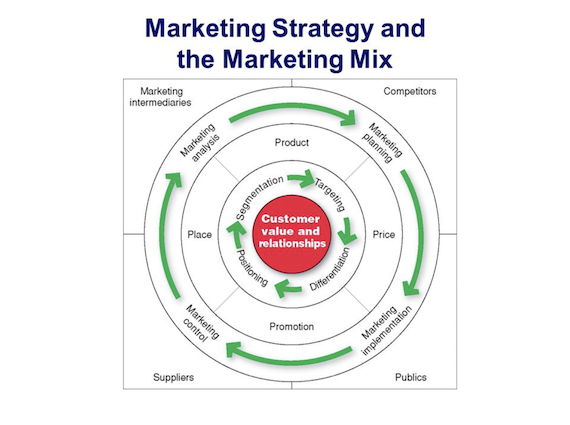 Marketing as a complex construct, simply explained on slideplayer.com.
What used to be standardized product development and simple bartering of securities in Henry Ford's days of industrialization is now a dialogue between brands and end users at eye-level. The push strategy makes room for a customer-friendly pull strategy where consumers can choose between products and live out brand preferences. These 3 characteristics will tell you how modern marketing reacts to this and how it tries to gain advantages in purchasing situations:
The customer is king: A positive customer experience is the focus of all company decisions because consumers decide whether a brand succeeds. For the right direction, marketing experts are obsessed with the opinion of (potential) customers and monitor the entire customer journey from beginning to end.
Only Inbound: Modern marketing is a mixture of classical and digital disciplines. A good mix is best received by consumers. More complexity requires greater specialization. There is nobody who knows and can do everything! Conversely, this means that marketing drivers acquire expertise and experience in a specific area and medium. Nevertheless, they work closely together to improve the customer experience.
Innovation is power: Modern marketing is responsive, adaptable, and agile. With Big Data, marketing professionals are always one step ahead of consumers. For example, the total amount of data can be used for even more efficient targeting and customer relationship management. Personalized customer experiences are the key to success.
This not only shows what competencies are important in the marketing area, but also how a collaboration should be regulated across disciplines and departments in a modern company. Different areas of responsibility are directly interwoven and at least as important.

Whether copywriter, supply chain manager, or mobile app developer, everyone is needed for a smooth interaction with customers in order to satisfy them!

Modern marketing understood: Check! Now we dedicate ourselves to 5 marketing disciplines, which you should have on your screen in view of the latest trend forecasts for 2019. Included in the complete package are 9 different blogs to keep you up to date and to inspire you to new groundbreaking actions.
Focus on marketing communication.
If we're being honest, there are too many brands for any given product. Nevertheless, everyone wants to sell their product in order to make money.

A hopeless dilemma? Absolutely not! The trick is to build a strong brand with which consumers can maintain an emotional relationship, prompting them to choose you over your competition. By what makes this effective? Marketing communication.

Some of the core disciplines of modern marketing communication that currently receive a lot of attention are:
Content Marketing.
Social media marketing.
SEO.
Mobile marketing.
Video marketing.
Experts predict that these disciplines will grow even faster in the future and develop their own very specific characteristics.

In order for marketing experts to be able to survey the entire subject area, high-quality and up-to-date sources are worth their weight in gold. There doesn't even have to be many: quality instead of quantity is the motto for information procurement!

For this reason, we have limited the selection to our top 9 blogs and categorized them for a simpler overview.
1. Content Marketing.
"Content is king" still remains true today.

Storytelling is a popular communication tool to advertise products that aren't for purely commercial purposes. How to create the perfect advertising mix so that long-term and loyal customer relationships are the result of your interactions is explained in our XXL Storytelling Guide.

Besides storytelling, user-generated content is another hot trend you should consider in 2019. 77% of conversations about brands on social networks are about users looking for advice, information, or help. 70% of millennials are dependent on online testimonials from their peer group. What is possible in the area of content co-creation between brands and consumers will become apparent over time.

See for yourself, these blogs will show you the right way.
#1 Content Marketing Institute (CMI) - The reliable all-rounder.
Thematically, the CMI covers everything from A to Z: Content Strategy, Creation, Distribution, and Measurements. The reader is provided with useful how-to guides, step-by-step instructions, best practice examples, case studies and of course industry news. So they are well-provided for here!
Recommended articles:
Your 2020 Mission: A Unified Strategy for Content in Your Marketing.
Learn From the Best: 8 Inspiring Content Marketing Examples.
Rock Your Content With These 7 Songwriting Secrets.
#2 Hubspot – For inbound specialists.
Hubspot's articles line up behind the 3 pillars: Marketing, Sales, and Service. According to their blog motto: "Your daily dose of inbound content" – they deliver valuable content around the customer journey and the interaction with (potential) customers on different platforms.
Recommended articles:
How Frequently Should I Publish on Social Media? A HubSpot Experiment.
45 Visual Content Marketing Statistics You Should Know in 2018.
15 of the Best 'About Us' & 'About Me' Pages and How to Make Your Own.
The co-founders of Hubspot live on stage at the big INBOUND Event 2018.
2. Social Media Marketing.
SproutSocial predicts that the social media trend for 2019 will be to build "more trust" between brands and users.

Private groups, such as those on Facebook, are becoming increasingly popular, both among companies and users. Brands, brand ambassadors, loyal fans, and close friends can meet and exchange information on secure terrain. Together with your followers, brands can, for example, develop products or optimize them on the basis of feedback.

Communicating more transparently also means providing more insights into everyday business life and letting users take a look behind the scenes of a brand. Social media with features such as Facebook Story, Instagram Stories and IGTV have already adapted to this trend. But there is so much more potential in this area!

Be the first to learn about new social trends and take on a pioneering role in order to be even better there for your target group. The following blogs will help you to fulfil this task.
#3 Hootsuite – Recommended by Social Relations experts.
Hootsuite is a social media management tool that aims to help users better understand social media. Consequently, her blog is dedicated to knowledge transfer in the following areas: specific platform know-how, content creation, post scheduling, monitoring & analysis and team management.
Recommended articles:
How to Use Instagram for Business: A Practical 6-Step Guide.
Top 5 Social Media Trends in 2019 (And How Brands Should Adapt)Ω
How to Write the Best Instagram Bio: Ideas, Tips, and Examples.
On the occasion of its anniversary in 2018, Hootsuite looks back on 10 years of company history.
#4 Social Media Examiner – The Kickstarter.
The Social Media Examiner's numerous articles in the categories Starter Guide, How-to articles, expert interviews and research results are particularly striking. Especially for social media beginners this blog offers a good basis to get started later as a social media expert.
Recommended articles:
How to Monitor Your Social Media Mentions: 5 Listening Tools.
LinkedIn for Business: The Ultimate LinkedIn Marketing Guide.
YouTube Live: What Marketers Need to Know.
3. Search-Engine-Optimization (SEO).
Marissa Meyer, former Google spokeswoman, described SEO as follows: "We want to help you find the best answer to your question, even if you don't know where to look."

Until now, SEO has followed a very technical approach to push web content with certain tricks and outwit search engines. The goal is still to appear on the first page of the search results. Keyword analysis, backlink generation, shortcuts, snippets, responsive web design etc. are just some of the many technical terms that SEO experts deal with on a daily basis.

New, however, is the development from SEO (Search Engine Optimization) to SXO (Search Experience Optimization). This is intended to bring the customer experience, the "experience" that a user makes with his search query, to the foreground.

The following blogs will tell you exactly what this new expression is all about.
#5 MOZ – The Top Dog.
MOZ: known worldwide and supported by the largest SEO community. Its blog authors are among the most respected in the industry. In short, MOZ sets the tone in the industry and has countless resources. From SEO novices to full-blooded professionals, everyone gets their money's worth.
Recommended articles:
On-Page SEO for 2019 – Whiteboard Friday.
Rewriting the Beginner's Guide to SEO, Chapter 1: SEO 101.
Full Funnel Testing: SEO & CRO Together – Whiteboard Friday.
MOZ 52k large Vlog on YouTube: An SEO expert talks about link building in a whiteboard Friday session.
4. Mobile Marketing.
According to Instagram, half of all online videos will be played on mobile devices by 2021. Meanwhile, companies are already converting to vertical and square videos. In this way, users no longer have to rotate their screens to watch a video. Instagram met these customer demands with IGTV.

What mobile hacks do you need to know about? Find out in the next two blogs. These are the specialists among mobile marketers and app developers. Let them inspire you and show you what is possible.
#6 Mobile Marketer – The top current pragmatist.
Mobile Marketer doesn't just torch for a long time, it goes straight to the heart of the matter. Study results are combined with practical examples and marketing insights are explained on the basis of real case studies. You can already guess that this blog educates you to be logical pragmatists.
Recommended articles:
Volvo revs up Super Bowl 'anti-commercial' with mobile contest.
75% of search shopping impressions occur on mobile, Kenshoo finds.
Football fans less likely to use apps during Super Bowl, study finds.
#7 Business of Apps – From app understanders for app lovers.
In this case, it is a very special blog, exclusively for the niche areas mobile marketing, mobile ads, and app development. The blog focuses primarily on news and case studies from the industry. Similar to "Mobile Marketer" before, this blog is also very practice-oriented.
Recommended article:
Playable ads successfully engage gamers, but also brand customers.
Mobile banner ads 120% more effective than video for ROI.
Netflix ads? No, thank you – study finds 57% would leave streaming service.

5. Video Marketing.
Allow us first to let the facts speak for themselves:
In plain language, this means: Take care of your video marketing strategy as soon as possible so that you can satisfy the needs of (potential) future customers in order to remain competitive. The right contacts for these purposes are the following expert blogs, which show you what video marketing is all about.
#8 Wistia – A personality about your skills.
Wistia is a video hosting platform for emerging companies. After YouTube and Vimeo it is even the third best known. Their blog is dedicated to production, marketing, and sales. Their insights into the company in the form of contributions on product updates, customer showcases (case studies) and their Wistia culture have been particularly successful. Their content often includes video, keeping their information fresh and interesting.
Recommended articles:
Best Practices for Pitching Your Product with Video.
Wistia's Turnstile Feature: Updates That'll Make Your Marketing More Seamless.
The 2018 Wistia Rap-Up.
#9 Mynd – Unadulterated insights with the video makers.
Our top guide: 5 tips on how to sell more with video.
We at Mynd are experts in video marketing. We love to share our knowledge with you and prepare you for your own video projects. Sharing is Caring! Our speciality: tips and tricks around videos for all platforms, how-to guides, trend previews, and many other tricks to help you optimize your video marketing strategies. We make every effort to provide you with the best possible information and find that we can give ourselves a pat on the back in this respect.
Recommended articles:
The Big Guide to Your Personalized Explainer Video: Everything You Need to Know.
Video-Marketing: The 6 Biggest Mistakes, And How To Avoid Them.
YouTube, Vimeo, Wistia: Find the Right Platform for Your Video.
Which ways will you go in 2019?
Nowadays we can only say one thing with great certainty: change is the only constant.
One ingredient in the recipe for innovative companies is certainly the right attitude: Study, learn, borrow. This trait was defined by The Innovation Enterprise and describes companies that can only satisfy their thirst for knowledge through continuous learning and experimentation. Whether voice marketing or SXO – no matter what the idea is, flexible companies do not shy away from new paths.

Are your fingers already tingling? We hope that this article has inspired you and wish you every success in implementing your marketing projects in 2019.

Do you still have questions or would you like support especially for your video project? Then we will be happy to advise you without obligation »