Would you like to integrate videos into your marketing strategy and finally produce your own film? We'll tell you the 6 most common video marketing mistakes that you can avoid right from the start.
Jump to the appropriate section:
Videos are on the rise: 4 out of 5 companies used video in their marketing strategy in 2018 and by 2020, videos will account for a staggering 82% of Internet traffic.

Not without reason: we all love videos
For companies, the integration of a video on a landing page increases conversion rate by an incredible 80%, pages with videos in the search engine are 53x more likely to come first, and just under 3 out of 4 users surveyed prefer video content to text.
However, to create a video quickly that goes viral and causes your sales skyrocket is, of course, wishful thinking – as 400 hours of video material are uploaded per minute on YouTube. Standing out from the crowd requires creativity, strategy, and a bit of luck.
Central elements of a successful video: Storytelling and emotions, like in the Always #LikeAGirl campaign.
So how do you make sure your video attracts the attention of your target audience with all the competition?
In this article, we'll start at the top and introduce you to the 6 most common mistakes in video marketing and how to avoid them.
#1 A lack of strategy.
It may seem obvious, but above all, you should consider one thing: Why are you producing your video?
One of the biggest mistakes you can make in video marketing is to start shooting without really knowing your objective. No matter how educational and entertaining your video may be, if there's not a strategy, it's unlikely to have any noticeable effect.
The solution: Define objectives & monitor analytics.
Before you start production in any way, ask yourself the following questions:
Why do you create this video?
Who is your target audience?
What is the goal of the video (e.g. clicks, conversions, reach)?
What is your budget?
Without answering these questions, you could end up with a time-consuming and expensive production resulting in a video that doesn't even resonate with your target audience.
A comprehensive marketing concept: Heineken scores with a good story and Hashtag campaign.
Your video strategy should also include integration into your other marketing efforts.The following questions, for example, can help:

How does this project fit into the rest of your content, such as on social media or your blog?
What methods will you use to market your video? Are paid ads possible?
Can a special hashtag be established for your campaign?
Do you need additional teaser videos, which can be placed on Instagram or YouTube as advertising, to direct traffic to the full video?
In addition, you should monitor your video analytics to make adjustments for your paid ads and future projects if necessary. Key video metrics include the number of views, playback time, and number of clicks on your call-to-action.
Tip:

Integrate your video holistically into your marketing strategy and make adjustments based on analytics. These insights allow you to determine which video content works well and which doesn't, and what projects are worth pursuing in the future.

#2 The video is too focused on direct selling.
We start directly with one of the most common mistakes: The video is too promotional, tries only to sell hard, and pats itself too hard on the shoulder. In short: a rather clumsy advertisement. Imagine that you stumble across a video in your newsfeed – what keeps your attention, and what causes you to immediately keep scrolling?
The solution: Create informative and entertaining content.
Instead of selling, the first thing your video should do is entertain and inform. Your target audience should want more after viewing and thus return to your site.
You do this by giving your audience information they didn't know before and wrapping it in a good story. After all, we remember information 22 times better when it is embedded in a story.
Address the specific problem of your target group and how to solve it with your product or service. For example, this could be an explainer video in which an actual knowledge transfer takes place, or you could tell an emotional story that the viewer will remember for the rest of the day. Of course, your product should still be featured, but it should be integrated within this framework.
For safe road traffic: In Volvo's emotional video, the product is only featured at the end.
Keep in mind what kind of video content your target group will share with friends and family. The greater the added value and entertainment of your video, the more likely it is to spread.
Tip:

A good video does not have to lead the customer directly to the conclusion of a sale, but must first hold his attention. Use gripping storytelling to inform and entertain your audience at the same time.
#3 The advantage of the product is not clear.
You probably know this too: You watch a popular video on YouTube, and in the end, there's nothing to show for it. Entertaining, nice, and good, and there we go. Or to put it another way: A video can become a viral hit, but without a connection to the company or its offer, it doesn't benefit the brand. Of course, you shouldn't just apply yourself - but a potential lead should also find its way through your sales funnel.
The solution: Plan for each stage of your sales funnel.
Take a step back and look at your buyer persona, your ideal customer. What are the questions they frequently asks themselves, and what problem do they have to solve? After all, you don't just want to entertain your audience, you want to draw their attention to your solution.
Tune your video exactly to where your potential customer resides. This way, you support their natural customer journey and guide them optimally through your sales funnel.
Animated explainer videos are suitable, for example, to the first stage of your funnel, in which you generate attention.
With the help of keyword research, you choose a topic for your video that answers the questions of your potential leads. If your video accomplishes this well, your visitors are more likely to continue reading, consume more of your content, and – ideally – convert.
Conclusion:

Balance entertainment value, information, and product placement to effectively convey your message. Align your video with your sales funnel to support your potential customer's natural customer journey.
#4 The video is not entertaining.
Typically, the content of a corporate video is written by an internal employee rather than a professional video scriptwriter – making the text sound stiff and boring.
So we're directly tying in with point 1 of our most common video marketing mistakes – that viewers want to be informed and entertained. So, at all costs, avoid a boring video.
Factors that inspire boredom are, for example, listing too many facts back-to-back – this should be avoided at all costs, also in regard to the storytelling of your video.
The solution: Tailor content to target groups.
First and foremost, it's about getting the most out of your content to your target audience, for example by matching it to their humor and entertainment preferences.
Orion's video appeals directly to the humor of its target audience (produced by Mynd).
In addition, you can try to read the script out loud or even play it through. Make sure it sounds natural and not too staged.
This also means that your actors know exactly what to do and feel comfortable in their role - especially if they are actual employees or customers instead of professional actors.
To effectively avoid an internal employee's "business blindness," it is worth commissioning a professional video agency for the project. This way, you will receive a video that is 100% tailored to you, conveys your message, and is guaranteed to be entertaining.
Conclusion:

Avoid stiffness and adapt your means of communication to your target group. If you are unsure about this or are afraid of producing staged-sounding content, it is better to use a professional agency.

#5 The flood of information is overwhelming.

We state: You want to inform and entertain your viewers. However, this should not encourage you to include as much information as possible in your video – however valuable and interesting it may be.
Otherwise, you will overwhelm your viewers with the complexity of the facts. Remember: you know your product inside out, but your viewers are just seeing it for the first time. Too much information, as well as visual elements used in excess and eye-catching graphics, will distract your audience.
The solution: Make full use of concise statements & optimal video format.
Our brain processes video around 60,000 times faster than pure text – in today's fast-moving multitasking world, video is the ideal format for communicating content in the most effective way.
The purpose of your video is to break down complex information into comprehensible building blocks that your audience can consume quickly and easily. Use the possibilities that the video format provides without exaggerating.
The video of Helmholtz Program: Explains the process in a simple way (produced by Mynd).

These are some tips to keep in mind for an easy-to-understand video:
Use consistent illustrations and animations.
Explain concepts with visual elements instead of pure text.
Use simple language and few technical terms.
Include a final summary that summarizes the key benefits..
Give the viewer the opportunity to get more information through call-to-action or contact information.
Tip:

Do not try to squeeze all available information into one video, but stick to a central core message. Accentuate it with consistent visual elements without using overly complex representations.
#6 Not using an optimal video length.
Since the year 2000, the attention span has dropped from 12 to only 8 seconds. Nobody has much patience or time to watch a long video that doesn't arouse their interest. But what is the optimal length?
75% of all videos published last year were shorter than 2 minutes. So it's no wonder that the mystical 2-minute rule holds true as the optimal video length in the marketing industry. Often the motto is: The shorter, the better.
This does not necessarily have to be true – because if your content is convincing and engaging, the video can run longer. Especially when the primary goal is to convey information, you should not try too hard to compress the content.
The solution: Adjust the video length to the location and the objective.
The most frequently produced corporate videos include explainer videos, demos, product videos, and webinars. This means that the optimum video length depends above all on the objective and location. After all, an in-depth webinar on a new product has a completely different goal than a striking 15-second TV commercial.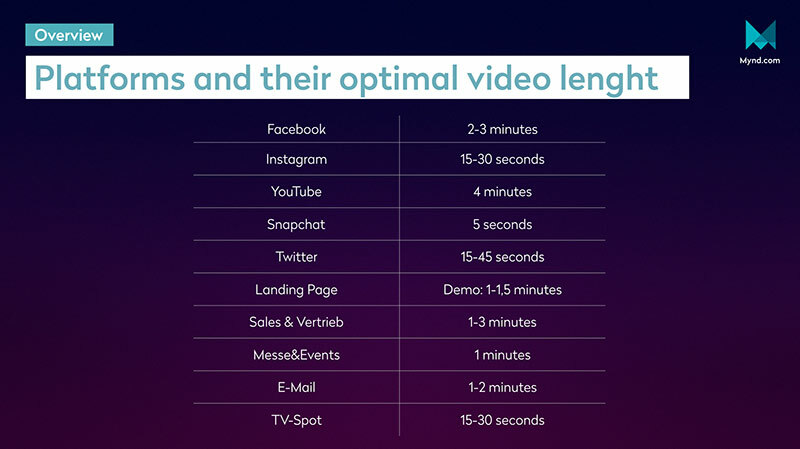 The right video length for every location: Here we have summarized the optimum running times for you.
So give yourself enough time to get the information you want without going too far. If you take this to heart, you will most likely find a good video length for your topic.
Also make sure you are convincing in the first few seconds.The average display time in social media is only 1.7 seconds. No matter how long your video is, one thing is most important: Right from the start, present the topic as precisely as possible with the resulting added value for the viewer of your video.
With optimal length for landing page & events: The explainer video of rabbit mobile (produced by Mynd).
Are you looking for further information? Here we have summarized the optimal video length for each location.
And if it's significantly too long for your intended location, simply divide it into multiple videos. This gives you more content to market at the same time.
Tip:

First, be clear about the purpose and location of your video before deciding on its length. Either way, be sure to captivate your audience in the first few seconds.

When do you start your video marketing??
You now know the most common and detrimental mistakes that beginners in video marketing can make – as well as how to avoid them. So you are optimally equipped to start planning and producing your own video!
We wish you every success with your project.
Do you still have questions? Please do not hesitate to contact us.