Would you like to learn flexibly in terms of time and location? Then online courses are ideal for you! We would like to introduce you to our 10 eLearning tips so that you achieve the greatest learning success.
Online courses and eLearning formats represent the new way of learning in the 21st century. The market is booming, which is hard to overlook.
By 2025, it is expected to be worth an incredible $325 billion. By 2017, 77% of American companies were already using digital learning, and with good reason, as companies with intensive eLearning offers achieved 218% more turnover per employee and 24% higher profit margins, according to a survey of the American Society for Training and Development. Students are also being impacted by this trend. For example, more than 6.3 million U.S. students completed at least one online course in the 2016 winter semester, an increase of 5.6% over the previous year!
Why is everyone so keen on online courses? You may already be aware of some of the benefits.

Probably the biggest benefit is that online courses have no face-to-face dates. This means that you can concentrate on the learning content wherever and whenever you want. In addition, the subject matter is available to participants without limit - at least in most cases. As a result, you can work through the learning programme at your own pace without stress.

Students also mentioned that using electronic learning alternatives, they are able to take several courses at the same time that you need for a degree. Of course, they would not be able to do that if they were offline. Employees also benefit. This is an excellent way to combine professional and private life.
The only prerequisite for online learning is access to a mobile device and the Internet. But who doesn't these days?
TedxYouth Talk by Lex Cui: How Massive Open Online Courses will revolutionize higher education.
Registering for an online course is quick and easy. It doesn't fail because of that. Reasons for the failure of eLearning programs have their origin in two deeper, less obvious factors, namely:
Lack of intrinsic motivation: Why do I do what I do or intend to do?
Being too dependent on external influences: Lack of social environment and support, local restrictions (e.g. chaos at home).
As the saying goes: self-awareness is the first step to improvement. By becoming aware of your own disruptive factors and initiating solution-oriented action, there is hardly anything standing in the way of your learning success. For this reason, we have summarized the most important tips for more effective self-management for you.
Learning to stay on the ball.
Whether you are an absolute beginner or an experienced online course participant, at the beginning of each course you should tick off the following to-dos from your list. But that's not all the work that must be done. During the learning program, you should check these again and again. This creates clarity and keeps you on-course so that you can take as much of the learning experience with you as possible.
#1 Find out your "why".
Ask yourself the important question: Why are you taking this online course? What motivates you? Because without answering these questions, you won't be able to breathe in the long run.

Are they the tricky tasks? Working in a team? More money through additional qualifications? If you know what motivates you the most, you can choose online courses exactly according to these criteria. In addition, you can design the tasks the way you need them to be.

Let's assume, for example, that you enjoy working in a team. Then it makes sense to choose courses that specifically require group work. Or you can set up your own learning groups and network via social media.

Depending on whether you consider a course to be important or urgent, this can also have a decisive influence on your motivation. If this eLearning programme is a key part of your career (important and urgent), you are likely to give your all for a successful outcome.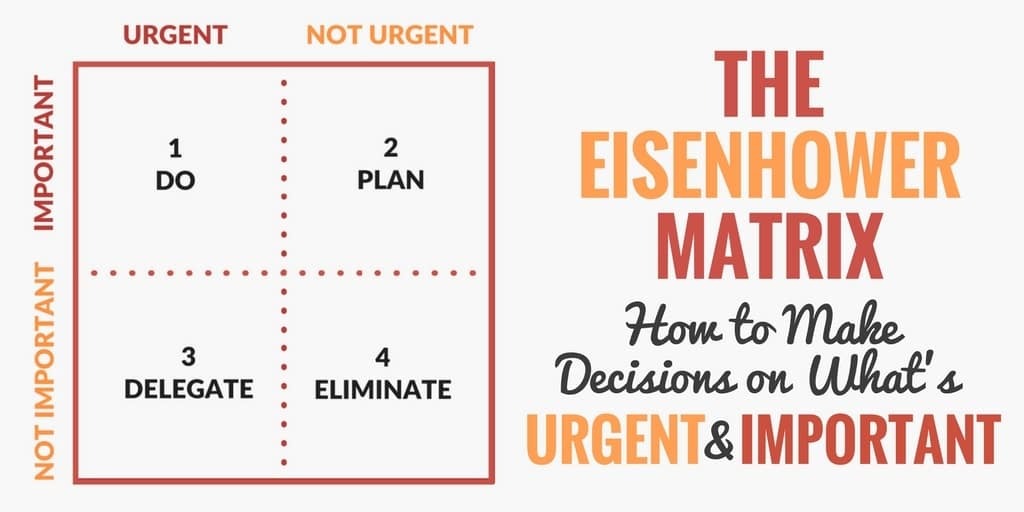 The Eisenhower-Matrix.
Tip:
Stay realistic! Think about which challenges you might face and how you can solve them successfully. By considering the negative aspects ahead of time, you have a good chance of mastering critical situations confidently. The WOOP method can help you with the visualization.
#2 Getting to know the learning platform (incl. syllabus).
Test the learning platform in advance: What does it look like? What functions and applications are there? Which features are important and which are superfluous? We also recommend reading the syllabus so that you know what to expect and what is required of you.

If you have any questions, you can ask them before the course starts. A relaxed start allows you to concentrate fully on the subject matter and spares you annoying stress factors (here administrative tasks).
The SFU offers an insight into its eLearning platform "Canvas" with application tips from a student.
#3 Create action plans with deadlines.
Does this situation look familiar to you? Are you on the verge of a major project and can't get your act together to get started? You don't know where to start because the mountain of work is enormous? This is because long-term goals are less motivating than short-term ones.

The solution is obvious. Break down large tasks into smaller milestones. Define a sequence and a deadline for each intermediate goal. In this way, your project seems feasible all at once. It is the small moments of success that bring you ever closer to your goal.

In addition, set daily goals and create a concrete to-do list for the current day. When you have completed tasks, delete them from your action list. This visualizes the progress and supports you in focused work.
#4 Bust limiting beliefs.
Quote:
"Beliefs have the power to create and the power to destroy. Human beings have the awesome ability to take any experience of their lives and create a meaning that disempowers them or one that can literally save their lives."
This is a quote from Tony Robbins, one of the US's most successful life and business coaches.
This is a quote from Tony Robbins, one of the US's most successful life and business coaches.
Every person possesses beliefs that are fixed in their minds through experience and constant defiance and influence their own actions. In the figurative sense, these can also decide on the success or failure of your participation in online courses. For example, if you constantly tell yourself: "I can't do it," or "I'm too stupid"! This impacts your reality and can prevent you from fulfilling your goals.

In order to be back on the road to success, you have to reprogram your brain. You can do this by recognizing your own limiting beliefs and transforming them into the opposite, i.e. replacing them with positive ones. Repeat the newly defined beliefs every day so that your subconscious can store them and penetrate your actions deeply later.

This, of course, requires a great deal of initiative and discipline, but otherwise, you will not become master of the situation. You have the choice: Do you want to successfully complete your online course?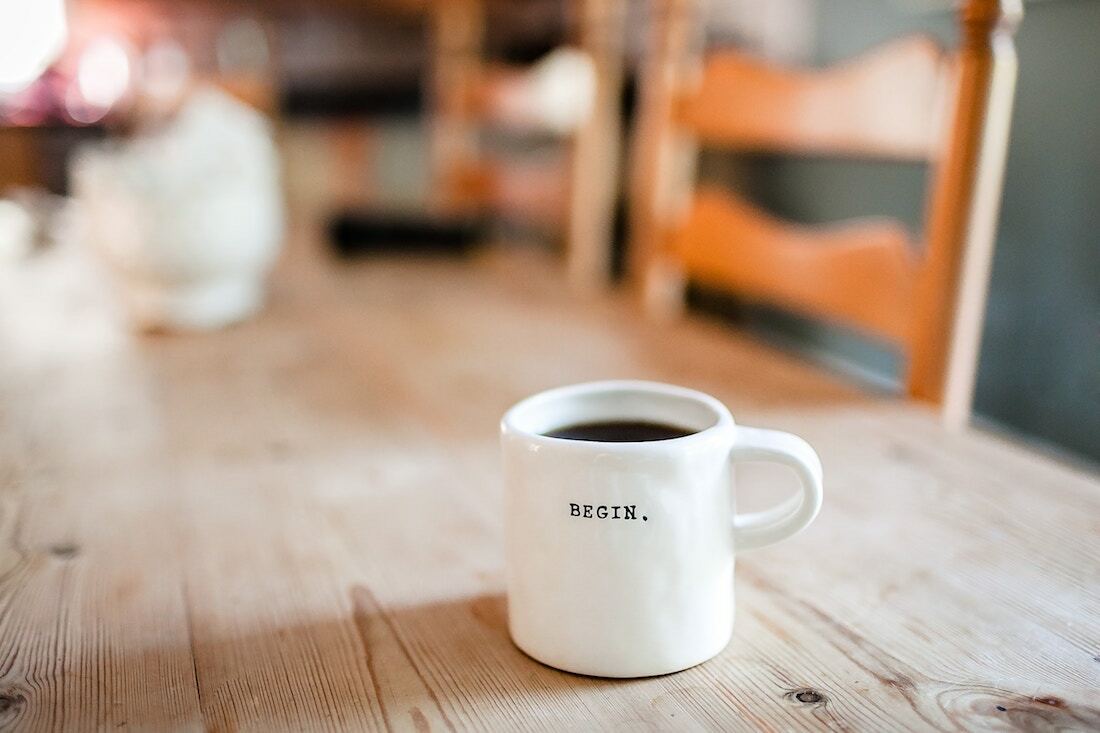 Everyone is the blacksmith of his own fortune (Source: Unsplash).
#5 Do the most important things first.
If you're annoyed that you've "wasted" two hours surfing the Internet again instead of doing your online training, you're suffering from "postponementitis." You are too easily distracted by other things.

To keep you focused in the future, we recommend radical measures like Freedom. This tool can block predefined apps and websites at certain times. This forces you to be more productive.
#6 Learn in a feel-good environment.
Some learn best at home in a familiar environment or in a mouse quiet library. Others prefer creative hotspots such as coworking spaces or cafes. When choosing a location, there are only two things that count: you feel comfortable and can concentrate in your surroundings, and you can relax during breaks. It doesn't matter where this place is in the end.

You should also banish anything that might prevent you from learning from your desktop. First and foremost: the mobile phone. At best, you only have your laptop, a notepad, and pens, as well as something to drink and a snack within reach.
#7 Setting day highlights with rewards.
Some people can best motivate themselves with rewards. Are you one of them?

Then add rewards to your Action Plan, which you can give yourself when you have completed a certain task. This could be a delicious meal with friends, a visit to the theater, or a massage. Keep strictly to the if-then rule: "If I reach milestone X by tonight, I'll buy the brand-new bestseller that I really want to read." Promises should be kept; otherwise the whole reward system is pointless.

The point is that you learn to recognize your own achievements and value yourself. Because you don't always get recognition and praise from others. Unless you tell friends and family about your achievements. Your loved ones will certainly enjoy celebrating with you. But this is by no means a matter of course. As a result, you depend on being your greatest motivator.
#8 Consume short learning units (incl. video content).
The global conference favorite TED Talks researched the optimal length for presentations and integrated the research results into your guidelines. Speakers are not allowed to talk longer than 18 minutes. This is short enough to hold the audience's attention and long enough to present a valuable idea.

Other time-management tools such as the Tomighty App based on the Pomodoro Principle®️ recommend 25 minutes of concentrated work followed by a five-minute break. This is followed by three more repetitions, a total of four Pomodori.

Regardless of which times you choose (max. 60 min for one session), the short learning intervals with breaks in between are important. Your brain needs this time to absorb what you have learned before new input follows.

Videos as a central element of online courses help to process knowledge more quickly. It has been proven that learners can remember an incredible 95% of a message when it is packaged in a video. In addition, moving images are a welcome change from the flood of information on written content. No wonder 75% of executives watch videos related to their work at least every week.

In other words, optimize your learning experience by selecting electronic learning programs with short video sequences!
Complex topic simply explained: An eLearning video example from managermagazin.de and Mynd.
#9 Join a learning group.
The statement "Together, we are strong" is anything but a kitschy statement. This statement could not be more appropriate, especially for online courses. Because most digital training courses provide a chat, forum, or other group communication (e.g. Facebook Group) in which course participants can exchange information, ask questions, offer help, and give tips.

You should definitely take advantage of this opportunity. Because cooperation not only strengthens the cohesion in the group, but you can also push each other and motivate each other again. This increases the learning success enormously.

eTutors, Coaches, and professors stand in these on-line organized learning groups participants with advice and act to the side. Be it questions or stimulating discussions.
Tip:
If you want to make rapid progress, ask for feedback and accept suggestions for improvement. You can also practice constructive criticism – your fellow campaigners can also benefit from this.
#10 Let it be for today.
There are days when you're absolutely listless. Nothing helps get you motivated. As soon as you notice that you need half an hour to read a sentence and your thoughts are always wandering away, let it go. You are wasting your time.

Your body is screaming for a break. So listen to it and take a break that has nothing to do with work or learning. Do something good for yourself without having a bad conscience. After a restful break, the mind usually runs like clockwork again.
A summary: The 3 main points to be a successful online learner, according to BYU Independent Study.

Taking note of these eLearning tips from above with special attention to the criteria of the training model increases your chances of successful advanced training:
Didactic and pedagogical structure of the course
Qualified speakers
Final certificate (e.g. from the IHK)
Just get started!
Starting and trying out is better than doing nothing and being annoyed by your own listlessness. So instead of being reactive and angry green and blue, you should get to know each other better. What gives you strength and what robs you of energy?
This can vary from person to person. What does one person good does not have to work for the other. Therefore, go your own way, whereby our tips only serve as a reference point, in order to carry out further research yourself.

By implementing your findings in everyday life, you will always be able to motivate yourself. And then it works with the online course.

We wish you lots of fun on your own journey of discovery and good luck with your further training!

If you have any questions about the creation of effective videos, we are the right contact for you. Please do not hesitate to contact us for a free and non-binding consultation »